The compact 3-in-1 wireless charger for your Apple essentials. The compact 3-in-1 wireless charger for your Apple essent... The compact 3-in-1 wireless charger for your Apple essentials. Read More
Charges iPhone 12/13/14 or other phones using a MagSafe case, Qi-enable earbuds, and Apple Watch
Magnetically mounts your phone in portrait or landscape mode
Detachable MagSafe power bank and MFi-certified Apple Watch charger
Supports up to 7.5W wireless charging for mobile phone
LED indicators that show the charging status
7-Day Returns
Free Shipping over 30 USD
Secure Checkout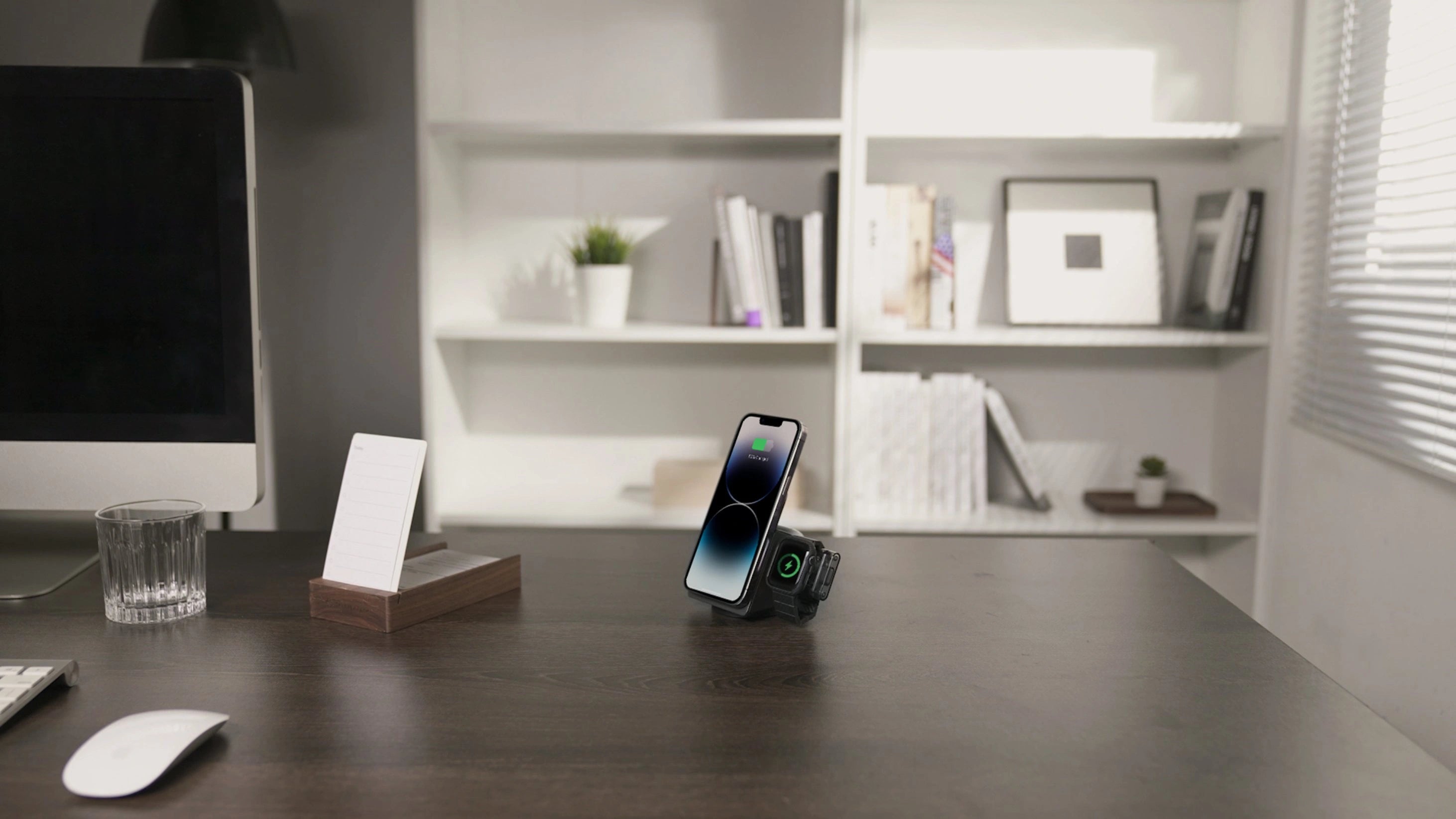 The Versatile 3-in-1
Wireless Charger for Apple Devices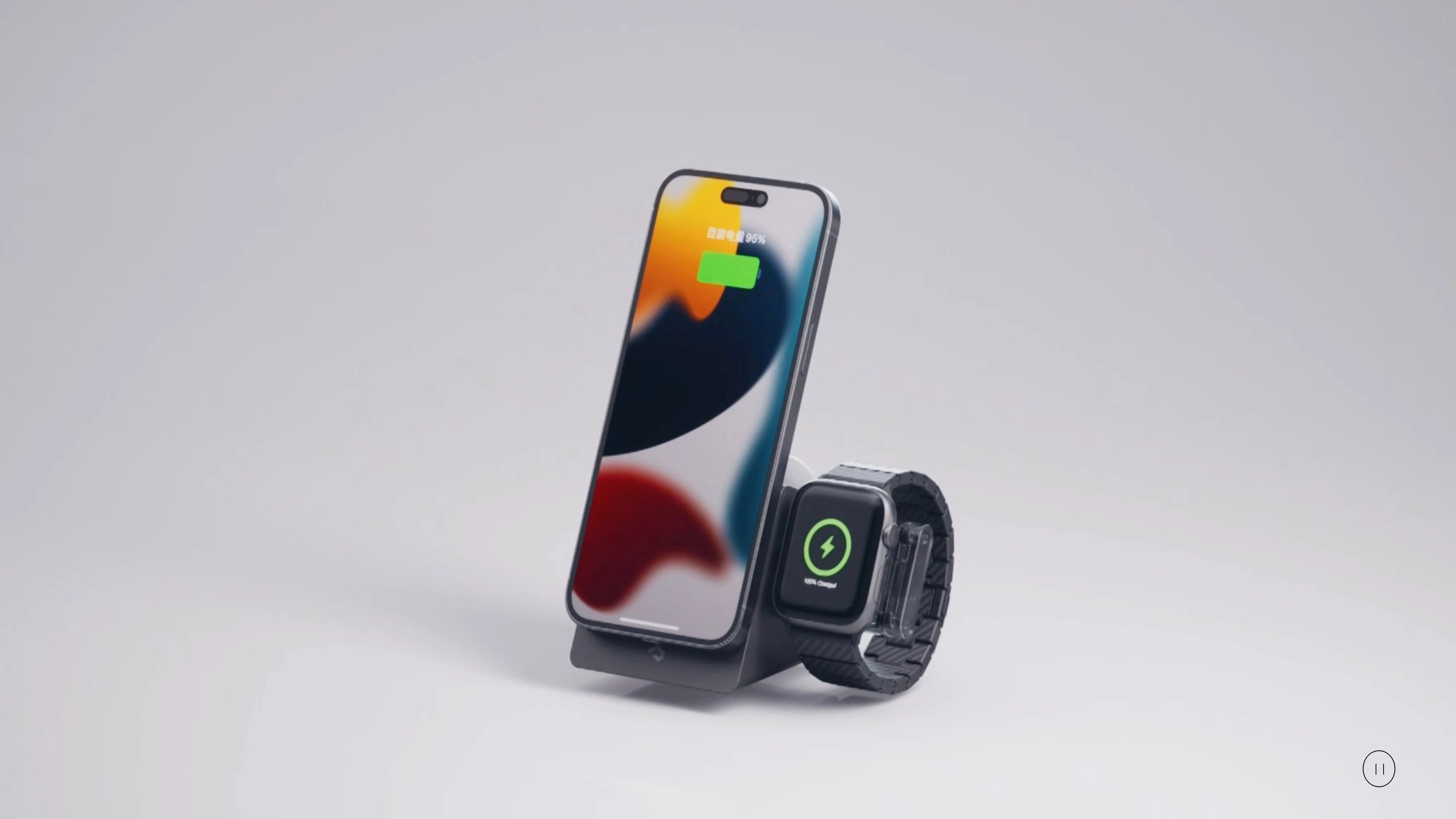 Detachable Design
Small yet Powerful
Power Bank
Slide the already-fully-charged MagSafe power bank out, and you can use it to charge your iPhone while on the go. The 4000mAh power bank is built with a slim silhouette with a curved design, fitting comfortably in your hand.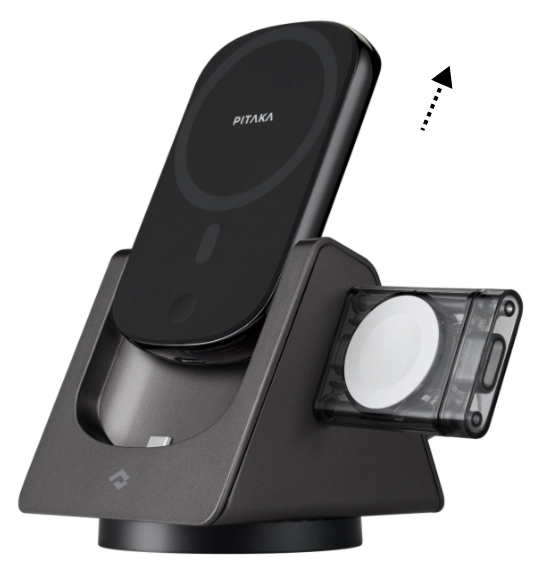 MFi-certified Apple Watch
Charger
Unplug the USB-C power dongle for Apple Watch and take it with you, so you can charge the Apple Watch using your laptop, iPad or other USB-C port, anywhere, anytime.
Magnetic Phone Stand
Snap and charge with MagSafe capability.
Press the switch down and use your phone either in portrait or landscape mode at a comfortable viewing angle.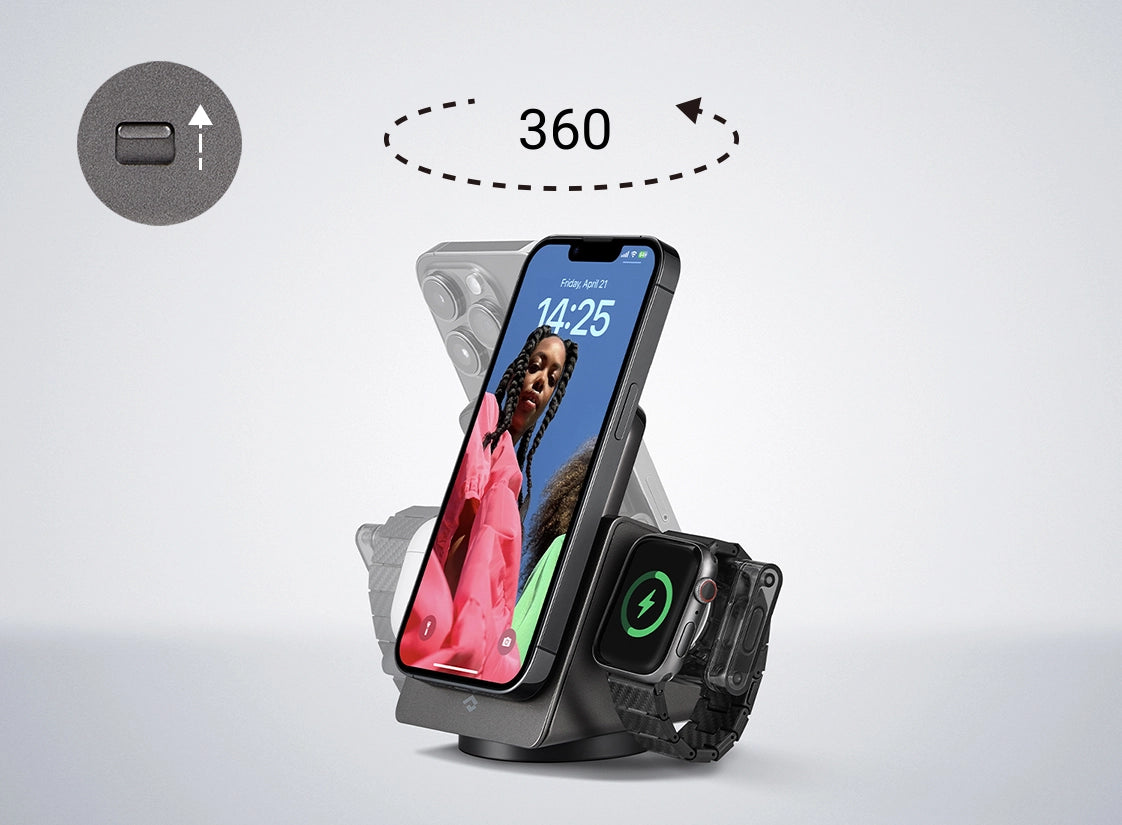 If you want to spin the wireless charger to access your devices or just spin it for fun, push the switch up to enable the spinning.
Keep Your Desk Tidy and Organized
Charge your Apple essentials, save desk space, and curb cable chaos, all with one compact 3-in-1 wireless charger.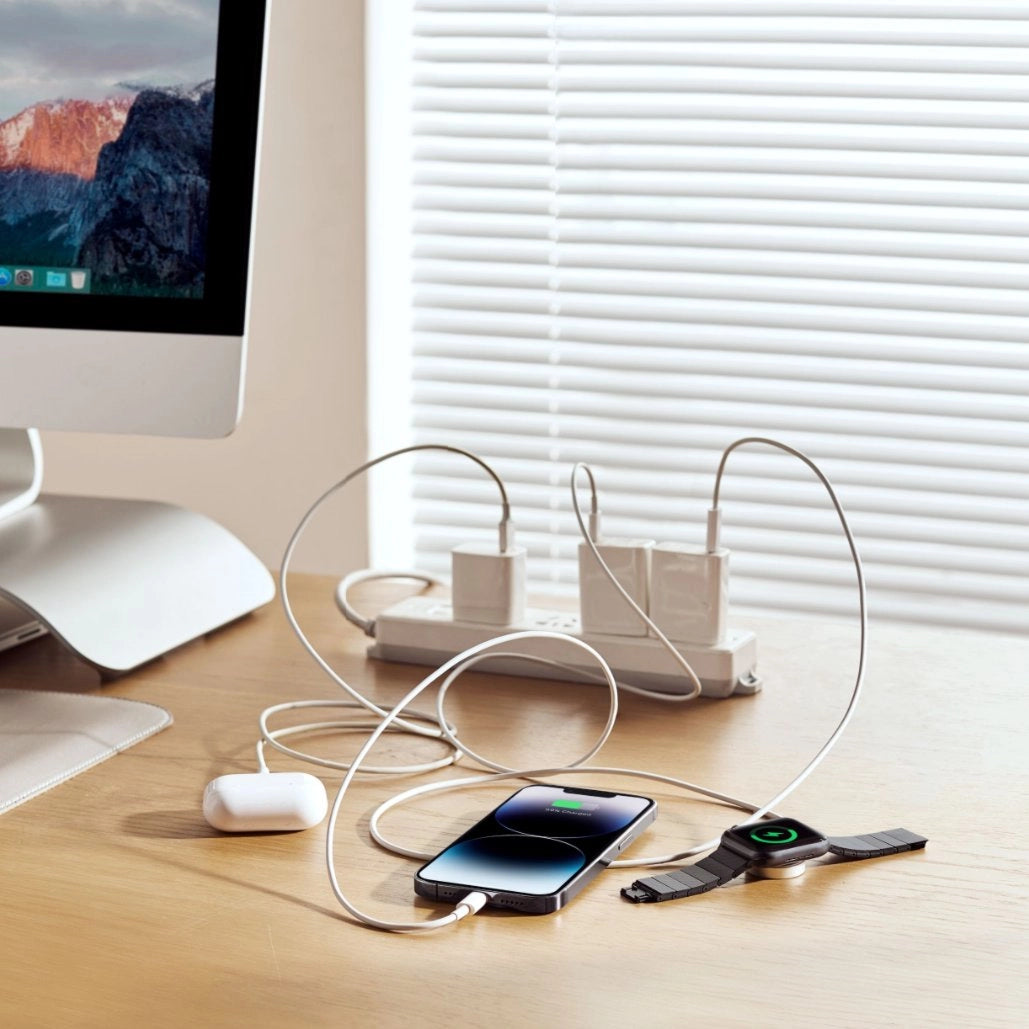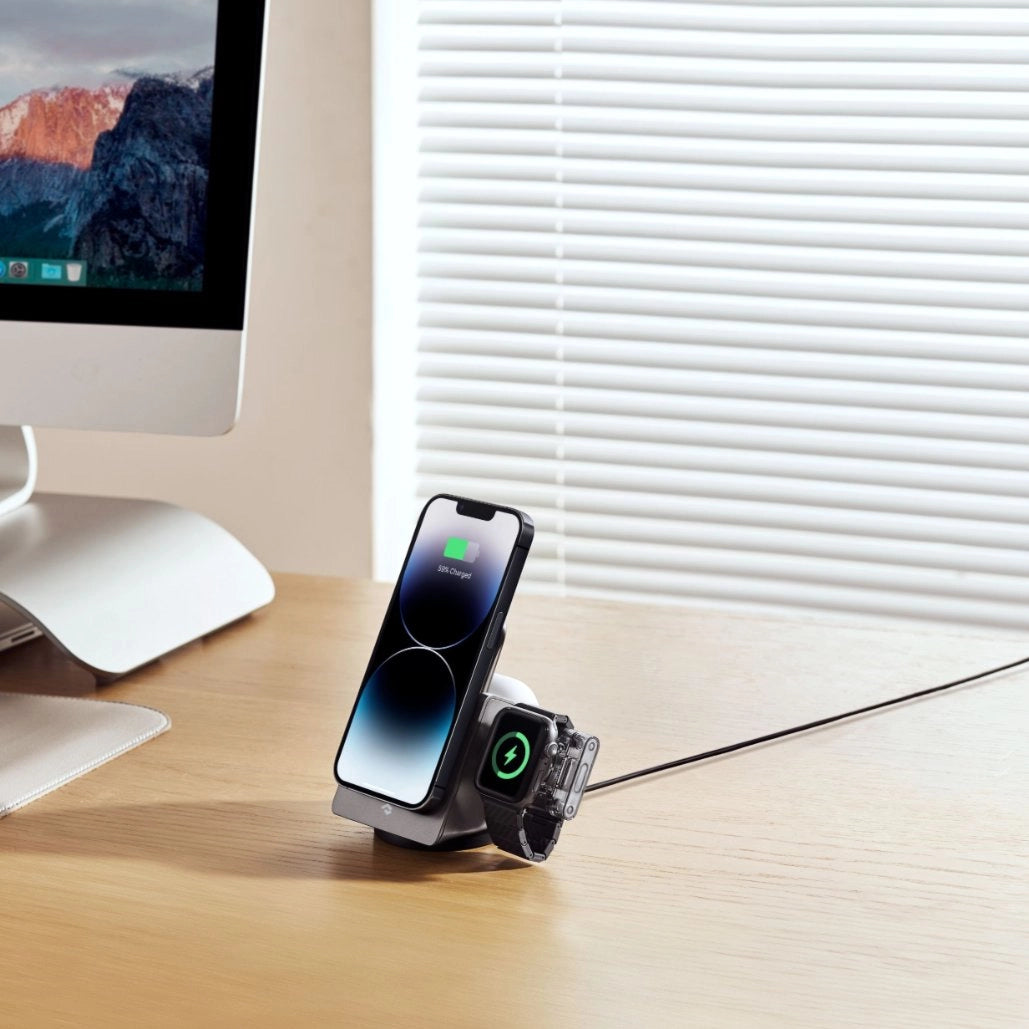 Get

one MagEZ Slider 2,


and you'll get...
MagEZ Slider 2
=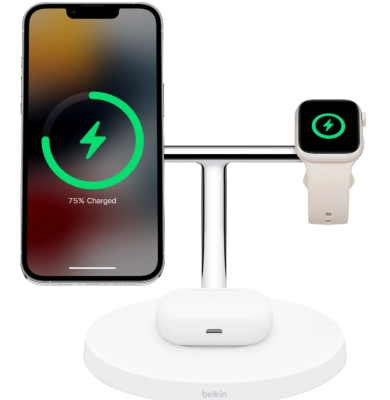 A 3-in-1 wireless charging station
+
A power bank
+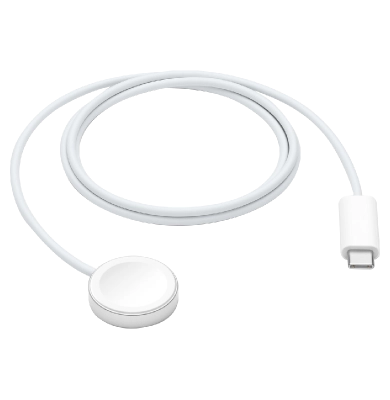 An Apple Watch charger
What's

New About


MagEZ Slider 2

?
MagEZ Slider
MagEZ Slider 2
Power bank wireless charging output
Power bank wireless charging output
No Button/Switch to disable the spinning
Yes Button/Switch to disable the spinning
Press the power button once To activate wireless charging on the power bank
Just snap and charge No need to manually activate
LED indicators Only on the power bank
LED indicators The dock also has an LED to show status
Reusable gel pad Fully covers the bottom; not easy to move the dock
Reusable gel pad Smaller size; easier to move the dock
Compatibility
MagEZ Slider 2:
Phone charging:

Compatible with iPhone 12/13/14 series without a case or with a MagSafe case and Samsung Galaxy S22/S23 Series with a MagEZ Case 2/3.

Earbuds charging:

Charges Qi wireless charging earbuds including AirPods, Samsung Galaxy Buds R170 and Galaxy Buds Pro R190.
Power Dongle: Charges all Apple Watch models.
Warning:
Please note that the bottom of the slider contains gel pad, which can be attached to smooth surfaces, such as glass. However, the gel pad should not be applied to the surface made of leather, because it may damage the leather.
Specs
Dimensions
MagEZ Slider Dock 2: 90.6 x 76.7 x 112mm MagEZ Battery Pack 2: 97.3 x 62 x 14.2mm Power Dongle: 39.8 x 54 x 10.3mm
Weight
MagEZ Slider Dock 2: 238g MagEZ Battery Pack 2: 112g Power Dongle: 29.9g
Technical
Power Type C Port Input: DC 9V/2.22A Power Type C Port Output: DC 5V/2A Type C Port for Dongle Output: DC 5V/1A Battery Capacity: 4000mAh Wireless Output: 5W/7.5W AirPods Wireless Output: 5W *When using with a 20W or higher power adapter. Power Dongle Wireless Charging Speed: 5W
Materials
MagEZ Slider 2: Aramid fiber; Zinc alloy; Plastic
Package Contents
1 x MagEZ Slider Dock 1 x MagEZ Battery Pack 1 x Magnetic Earbuds Stand 1 x C to C cable
Warranty
MagEZ Slider 2: 12 months Power Dongle: 12 months See our warranty page for more information.
FAQs
Q1. Can I use the MagEZ Battery Pack on MagEZ Slider 1 and 2?
A1. The MagEZ Battery Pack can be used with MagEZ Slider 1(st) and 2(nd)-gen docks.
Q2. What's the wireless charging speed of the power bank?
A2. When the power bank is in the charging dock, it will charge your phone at 5W. If you take the power bank out of the charging dock and snap it to your phone, it will charge at 7.5W.
Q3. What's the sound when the power pack attaches to and detaches from the phone?
A3. Actually, that's our design "dynamic magnets", which means the magnets inside the device are not fixed. They will be attached only when the device detects magnetic forces. Through this design, the power pack safely charges phones, MagSafe or not. You will hear the mechanical sound the moment when the device attaches to your phone, which tells you that the device is well attached and aligned.
PitaCare
The MagEZ Slider is a versatile wireless charger that simultaneously charges your phone, AirPods, and Apple Watch. Using a multi-device charger like that means you can get rid of many cables and power adapters. And hopefully, in the long term, we can help reduce waste.
In addition, the gift box is ingeniously-structured with various compartments that you can use to store your valuables. So, don't throw the box away after taking out the products. Let's protect the world together.
Let's protect the Earth together
What else might you discover?