MagEZ Grip
The thinnest and lightest MagSafe compatible aramid fiber phone ring. The thinnest and lightest MagSafe compatible aramid fiber... The thinnest and lightest MagSafe compatible aramid fiber phone ring. Read More
Thin (4.3mm) and lightweight (27g)
MagSafe and MagEZ 2.0 compatible
Durable aramid fiber and zinc alloy
Use as a grip or stand
Easily attach and remove from any MagSafe case
7-Day Returns
Free Shipping over 30 USD
Secure Checkout
Lightweight
As Always
PITAKA always delivers the lightest products so as to reduce the burden of your phone in every-time use.
So does the MagEZ Grip, with a min thinness of 4.3mm and a min weight of 27g.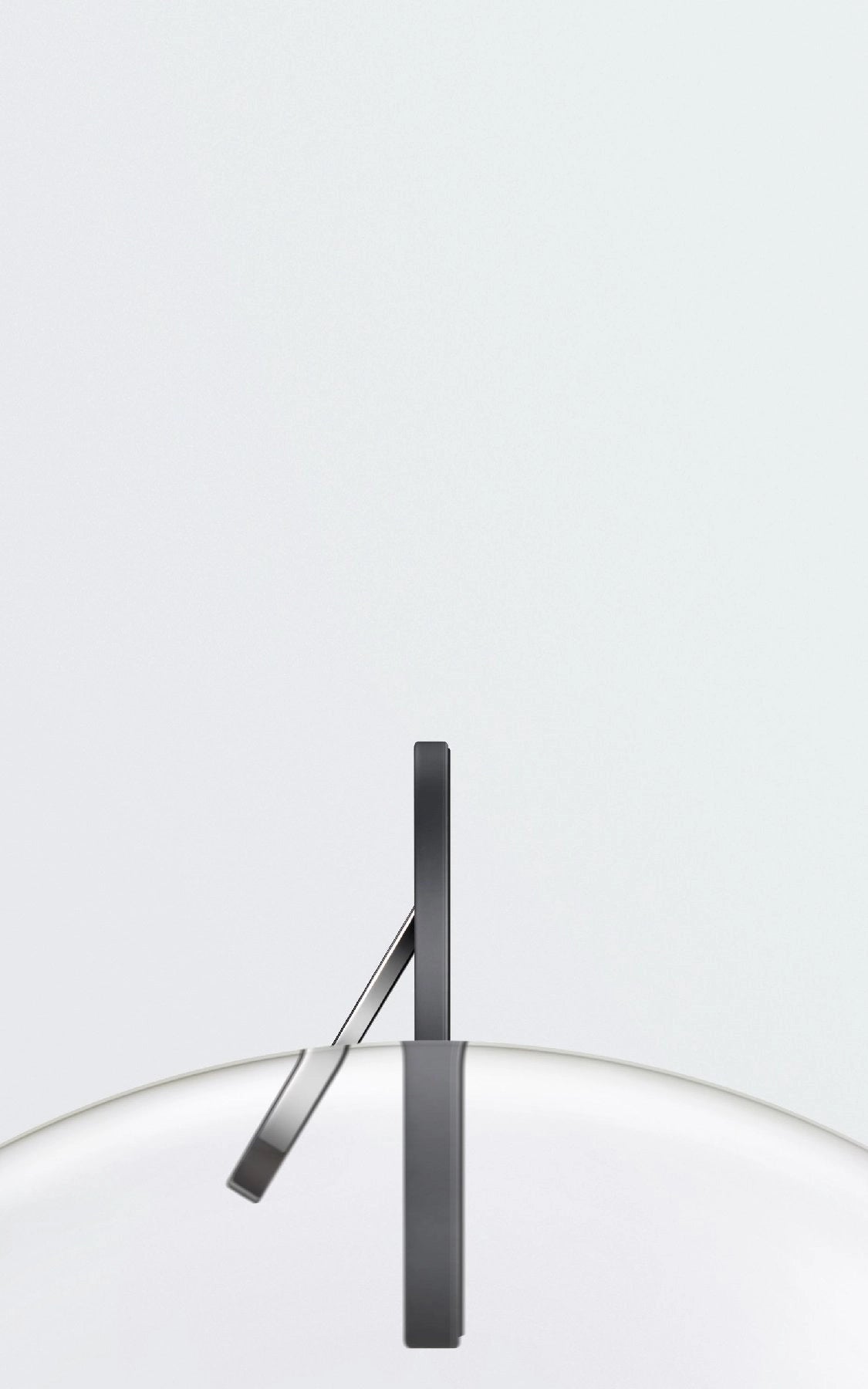 Let You Do More
with Your Phone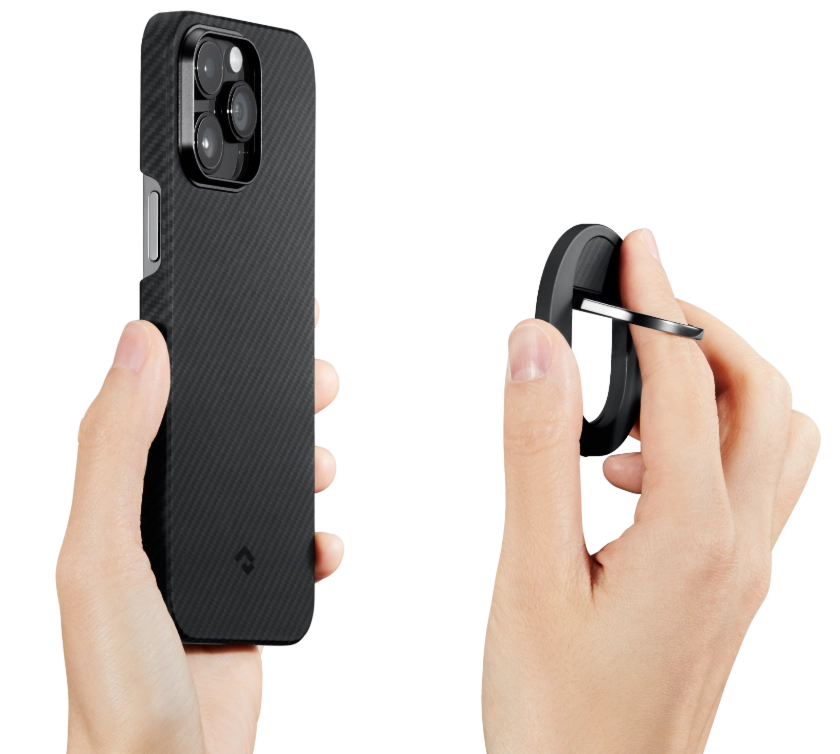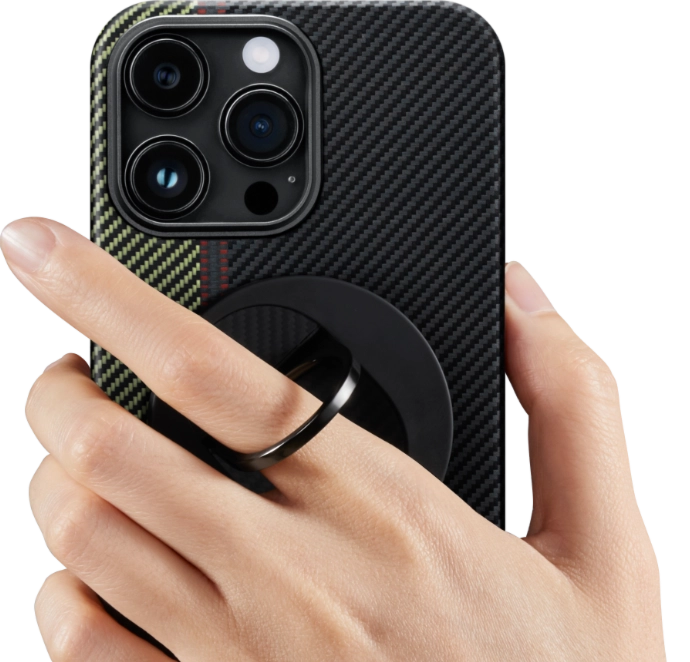 Use As A Grip
Use the magnetic phone ring as a grip, so you won't drop your phone whatever you do.
Use As A Stand
Adjust the phone ring to stand your phone in a landscape position for hands-free video watching.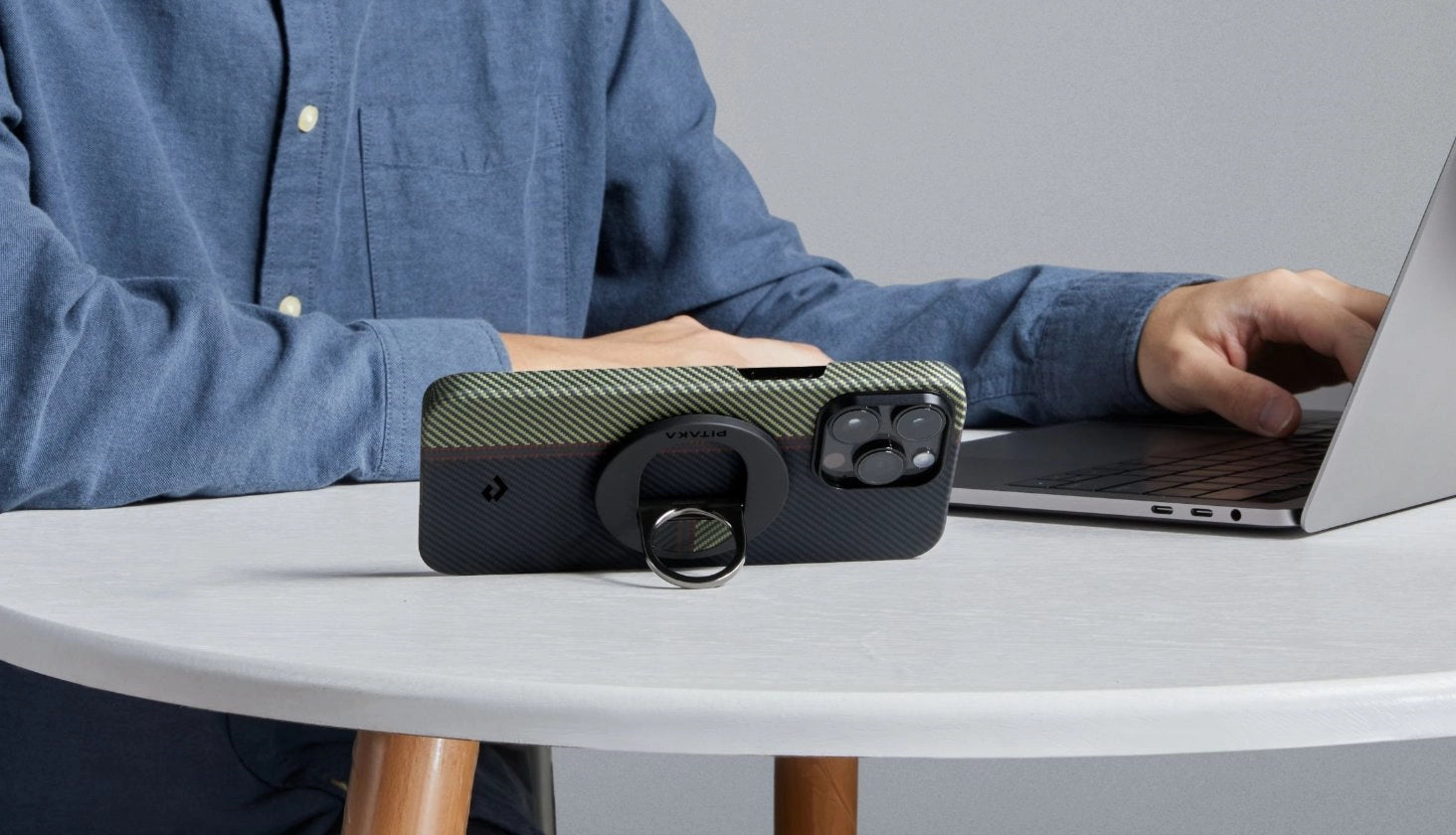 Crafted with
Premium Materials
Powerful N52 Magnets
The magnetic phone ring stays connected to your phone wherever you go. And it can be easily removed without leaving a mark.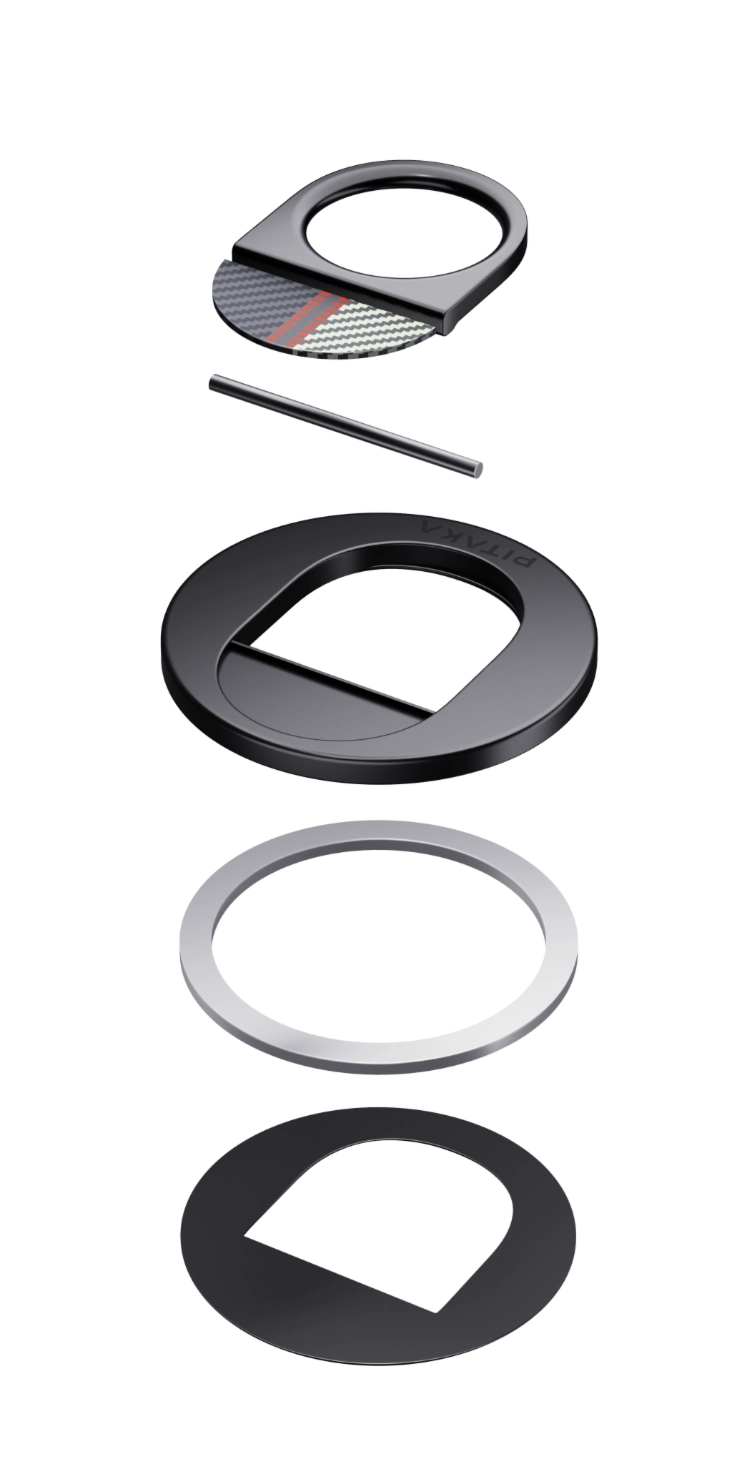 Aramid Fiber and
Zinc Alloy
Two materials combined make the magnetic phone ring durable yet fashionable.
Note:
PitaCare is our sustainability program to keep on recycling and reducing waste. The MagEZ Grip is made using production leftovers and recycled products.
Unify Your Style
with PitaStyle
Combining products with the same style is more aesthetically pleasing and better shows your unique personal style.
PitaStyle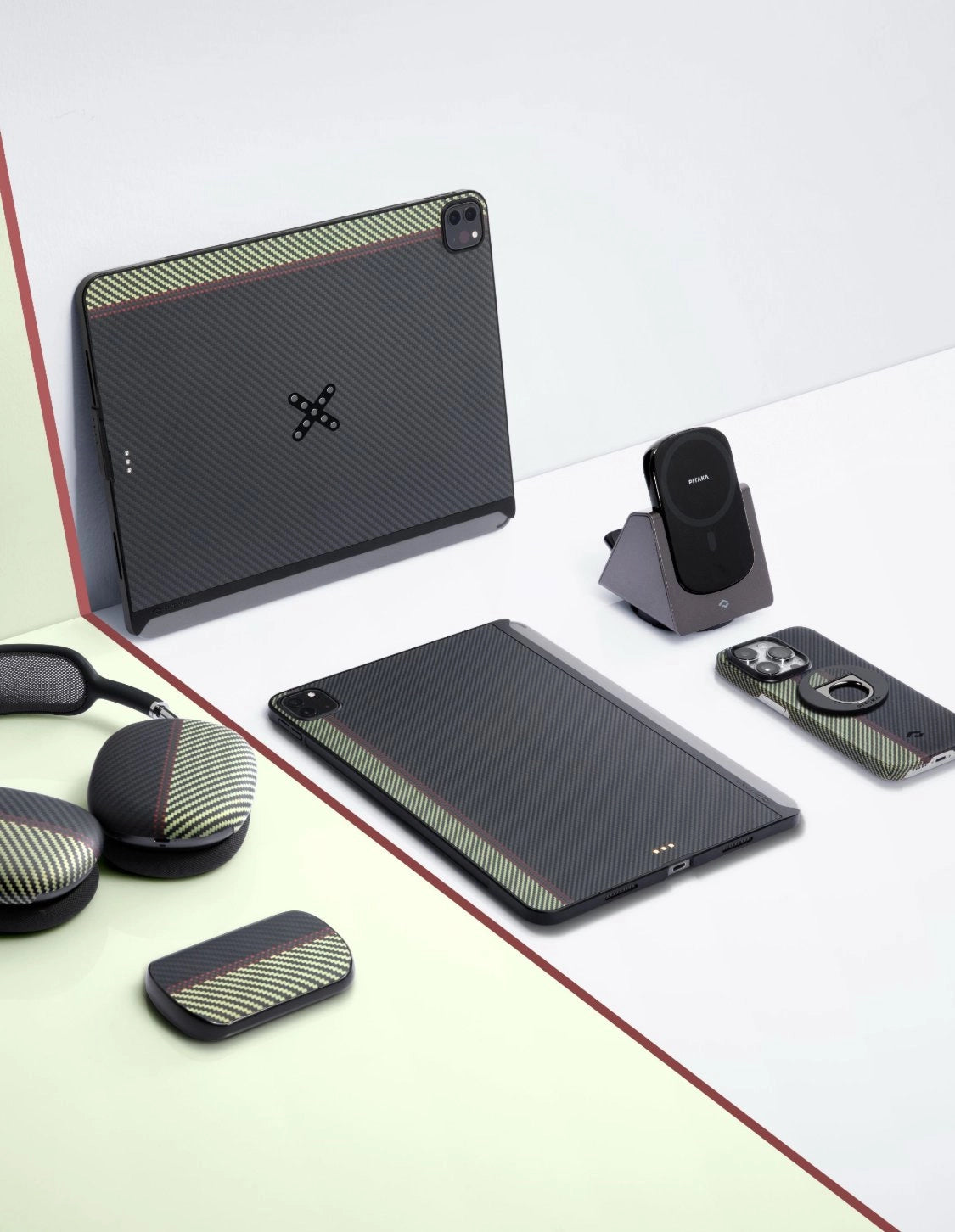 Compatibility
iPhone 12 Series
iPhone 13 Series
iPhone 14 Series
Galaxy S22 Series
PITAKA MagEZ Case
PITAKA Air Case
PITAKA MagEZ Case Pro
Apple MagSafe Case
Specs
Dimensions
58.5*58.5*4.3mm
Materials
Aramid fiber Zinc alloy ABS+PC
Warranty
2 months warranty See our warranty page for more information.
Package Contents
1 x MagEZ Grip
FAQs
Q1. Can I attach the MagEZ Grip to a case-less iPhone?
A1. It's not recommended to attach the MagEZ Grip to phones without a MagSafe case.
Q2. Can I hold the ring alone without holding my phone?
A2. No. Although the MagEZ Grip has strong magnets, it still has the risk of falling off the phone case, particularly when you hold the ring alone, adding pulling force.
Q3. Will the MagEZ Grip leave a mark on the phone case?
A3. The MagEZ Grip might leave a mark ring on the phone case after a certain time because magnets sometimes attract magnetic dust. You can wipe it off using a non-woven cloth and 75% alcohol.
PitaCare
PitaCare is our sustainability program to protect our planet. We keep on recycling and reducing waste.
The MagEZ Grip is made using production leftovers and recycled products, including the metal camera ring on phone cases.
Learn more about PITAKA sustainability
What else might you discover?
Reviews
MagEZ Grip
I purchased MagEZ Grip 30 days ago.
in use
After using the product, I felt that it was very well made.
I think it is a product
Luxurious, beautiful design and comfortable to use
very good
New and improved, still a little hard to open
I received the first V1 version of this grip ages ago, and it was definitely useful; but the hole in the ring was too big and the V1 was not stable enough in the hand. It is also difficult to open the V1 ring even if it was not attached to the phone.
This updated version with a smaller hole fits my hand/fingers better; and the new design looks better as well, since it's blends in with the Kevlar case appearance better.
With short fingernails it is still difficult to open the ring IF it is attached to the phone, but it's much better than before as v2 can be opened much easier now when it is off the phone (unlike v1).
MagEZ Grip
Great piece of accessory, strong magnet, strong iron ring, always feeling safe when holding my phone