Carbon Fiber Watch Band
(Rhapsody Version)
For Apple Watch
World's first watch band with carbon fiber and aramid fiber links compatible with all Apple Watch models including Series 9-1, SE, and Ultra 2/Ultra. World's first watch band with carbon fiber and aramid fib... World's first watch band with carbon fiber and aramid fiber links compatible with all Apple Watch models including Series 9-1, SE, and Ultra 2/Ultra. Read More
Made from carbon fiber and aramid fiber
Size: 42/44/45/49mm & 38/40/41mm
Adjustable watch band bracelet length
Lightweight and comfortable
Patented secure magnetic clasp
7-Day Returns
Free Shipping over 30 USD
Secure Checkout
New Tech.
New Style.
The Apple Watch band is crafted using carbon fiber and aramid fiber, which are blended seamlessly using ChromaCarbon™ technology to make the watch band unique and incredibly durable to last long.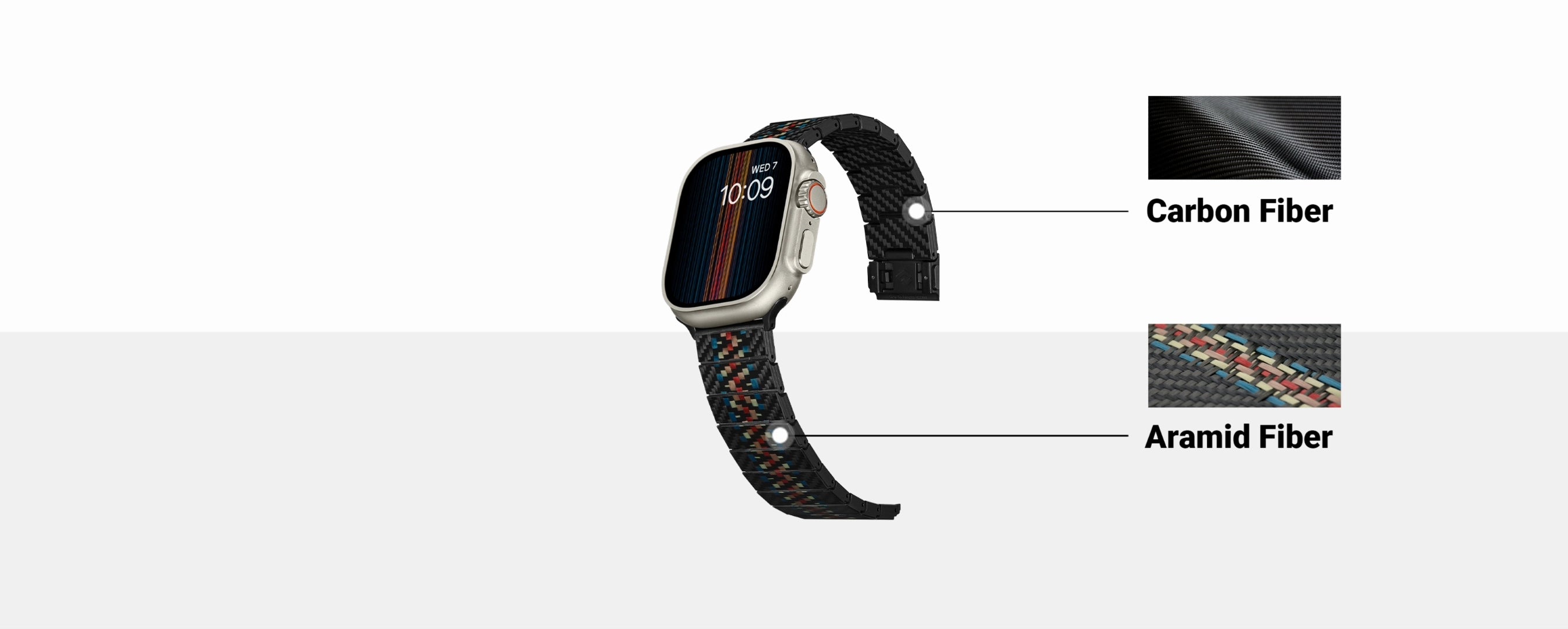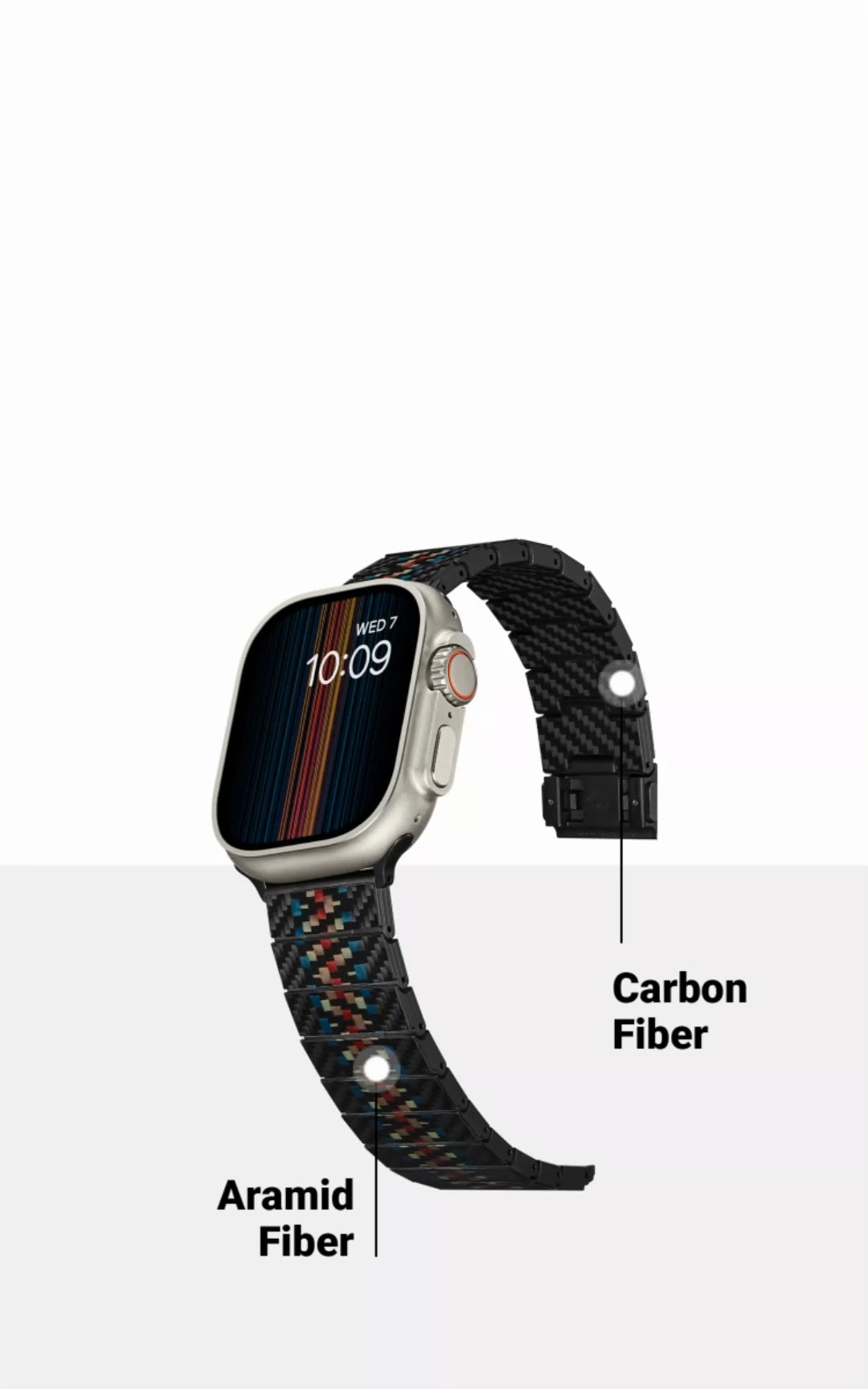 Genuine

Carbon Fiber
Every link is made of 1K carbon fiber which is stronger than steel but much lighter and is widely used to make aircraft parts and racing car bodies.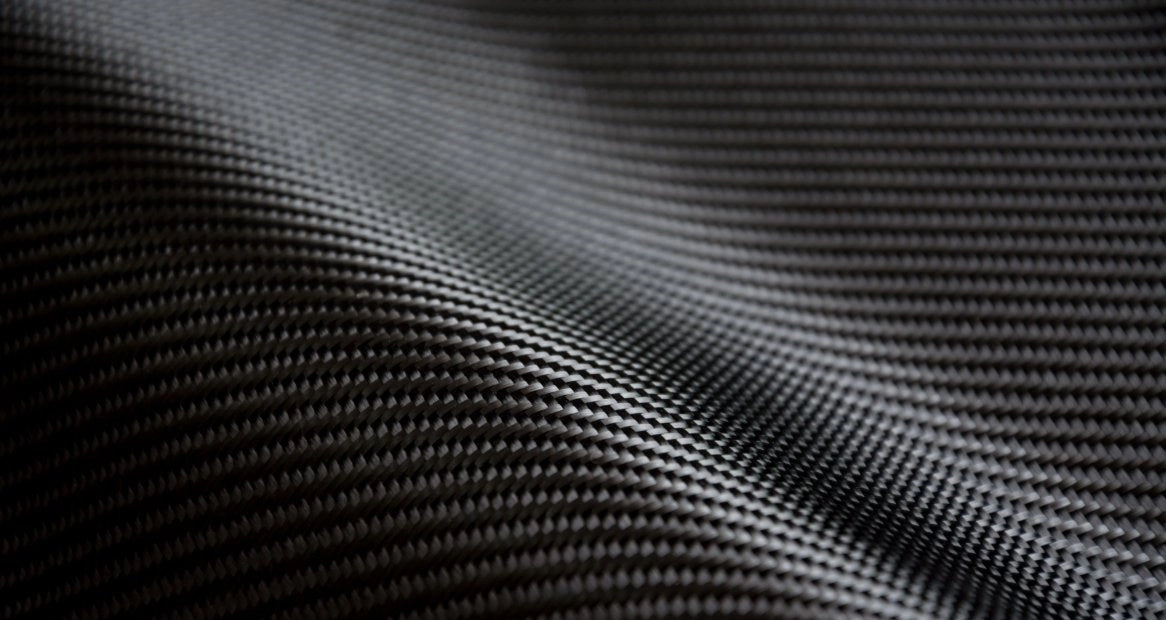 Fusion Weaving

Aramid Fiber
Carbon fiber can't be dyed, so we cover it with colorful aramid fiber that is woven using Fusion Weaving™, our proprietary technology to weave intricate, beautiful patterns.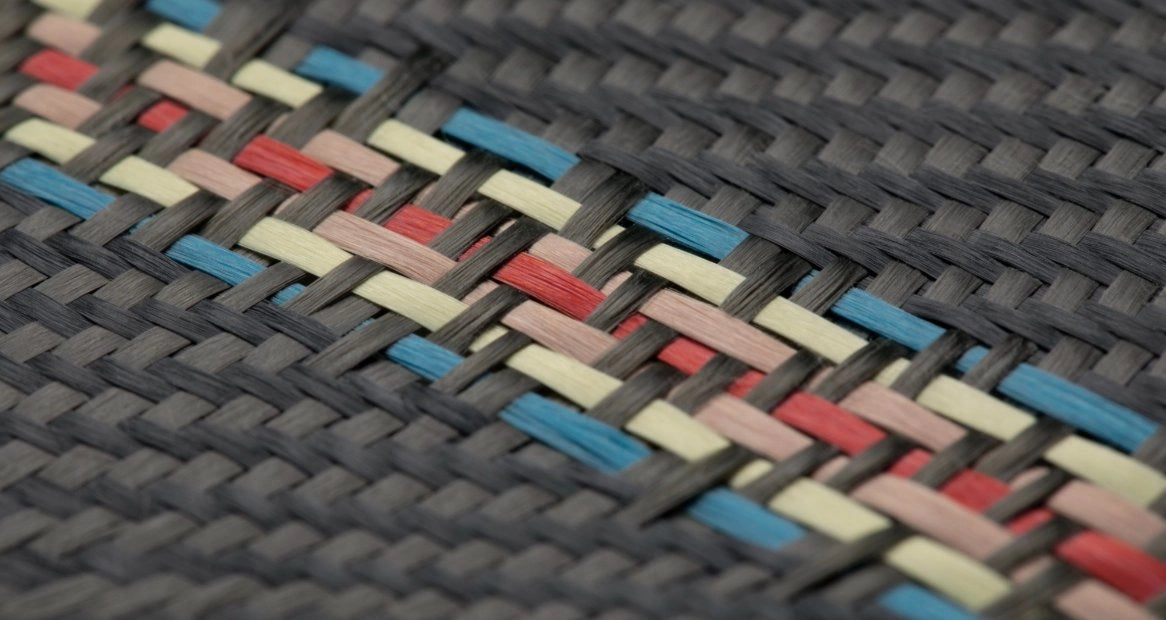 Magnetic,

No Hassle In Using
The patented magnetic fastener and security lock allow you to keep your Apple Watch firmly in place with a snap and take it down with a single click.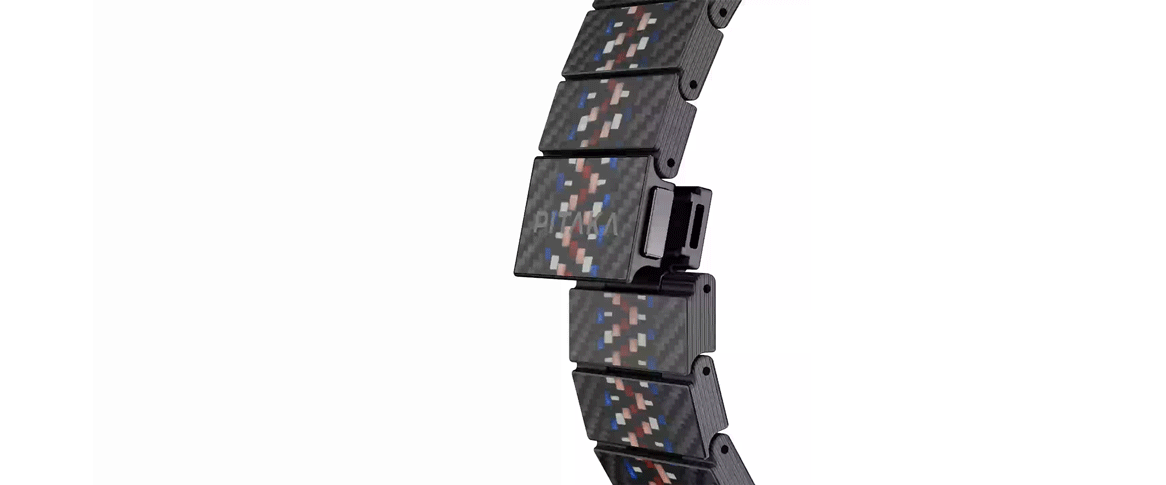 Comfortable, No Trouble On
Sleeping
A burr-free cutting and smooth texture ensure ultimate comfort whenever you wear the Apple Watch band. And carbon fiber doesn't absorb heat to chill your wrist like metals do in winter.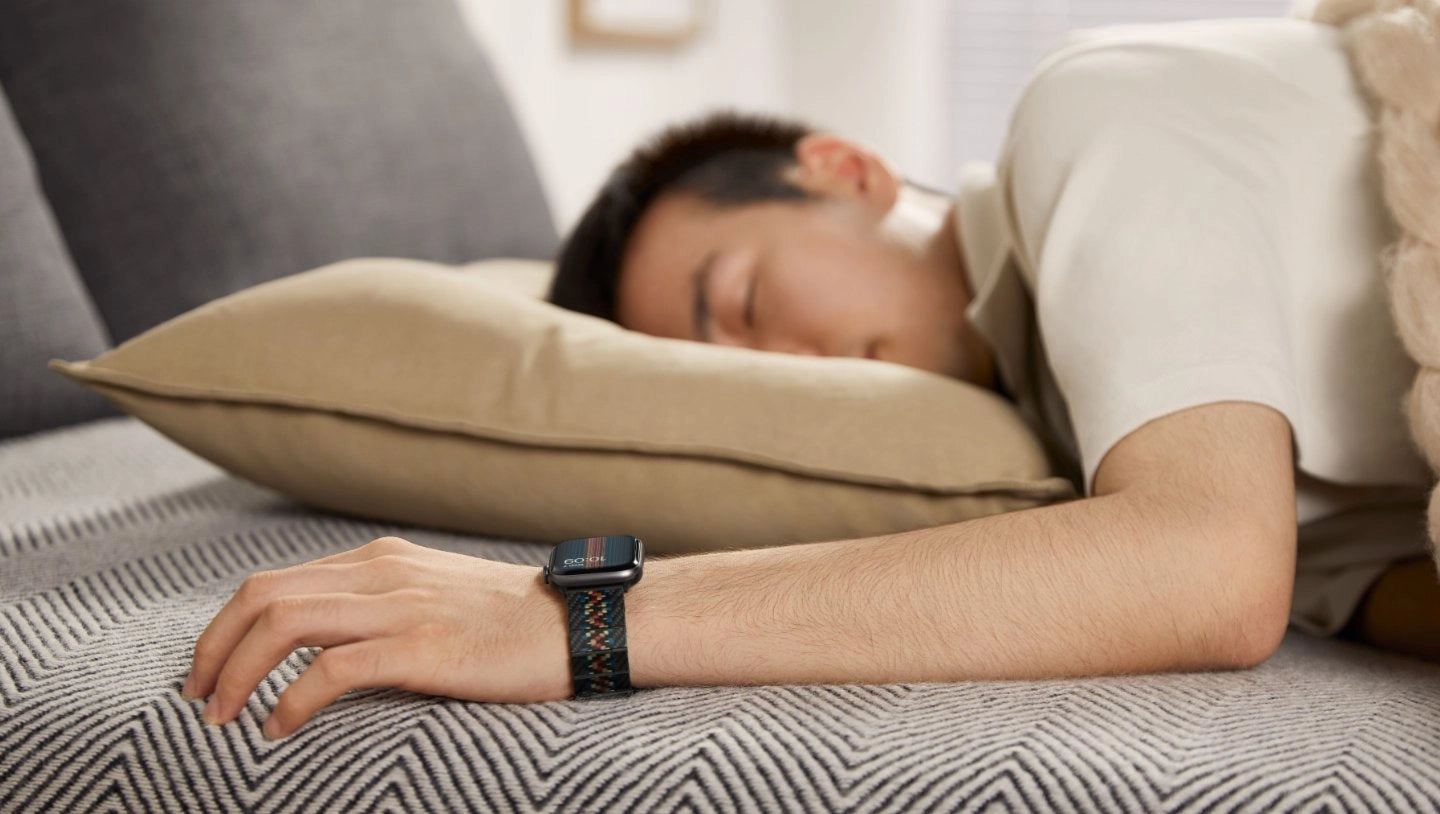 Lightweight, No Pressure
On Your Wrist
This unique Apple Watch band weighs just about 31g, half the weight of a stainless steel band, so you won't feel pressure wearing it all day.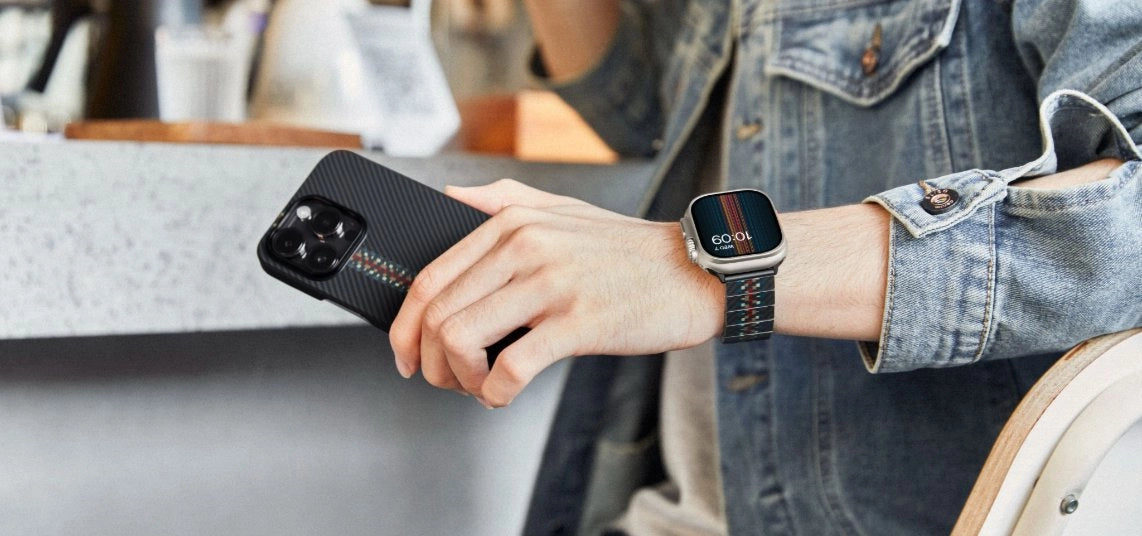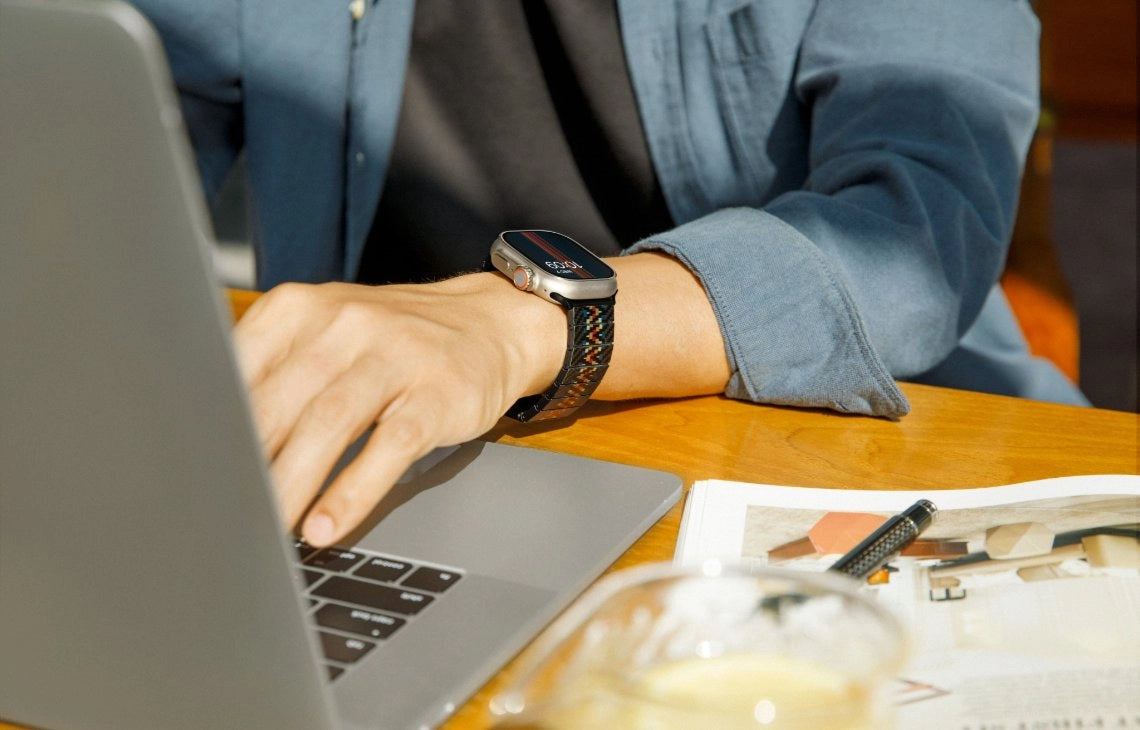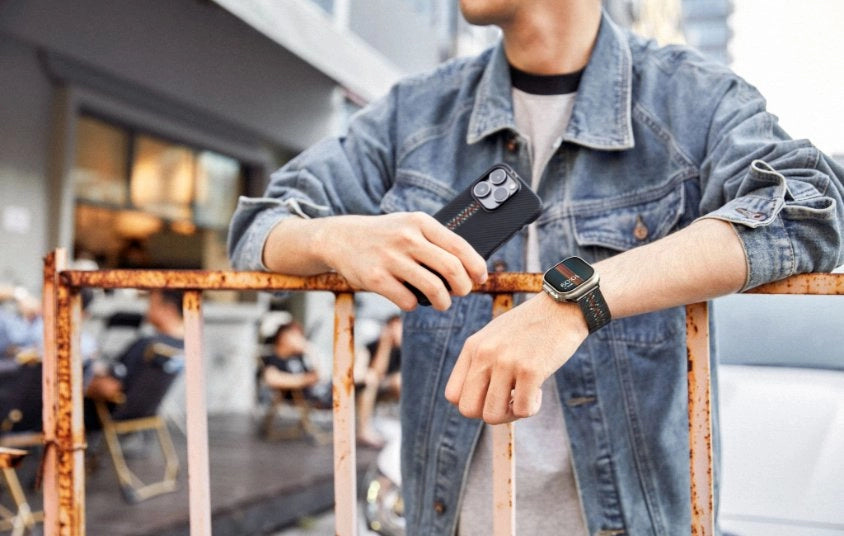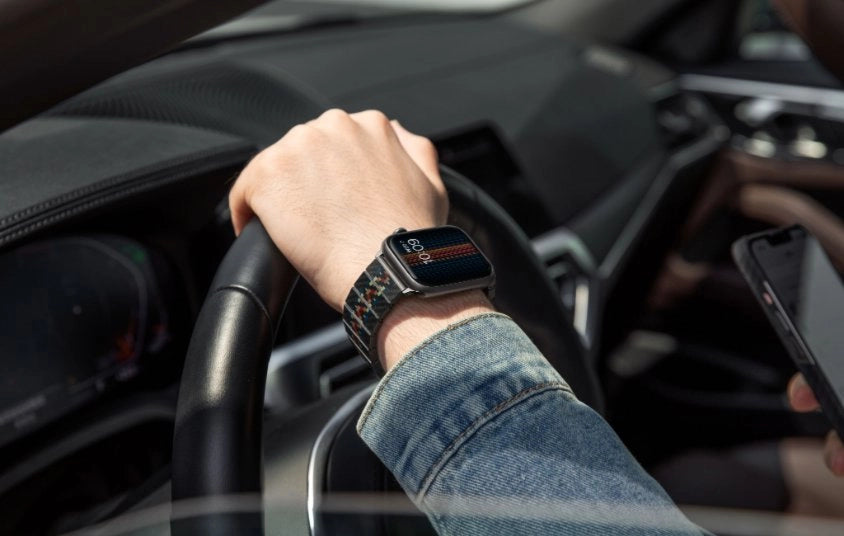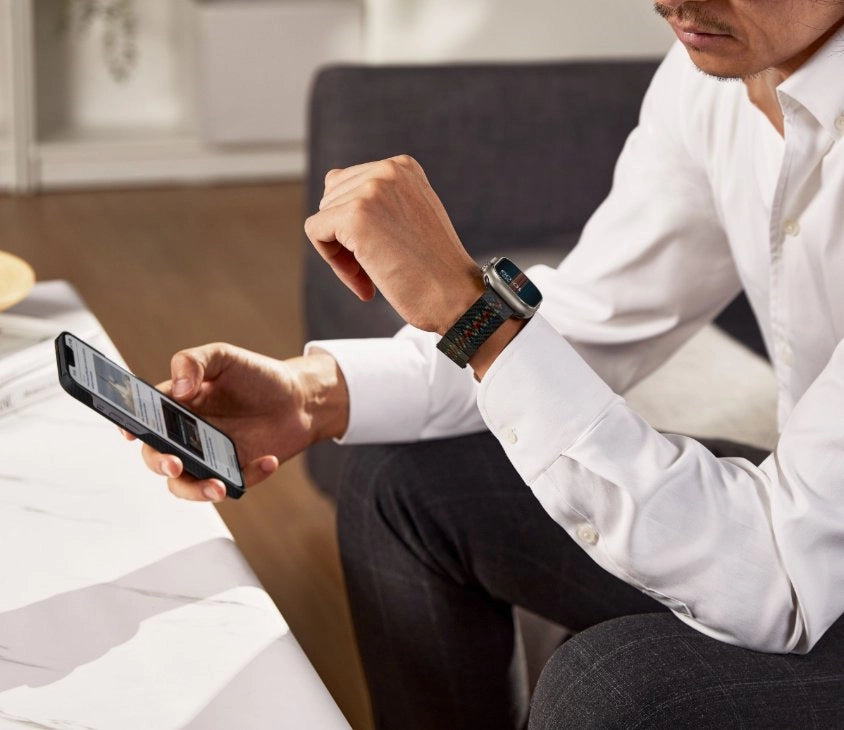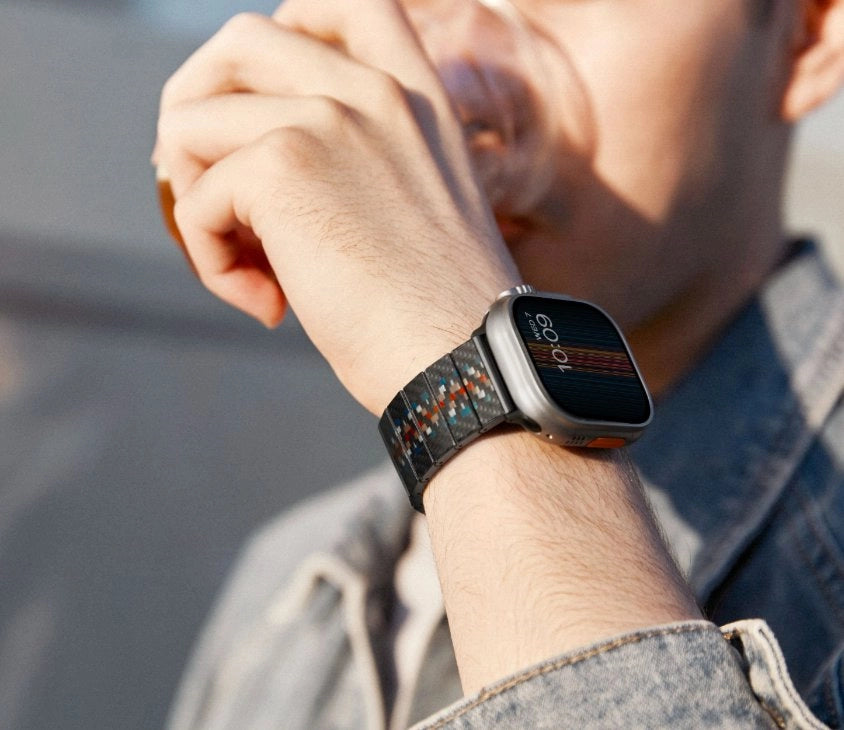 Easy to
Install & Resize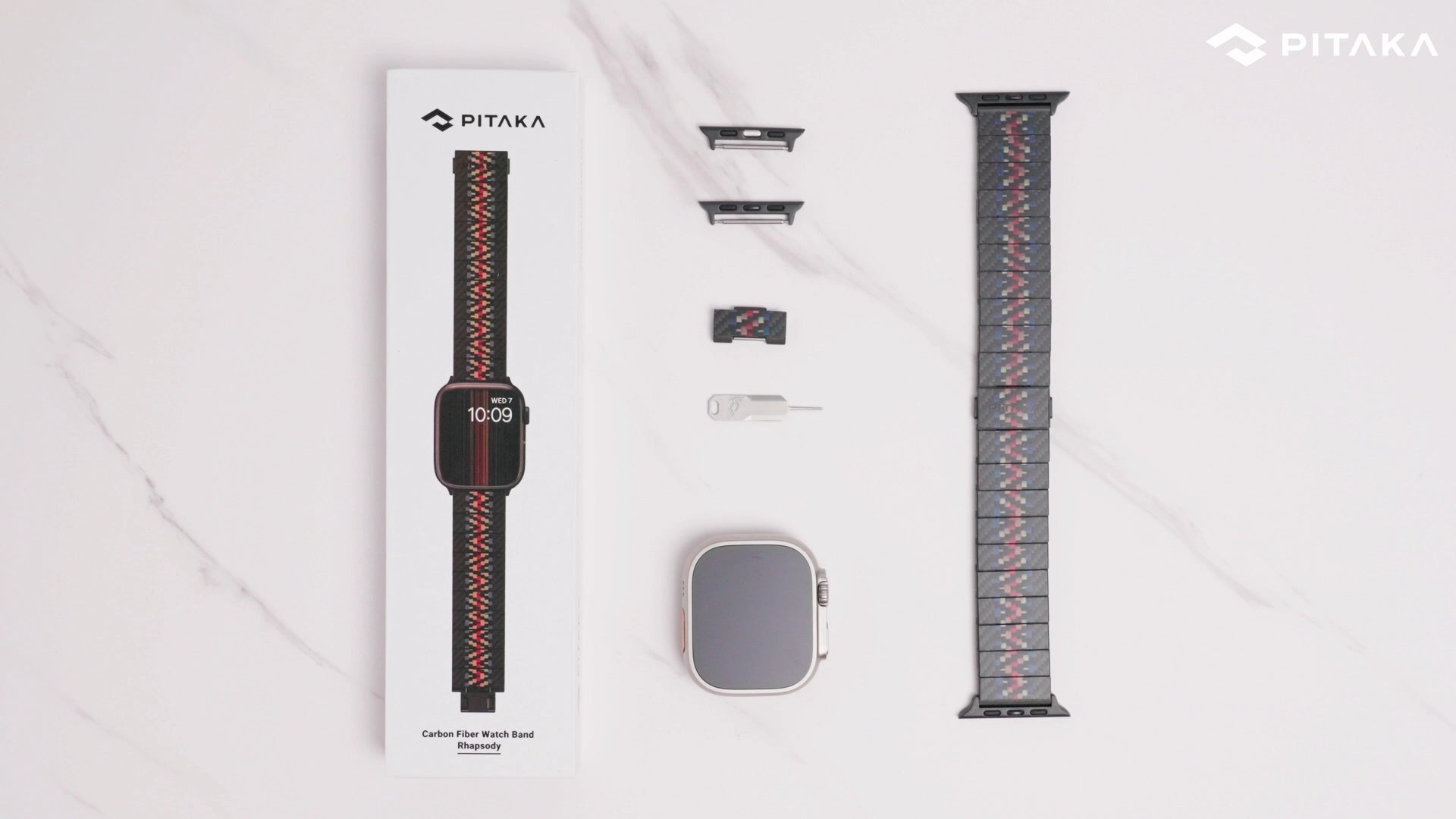 Easy to Clean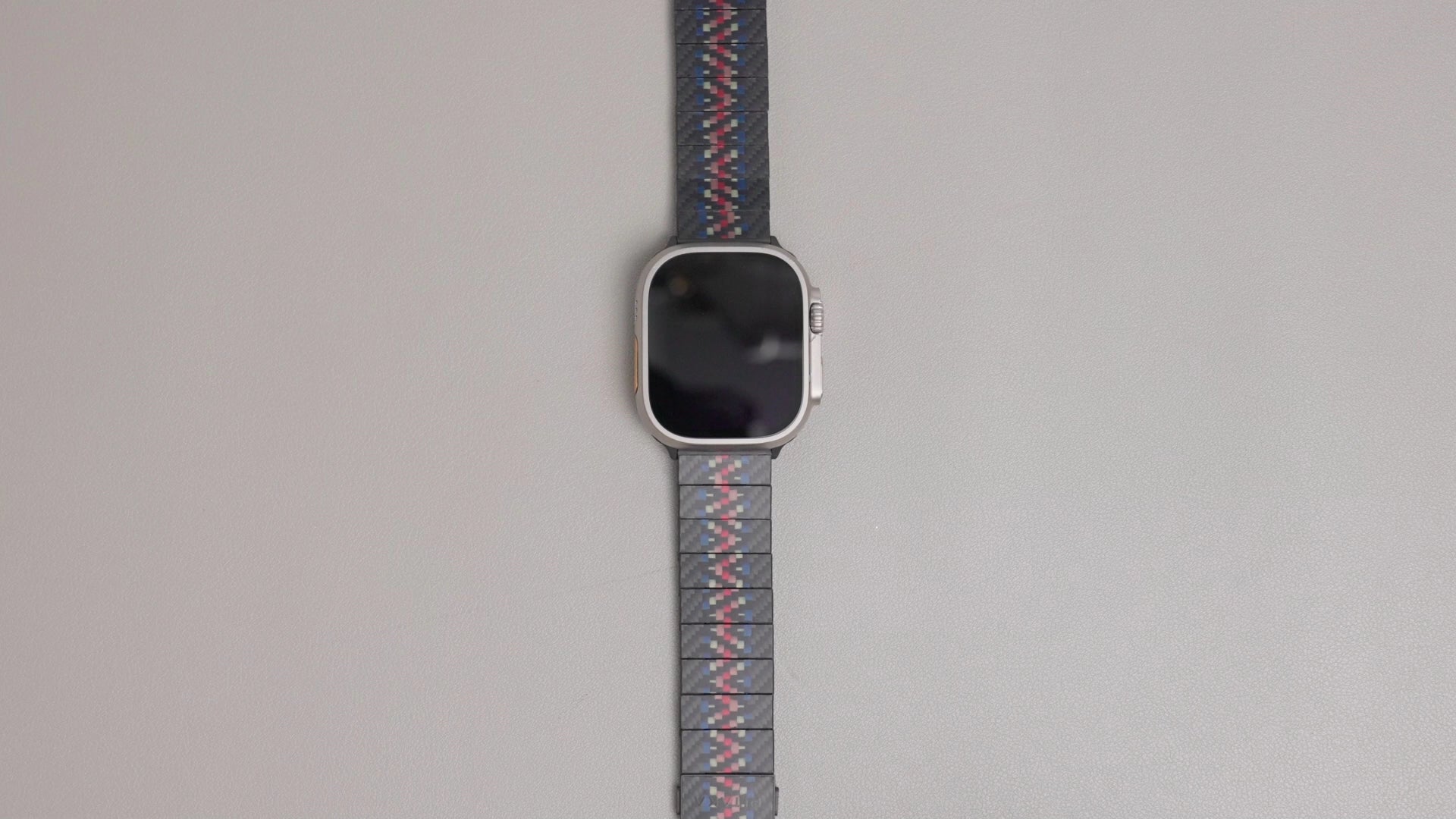 Rhapsody
Color.
Geometry.
Rhythm.
Inspired by Mondrian's artwork and the principle of geometric abstract art, we wove Fusion Weaving aramid fiber and carbon fiber into lines and blocks, creating order and harmony in the design.
Three primary colors of red, yellow and blue spread along the black and gray fabric, like flowing beats of a rhapsody, adding dynamics and style to your everyday life.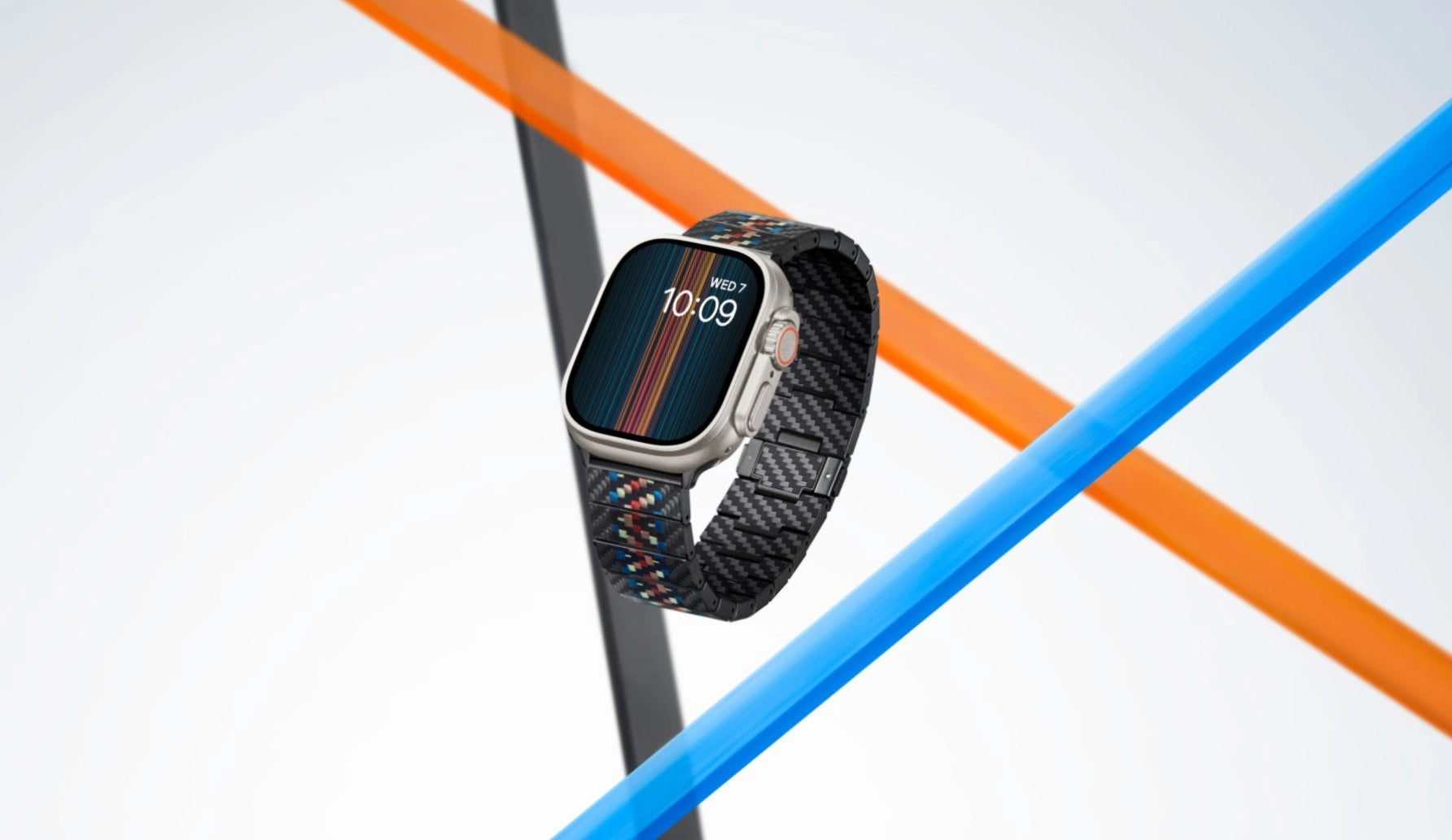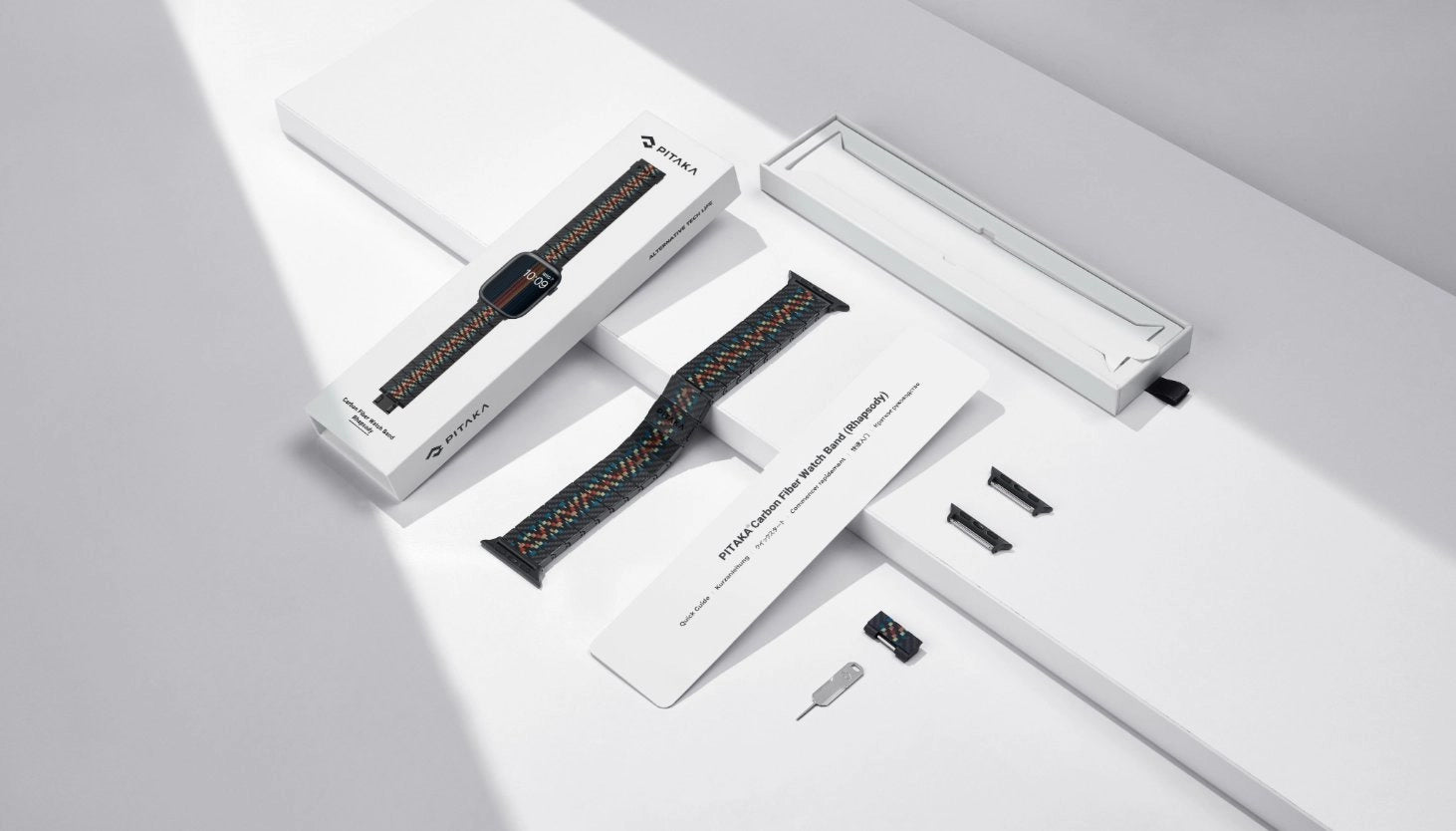 Included in the Box
1 x Carbon Fiber Watch Band (Rhapsody) For Apple Watch
1 x Link
1 x Link Tool
Compatibility
Compatible with Apple Watch Series 8/7/6/SE/5/4/3/2/1, Apple Watch Band of different case sizes including 42/44/45/49mm, 38/40/41mm.
Specs
Dimensions
Length: 189.5mm (20 links) Thickness: 4mm Width: 22mm
Warranty
1 year warranty See our warranty page for more information.
FAQs
Q1. Is the watch band waterproof?
A1. Carbon fiber is waterproof. But it's not recommended to immerse the band in liquid. There is stainless steel inside the band, and seawater may cause stainless steel pins to erode over time.
Q2. Will the magnetic Apple Watch band affect my smartwatch?
A2. The magnets are only in the strap connector and so should not affect the workings of the Apple Watch.
PitaCare
WE CARE FOR OUR PLANET.
Rather than a mission, PitaCare is a sustainability journey put in place to protect and care for what matters the most to us - the world and the people around us. We care for people, their feelings, and their everyday life. We make what people can use and enjoy to simplify their lives.
Learn more about PITAKA and the environment
What else might you discover?