A magnetic stand that allows you to comfortably work on or view your screen at the perfect position. A magnetic stand that allows you to comfortably work on o... A magnetic stand that allows you to comfortably work on or view your screen at the perfect position. Read More
(MagEZ Stand) Use with MagEZ Case 2 for iPad Pro/Air 2018/2020/2021/2022
(MagEZ Charging Stand) Use with MagEZ Case Pro for iPad Pro 2022/2021 and iPad mini 6
Designed ergonomically for eye level
+32.5°/-5° adjustable vertical angle
Supports landscape and portrait mode
Qi wireless charging base
Shop now, pay over time with Klarna.
7-Day Returns
Free Shipping over 30 USD
Secure Checkout
Snap On Your iPad
& Work Like A Pro
Streamlining Productivity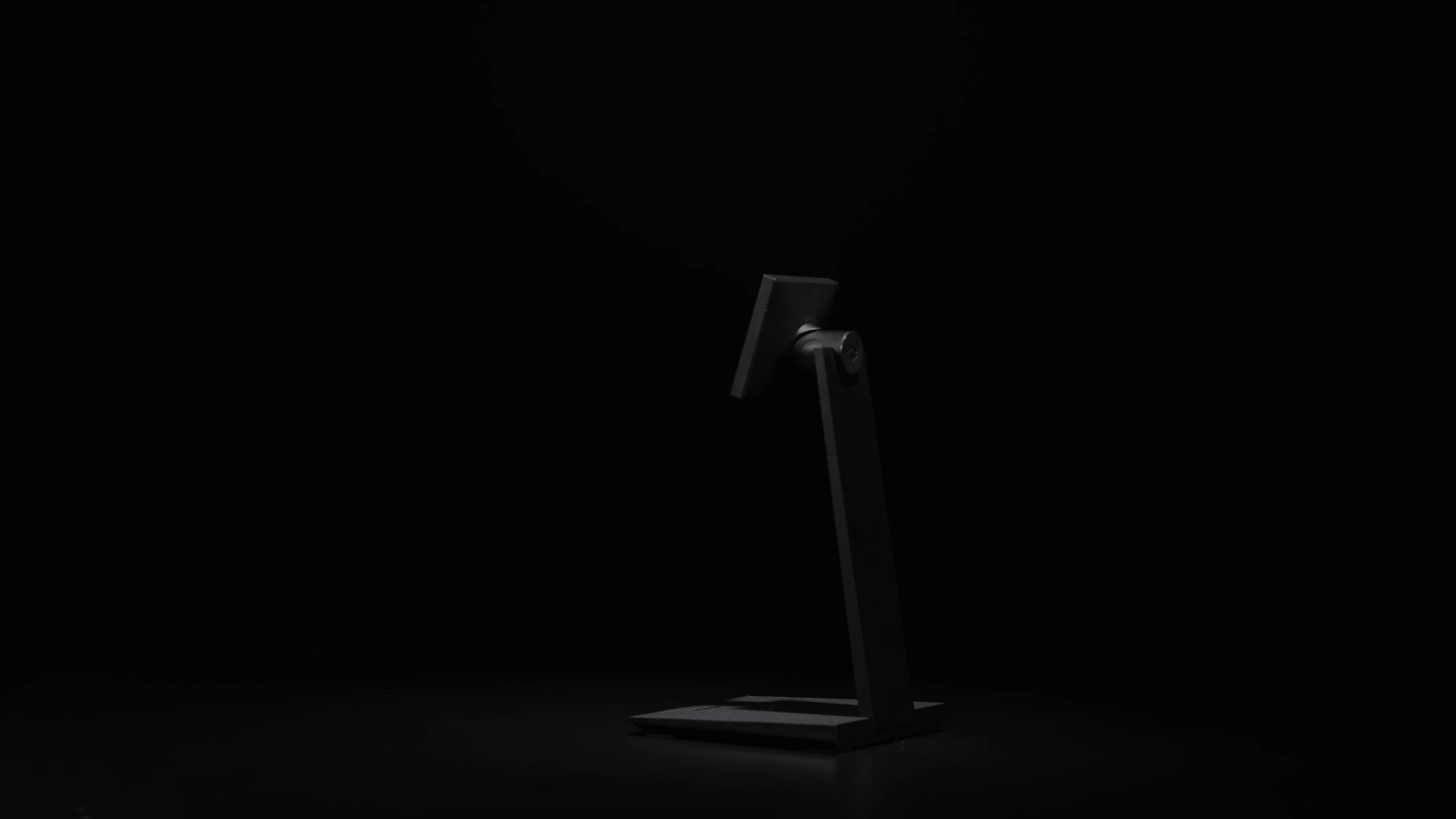 Adjust For Your Comfort
Featuring an adjustable vertical +32.5°/-5° angle, the MagEZ Stand for Tablet will always give you the best viewing angle. And you can comfortably use your tablet in landscape or portrait mode as you wish.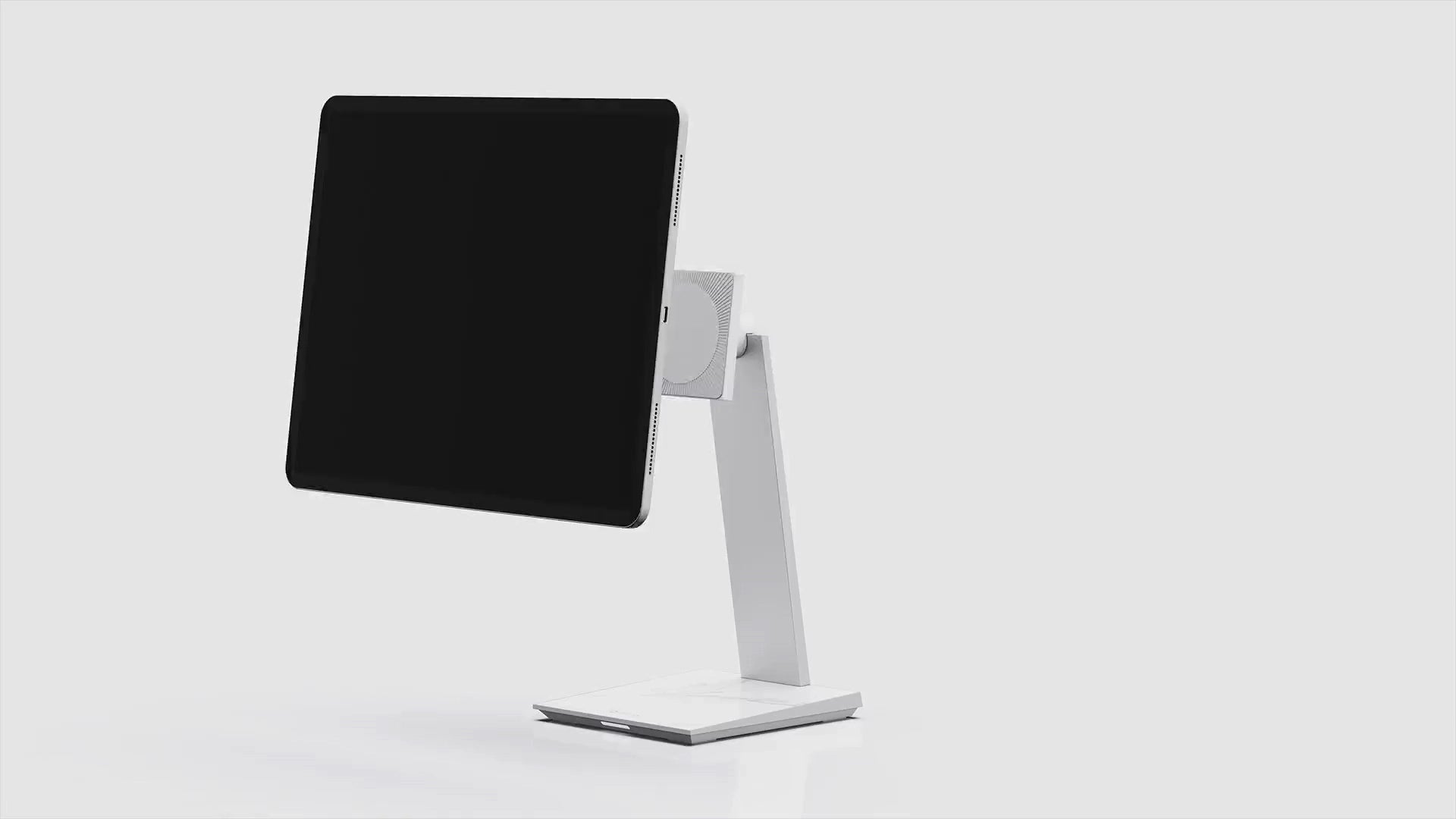 Instantly Set Up Your Workstation
Set up your tablet with a Bluetooth keyboard and mouse for work or as a second screen for project management or video meetings. Designed ergonomically for eye level, the MagEZ Stand allows you to comfortably work on or view your tablet screen at the perfect position, improving your posture and reducing back and neck strain.
Charge Your Device
While Working
Charge your mobile with speeds of up to 15W* using the aramid fiber wireless charging base. (The charging base function is available for Charging and Non-Charging version) *Android 15W/iPhone 7.5W/earbuds 5W
Elevate Your
Tablet Anywhere
Not only mount your tablet at the office but at home, like elevating your tablet in the kitchen, keeping it safe from food splashes while you follow a recipe.
"Wireless-Charging"
Experience For Your Tablets
With the "X" pin connectors on the back, the MagEZ Case Pro attaches to the stand with built-in sophisticiately designed magnets. No more fiddling with the cable. Just snap and charge and enjoy. Currently, the charging version of MagEZ Stand is only available for iPad mini 6 and iPad Pro 2021/2022.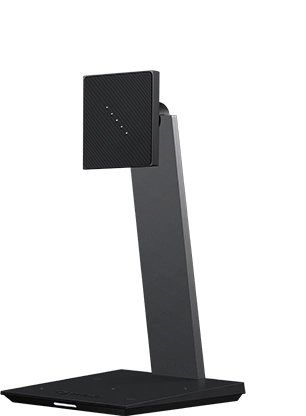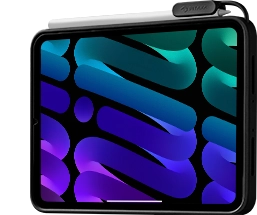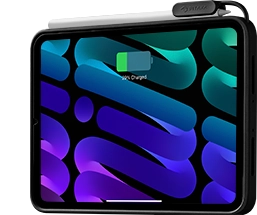 Seamlessly Magnetic Connection
Effortlessly snap your tablet on the stand by using the magnetic sticker. Or better, use it with the MagEZ Case 2 to enjoy seamless functionality between your devices. With your tablet securely mounted at the perfect position, you can work like a pro now.
A Sleek Minimalist Design With
Different Colors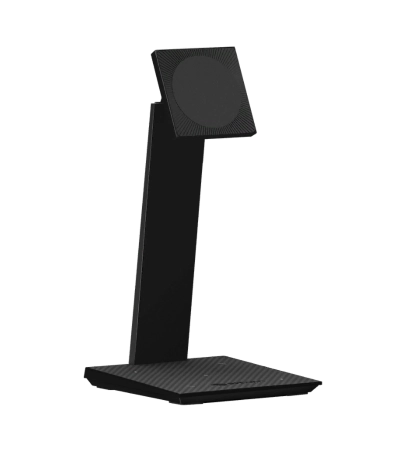 Classic Version
With sleek steel aesthetics, the classic PITAKA style stand is minimalistic and sturdy enough to hold even the largest tablet.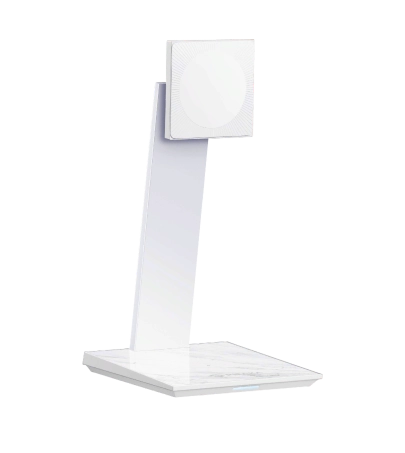 Marble Version
Marble is highly durable and resistant to shattering. Moreover, it reflects light, offering a timeless charm to the luxe and minimalistic stand.
Luxury Marble
(Only for MagEZ Stand Version)
The marble version suits better to various interior styles, especially modern and contemporary styles. Make this marble stand part of the decor of your home. No matter where it is placed, not only can it hold your iPad, but make your home more elegant.
PitaFlow for Tablets
Experience Seamless
Magnetic With Your iPad
Apart from MagEZ Stand and MagEZ Case for iPad, there is a series of magnetic products that work seamlessly with your iPad Pro/Air to help you work more efficiently, whether you're at home, the office, or a cafe.
View More
Testimonial
"
This stand was my first iPad stand and it met most requirements, I like that they have an actual case that attaches directly to the stand as well. But if you don't have the case, they give you a magnetic sticker to stick to the back of your iPad. The iPad is so secure when mounted, it's definitely not going to fall. I can safely and confidently caRead more about review stating This stand was my firstrry the stand with the iPad attached without any worries.
"
Dhara D.
"
I had a question about compatibility and it was answered in less than 24 hours. Fast Shipping. I use this to hold my 2021 iPad Pro next to my monitor as a second monitor. So elegant! And being able to charge my phone or AirPods Pro at the same time is wonderful.
"
Michael A.
"
I love pitaka. Always evolving improving and changing for the better.I own a number of things starting with my wallet that is going probably close to 4 years strong now or so.
"
konstantinos k.
Compatibility
MagEZ Stand:
Compatible with all tablets using the metal sticker. If using a case, the metal sticker must be attached to the outside of the case.
Compatible with all tablets no more than 1kg (2.2lbs) using the metal sticker. If using a case, the metal sticker must be attached to the outside of the case.
Works best with the MagEZ Case 2 (no metal sticker necessary).
Not compatible with MagEZ Case without a sticker.
Wireless charge any Qi-enabled device (iPhone 7.5W/Android up to 15W/earbuds 5W).
MagEZ Charging Stand:
Works with the iPad mini 6 and iPad Pro 2021/2022 equipped with MagEZ Case Pro.
The charging base is suitable for all Qi-enabled devices.
Specs
Dimensions
MagEZ Stand: Height: 9.6in (244.6mm) Base Length: 5.3in (133.5mm) Base Width: 4.9in (124mm) Weight: 1lb (466g)
MagEZ Charging Stand: Height: 9.7in (245.17mm) Base Length: 5.3in (133.97mm) Base Width: 4.9in (123.97mm) Weight: 23.5oz (665g)
Technical
MagEZ Stand: Type-C Input: DC 5V/2A/9V/2A/12V/1.5A Output: 5W/7.5W/10W/15W +32.5° up & -5° down adjustable view
MagEZ Charging Stand: Type-C Input: Supports 20W or higher chargers (45W PD fast charger is highly recommended) Magnetic Charging Pad Output: DC 5V/3A, 9V/2.22A, 12V/1.67A Wireless Output: 5W/7.5W/10W/15W Adjustable View: Tilts forward 32.5° & backward -5° Other Function: Foreign Object Detection, Temperature Protection, Overcurrent Protection and Short Circuit Protection
Materials and Tech
MagEZ Stand (Black/Grey Twill): Zinc Aluminum Alloy Aramid Fiber Polyurethane (PU)
MagEZ Stand (Marble White): Marble
MagEZ Charging Stand (Black/Grey Twill): Aluminum Alloy Zinc Alloy Aramid Fiber
Warranty
MagEZ Stand: 1 year warranty MagEZ Charging Stand: 6 months warranty See our warranty page for more information.
Package Contents
MagEZ Stand: 1 x MagEZ Stand 1 x Metal Sticker 1 x Type A-C Charging Cable (Length: 1m) 1 x Setup Tool Kit
MagEZ Charging Stand: 1 x MagEZ Charging Stand (Available for iPad mini 6 & iPad Pro 2022/2021) 1 x Type C-C Charging Cable 1 x Allen Wrench 1 x Quick Guide
FAQs
Q1. Does the MagEZ Stand wireless charge my tablet?
A1. No, the wireless charging function is only for Qi-enabled smartphones and earbuds.
Q2. Can I attach my Samsung Galaxy Tab?
A2. Yes, you can attach a Galaxy Tab using the magnetic sticker.
Q3.Does the magnetic charging stand charge other iPads or tablets except for the iPad mini 6?
A3. No, the magnetic charging function is only for the iPad mini 6 with the MagEZ Case Pro.
Q4. Can I charge my iPad and smartphone at the same time?
A4. Yes, you can charge your iPad mini 6 and Qi-enabled device simultaneously
PitaCare
WE CARE FOR OUR PLANET.
Rather than a mission, PitaCare is a sustainability journey put in place to protect and care for what matters the most to us - the world and the people around us. We care for people, their feelings, and their everyday life. We make what people can use and enjoy to simplify their lives.
Learn more about PITAKA and the environment
What else might you discover?