Standard Air Case
For iPhone 13 mini/13/13 Pro/13 Pro Max
The thinnest and lightest iPhone 13 case made using Fusion Weaving aramid fiber. The thinnest and lightest iPhone 13 case made using Fusio... The thinnest and lightest iPhone 13 case made using Fusion Weaving aramid fiber. Read More
Unique styles created using Fusion Weaving technique
Lightweight and ultra-thin
Textured surface for exceptional grip and comfort
Precision cut for access to buttons, switches, and the charging port
Lifted camera ring
Free MagSafe Sticker (to make the Air Case MagSafe compatible)
7-Day Returns
Free Shipping over 30 USD
Secure Checkout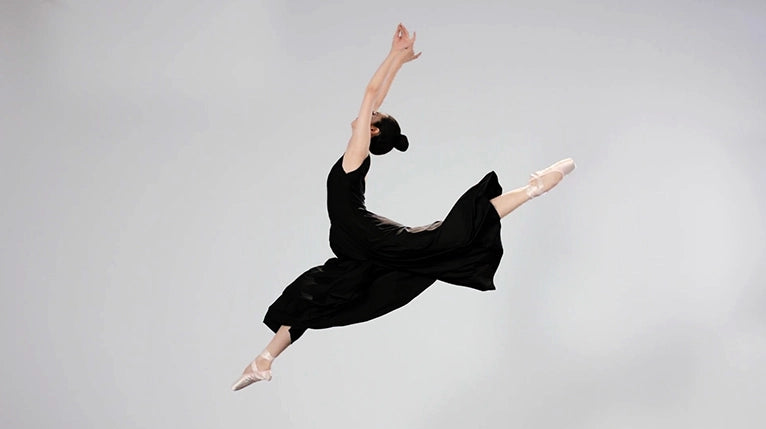 Lightweight and Ultra-thin
Weighing just 7.1g (mini), with a thickness of only 0.55mm, Air Case is precision cut to maintain the slim design of your iPhone 13 and allow access to buttons, switches, and the charging port.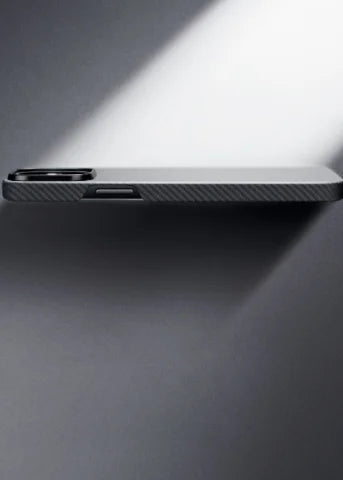 Want to Turn the Air Case Magnetic and MagSafe compatible?
Put the included MagSafe ring onto the back of your iPhone 12/13. Then you can enjoy what you like about the Air Case and the tremendous convenience from connecting your mobile to the magnetic world.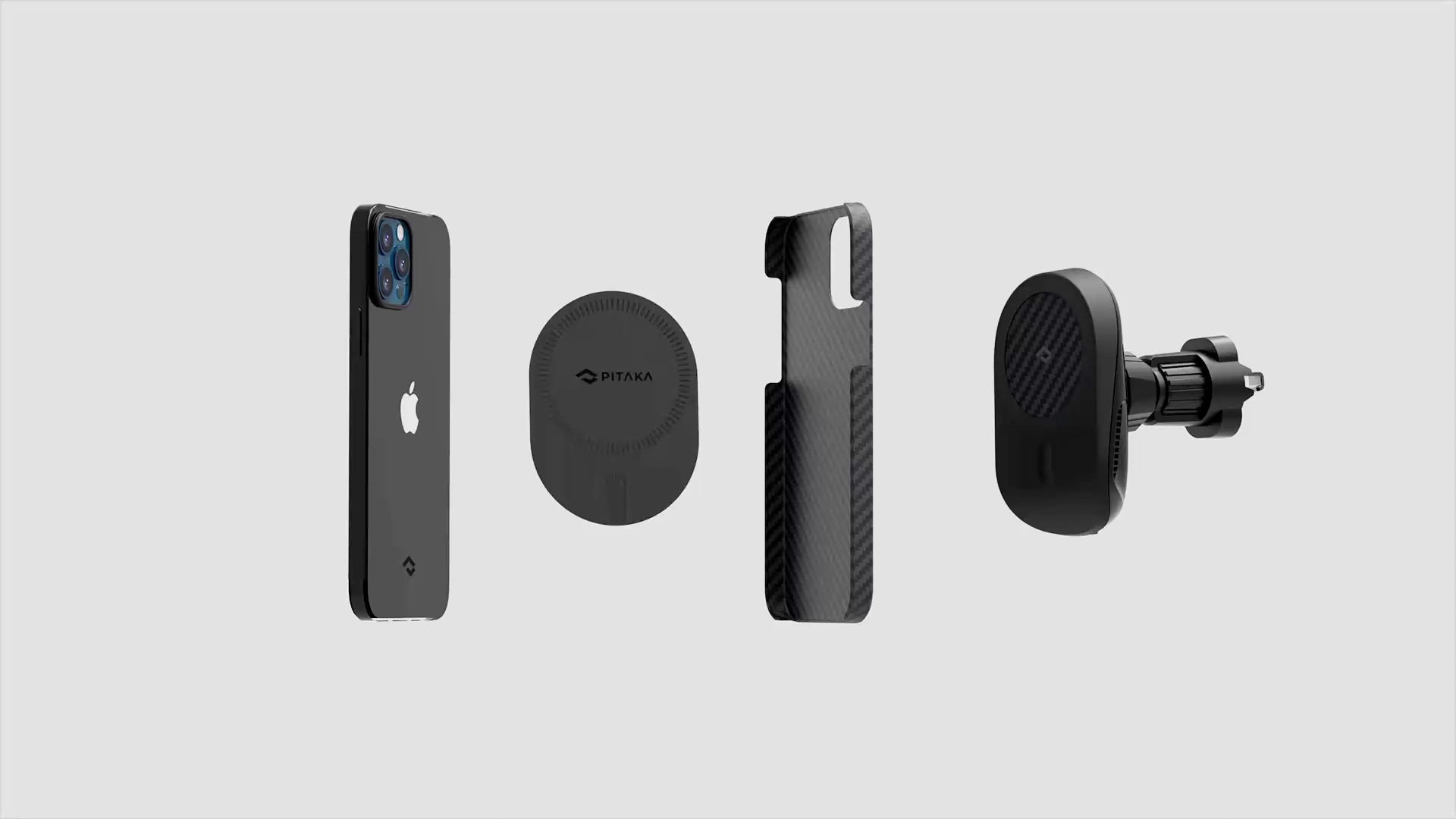 Luxury and Minimalism Combined
Experience luxury at your fingertips with this minimalistic case crafted from delicately woven 600D aramid fiber reserved only for our premium products.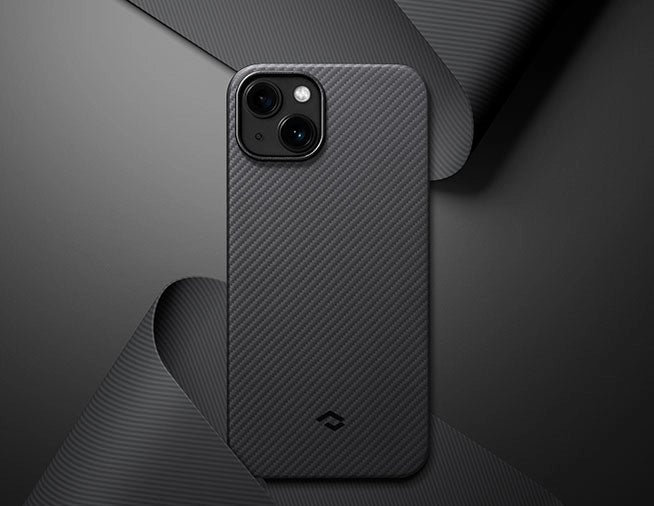 Better Grip with
More Comfort
Our unique vacuum forming process creates a granular nonslip luxurious texture for exceptional grip and comfort.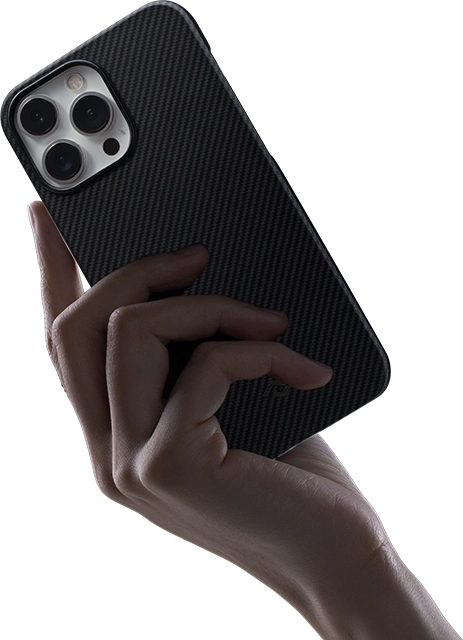 Built-in Camera Protection
A durable raised camera surround protects your lenses from scratching.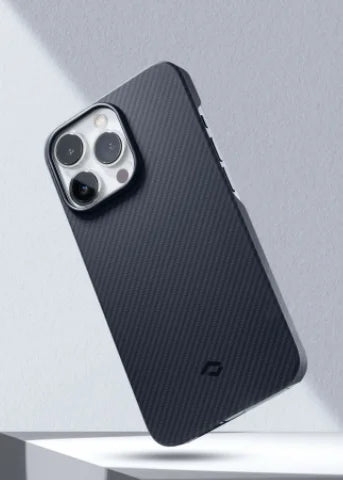 Compatibility
Charge your iPhone 13 using a standard wireless charger, including MagSafe.
Not compatible with our magnetic MagEZ Series chargers or MagSafe accessories.
Specs
Thickness
0.022 in. (0.55mm)
Weight
iPhone 13 mini: 0.25oz (7.1g) iPhone 13: 0.3oz (8.5g) iPhone 13 Pro: 0.3oz (8.6g) iPhone 13 Pro Max: 0.37oz (10.6g)
Warranty
2 months warranty See our warranty page for more information.
Package Contents
1 x Standard Air Case for iPhone 13 mini/13/13 Pro/13 Pro Max
FAQs
Q1. Can I use the Air Case with other PITAKA products?
A1. Although the Air Case does not have magnetic functionality, this luxury phone case is wireless charging friendly and can be used with all wireless chargers, including our Air Series.
Q2. What is the difference between 600D aramid fiber and the 1500D that is used to craft other PITAKA products?
A2. The finer weave of the 600D means that the surface texture is more delicate and improves grip, reducing the chance of dropping your device. As the manufacturing process is more complex, PITAKA reserves 600D for its premium products, such as the Air Case and Apple Watch Air Case.
Q3. Is the Air Case compatible with Apple's MagSafe System?
A3. Air Case for iPhone 13 Series does not have MagSafe magnets embedded but can attach through the case.
PitaCare
WE CARE FOR OUR PLANET.
Rather than a mission, PitaCare is a sustainability journey put in place to protect and care for what matters the most to us - the world and the people around us. We care for people, their feelings, and their everyday life. We make what people can use and enjoy to simplify their lives.
Learn more about PITAKA and the environment
Compare
PITAKA Cases
Three eye-catching cases with a minimalist aesthetic made to protect and accentuate the flawless design of your iPhone 13. Whether you're looking for lightweight minimalism, MagSafe compatibility, reinforced protection, we have it for you. And we've added two new versions of cases to the iPhone 13 series. Crafted from Fusion Weaving™, the new cases feature a more colorful style and an outstanding three-dimensional effect.
A stylish and lightweight MagSafe case crafted from durable aramid fiber through fusion weaving.
A stylish and minimalistic case crafted from durable aramid fiber through fusion weaving.
An upgraded design that perfectly balances minimalism and exceptional protection with MagSafe compatibility.
MagEZ Accessory Compatible
Compatible
(Embedded Magnet Array)
Compatible
(Attaches through the case)
Compatible
(Embedded Magnet Array)
See full comparison
What else might you discover?
Reviews
Excellent
Have has this case since I got my 13 mini a year ago. Got it mainly for the size/weight/design and getting some protection. For the most part I haven't had a screen protector mounted, but the case has protected the phone so far.
Today I dropped the phone on our warehouse concrete floor, and was certain there would be cracks when I picked it up, but the phone is spotless. Minor marks on the case, but not enough too care about. Felt obliged to leave a review after this.
Nice product. Good quality.
Nice product. Good quality.
WOW :grinning_face_with_star_eyes: Perfect :heart_eyes:
WOW :grinning_face_with_star_eyes: Perfect :heart_eyes: