MagEZ Wallet UE
RFID-Blocking Wallet
A modular carbon fiber wallet that offers fast and easy access to your cards. A modular carbon fiber wallet that offers fast and easy a... A modular carbon fiber wallet that offers fast and easy access to your cards. Read More
Magnetic modules
Flick open with a single hand
Lightweight and durable carbon fiber
RFID blocking
Holds 6 cards including magnetic stripe cards
7-Day Returns
Free Shipping over 30 USD
Secure Checkout
Modular Life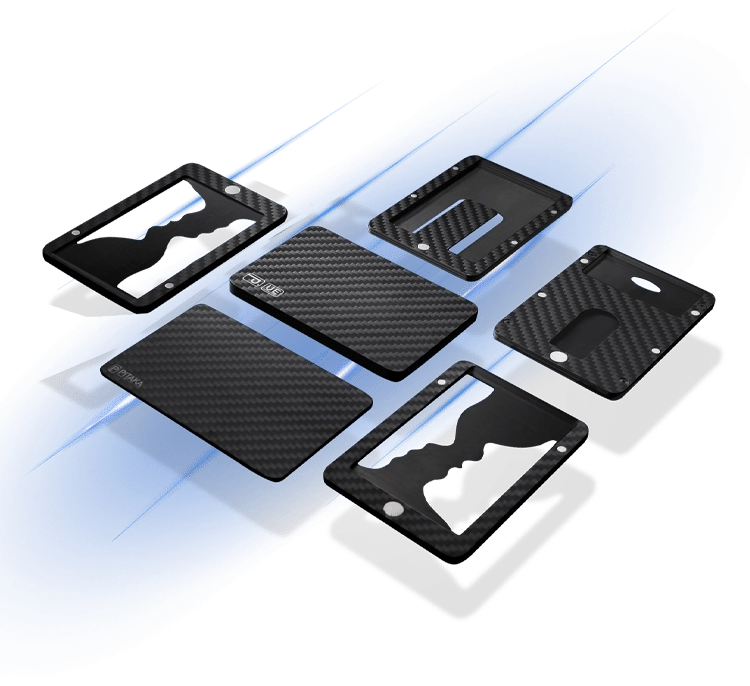 Secure Card Storage
Not only do magnets hold the carbon wallet layers together, but each layer is designed to hold a card securely, even when dropped or turned upside down.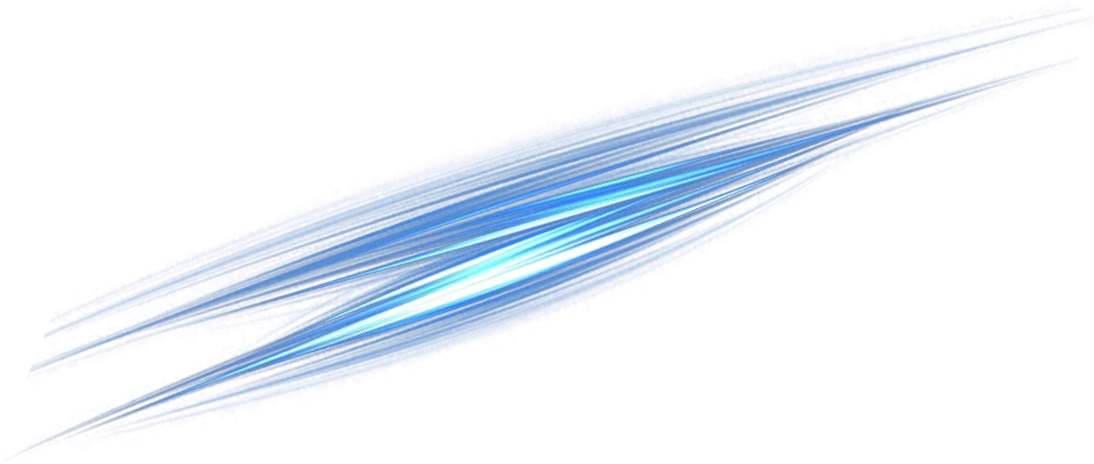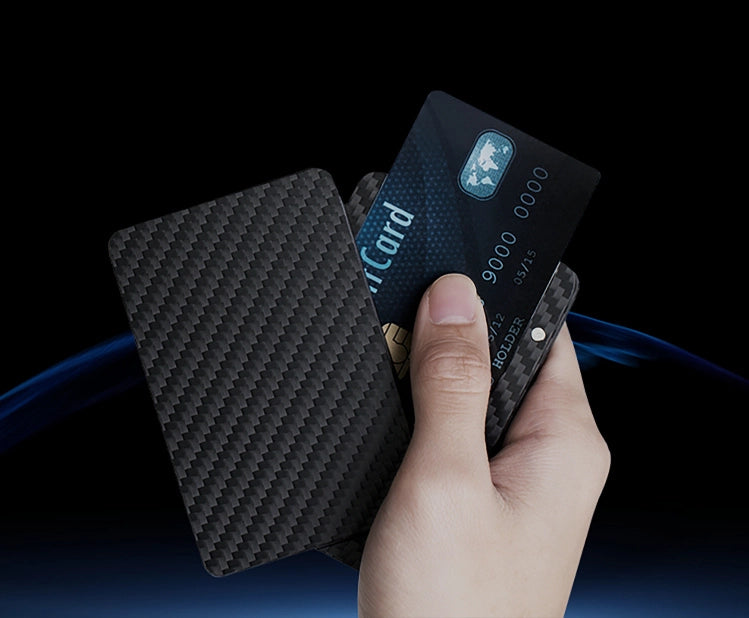 Fast, Easy Access to Cards
Simply flick open the carbon fiber wallet with a single hand and slide out the card.
Add extra layers
Customise this modular wallet with extra layers whenever you need them. Add and remove modules such as the box layer to store keys and sim cards, or the money clip to hold your cash.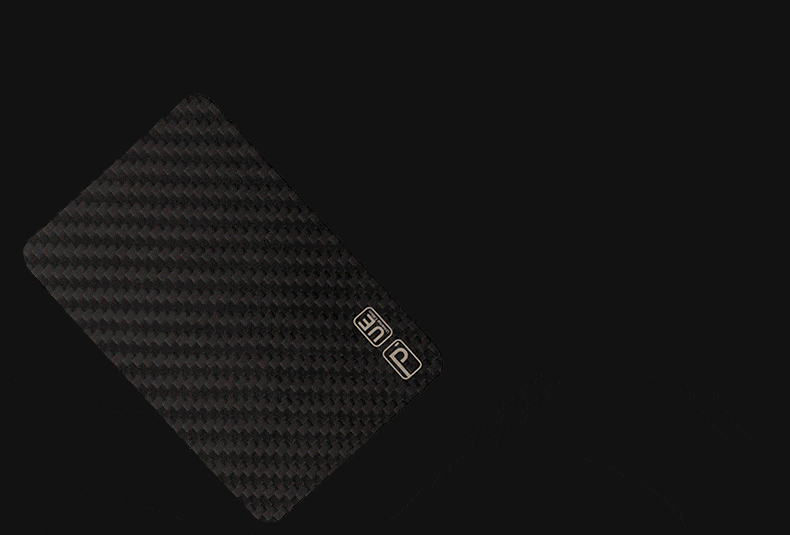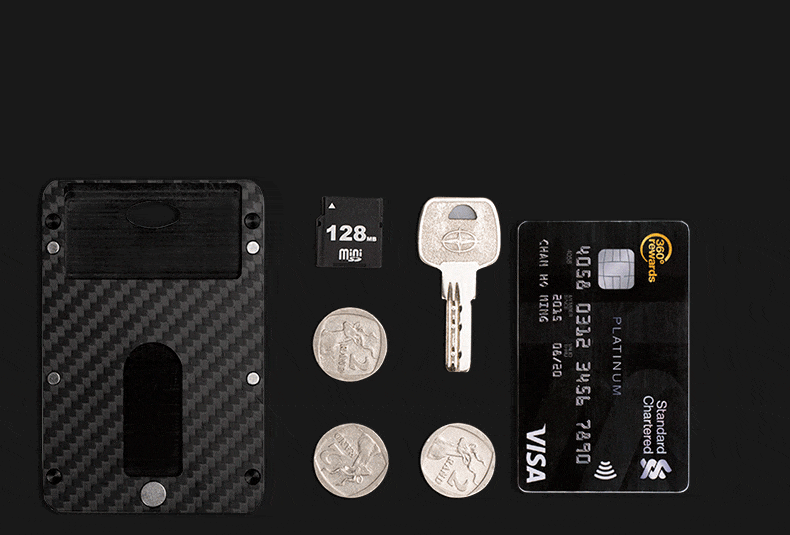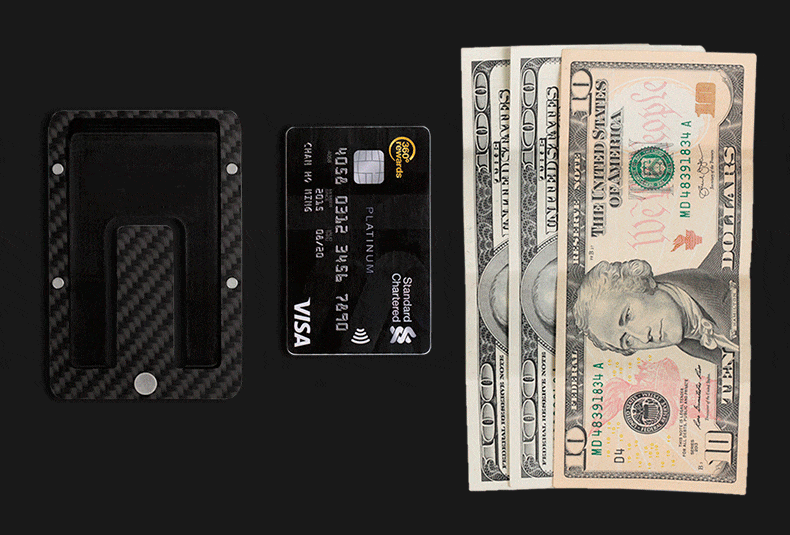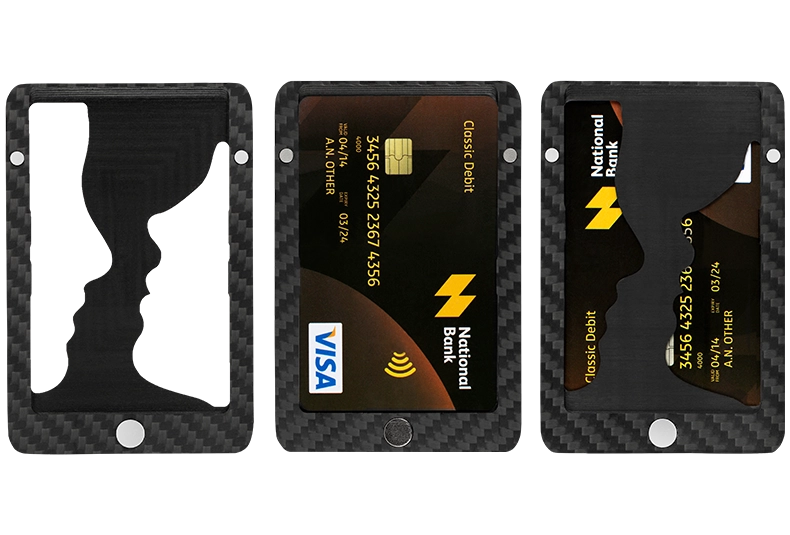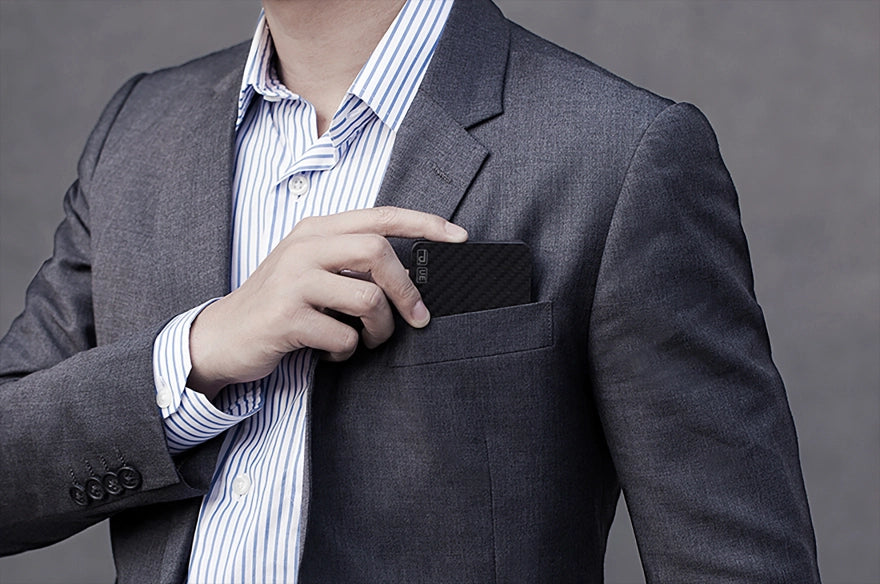 Compact, Lightweight and Durable
Crafted with carbon fiber and weighing a little over 50g, the MagEZ Wallet is not only extremely lightweight but also longlasting. The carbon fiber wallet is compact and slim enough to fit comfortably into your pocket.
RFID (Radio Frequency IDentification) Blocking
This carbon fiber RFID blocking wallet disrupts signals from RFID readers, preventing card skimming, and ensuring personal card data safety. The anti-degaussing module for the MagEZ Wallet UE protects your magnetic strip cards against the erasing of data.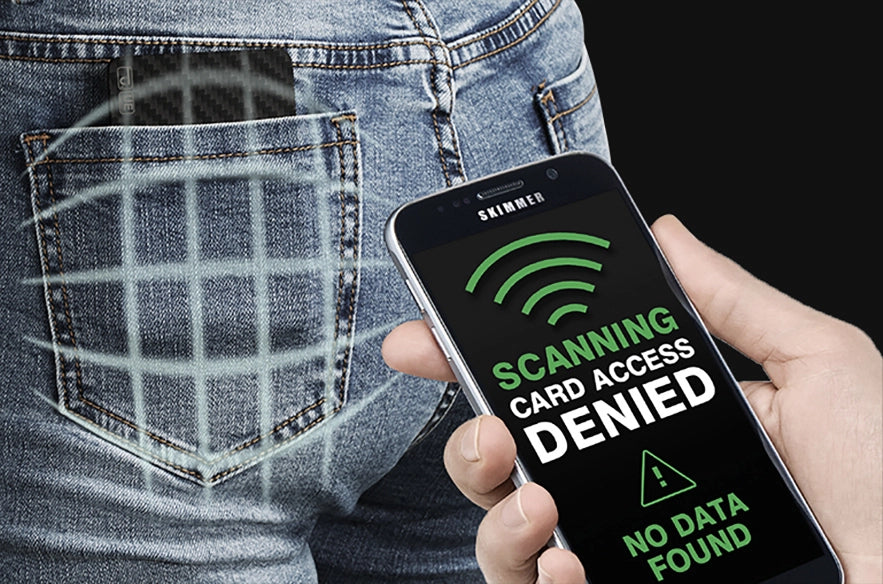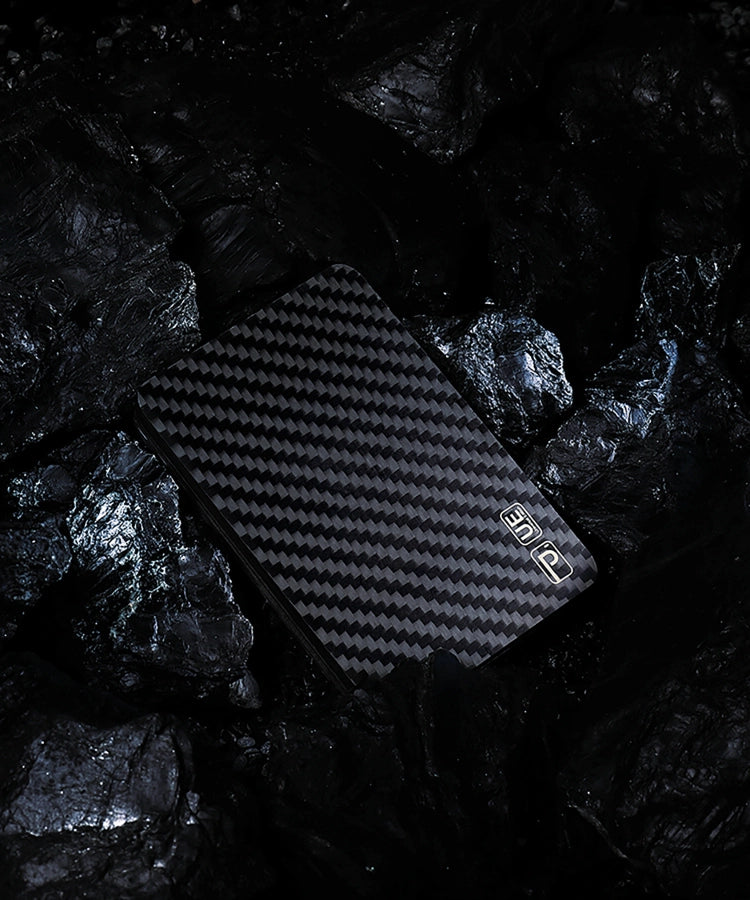 Compatibility
To ensure your strip cards are not demagnetized, they MUST be placed inside the degaussing module.
Not placing your strip cards inside the degaussing module may cause damage and data loss to those cards.
Add card, box, and money clip layers to the MagEZ Wallet UE.
Attaches to the MagEZ Mount and MagEZ Bar.
When not using the degaussing module, the layer can be replaced with an extra cover.
Specs
Dimensions
Standard UE 6 Card Holder Length: 4.05in (103mm) Width: 2.8in (71mm) Thickness: 0.49in (12.5mm)
Extra Layer UE Length: 4.05in (103mm) Width: 2.8in (71mm) Thickness: 0.15in (3.7mm)
Money Clip UE Length: 4.05in (103mm) Width: 2.8in (71mm) Thickness: 0.15in (3.7mm)
Box Layer UE Length: 4.05in (103mm) Width: 2.8in (71mm) Thickness: 0.18in (4.5mm)
Weight
Standard UE 6 Card Holder 3.4oz (97g)
Extra Layer UE 0.67oz (19g)
Money Clip UE 0.76oz (21.5g)
Box Layer UE 0.92oz (26g)
Materials and Tech
Warranty
Lifetime warranty See our warranty page for more information.
Package Contents
1 x MagEZ Wallet UE - Standard UE 6 Card Holder (holds 2 magnetic strip and 4 chip cards)
FAQs
Q1. How many cards can the standard carbon fiber wallet hold?
A1. The standard PITAKA MagEZ Wallet UE holds 6 cards, but additional layers can be purchased to store coins, keys, and other small items.
Q2. What is degaussing?
A2. Degaussing is the process of de-magnetizing an item in order to erase data. It is commonly used to erase data from computer hard-drives.
PitaCare
WE CARE FOR OUR PLANET.
Rather than a mission, PitaCare is a sustainability journey put in place to protect and care for what matters the most to us - the world and the people around us. We care for people, their feelings, and their everyday life. We make what people can use and enjoy to simplify their lives.
Learn more about PITAKA and the environment
Compare
PITAKA Wallets
Lightweight, modular wallets made from durable carbon fiber.
4 layered wallet for 6 Chip & PIN cards.
3 layered wallet for 4 Chip & PIN and 2 magnetic strip cards.
A compact kit for electronic essentials and 3 Chip & PIN cards.
Not Compatible
Not Compatible
Not Compatible
Not Compatible
Not Compatible
Not Compatible
See full comparison
What else might you discover?
Reviews
Wallet от Pitaka
Качество на высоте!
Носить с собой полный набор дополнений для MagEZ Wallet UE не удобно, объемная ?стопка?. Ограничился использованием ?обложки? (под одну карту) и отсеком для купюр. Остальные дополнения, в зависимости от наполнения хранятся дома, на работе, в машине и прицепляются при необходимости.
I love everything about this
I love everything about this wallet... the sleek, the build, the innovative. What I love more was the customer service and the promptness and attentive they took to help. I HIGHLY recommend it, I plan on buying a second just for formal wear and the accessories as a back up. I definitely stand behind this company.
this card is superb
I haven't bought this card but I took a shit is the river Thames it floated past the queens memorial and she was reincarnated as a guinea pig. This was a complete and utter mistake so I called ChildLine to come and capture her before she went rogue .
Best Wallet I've Ever Owned
Not sure why it is discontinued but this wallet is awesome. After getting mine a few years ago I had a few other guys get them and we are all happy with it, love them. No issues with the product a few years later. Just hope I don't lose it. Bring this one back, would love to buy them as a gift!
HORRIBLE DECISION PITAKA!!!!
I absolutely loved the Mag Wallet UE. It's the best wallet I've ever owned. I lost it this weekend and come to find out Pitaka has decided to discontinue it. They say that they have no plans to bring it back.
WHAT A TERRIBLE DECISION by Pitaka. What about all the loyal customers that need accessories or want to buy more of them?
I'm very disappointed in the company's decision here. I can't even find the wallet being sold second hand anywhere.