StarPeak
Stand Higher,
Stars Closer
MagEZ Case 4
for iPhone 15 Series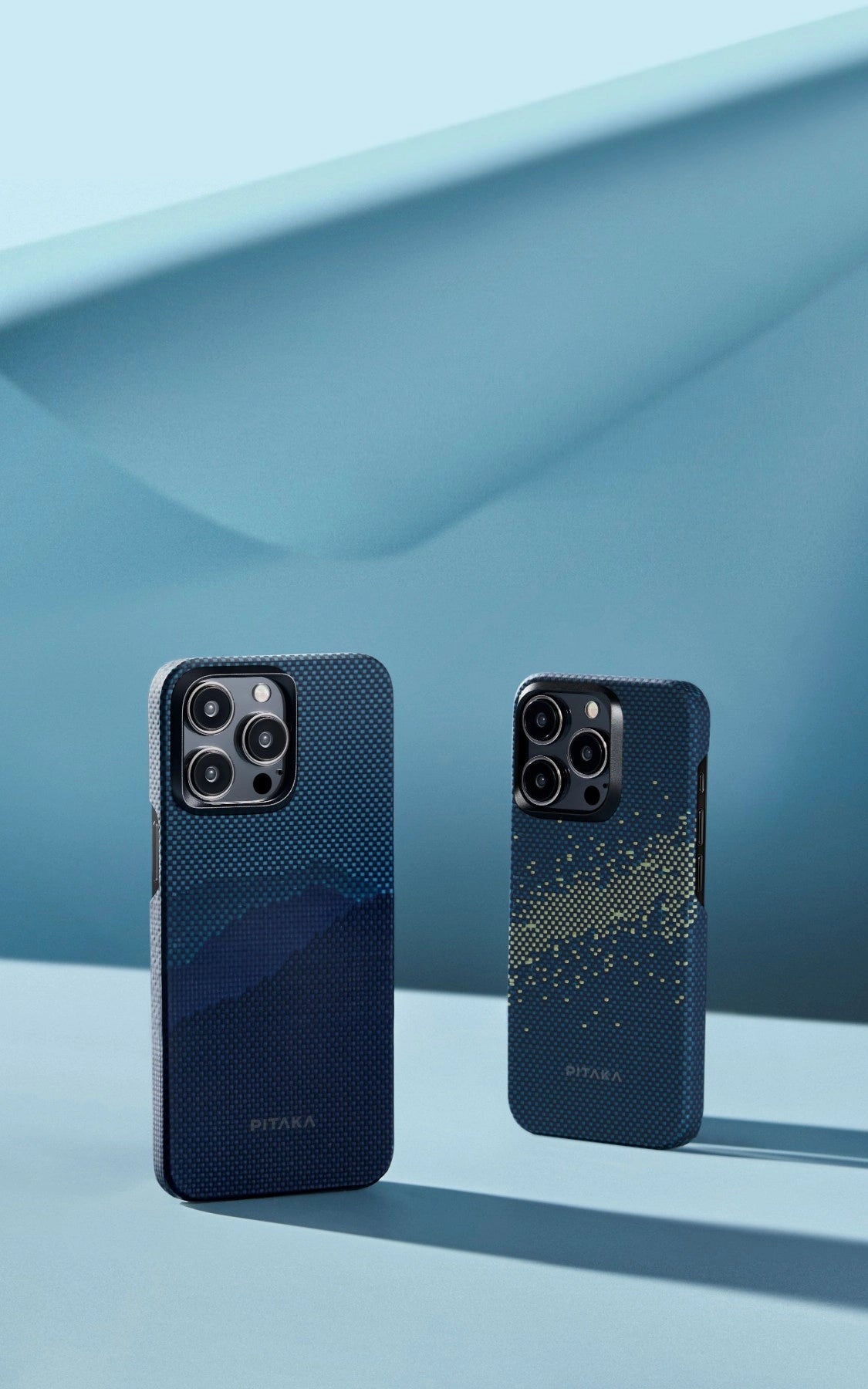 StarPeak MagEZ Case 4
For iPhone 15 Series
A thin and light iPhone 15 case with MagSafe compatibility. A thin and light iPhone 15 case with MagSafe compatibility. A thin and light iPhone 15 case with MagSafe compatibility. Read More
Super slim (0.95mm~1.15mm) and lightweight (19g~24g)
MagSafe compatible
3D grip textured
Made from 100% Aramid Fiber
Raised metal lip for camera protection
Note: Due to Chinese holidays, it may cause delays in orders' logistics from Sept 27th to Oct 6th.
If the order is not shipped beyond 5 days, we will send a branded gift to ship with your purchase.
Moment
Series
When we reflect on our life's journey, it's nothing but a collection of moments. Weaving+ Moment Series captures these enchanting moments using aramid fiber weaving, preserving fleeting experiences through countless experiments and explorations.
Learn More about Weaving+ Project
Stand Higher
Stars Closer
This time, we invited Jonathan James, a veteran designer in the fashion industry who has worked for Hermès, Christian Dior and other brands, to capture the shining moments in his life.
I travel when I feel lost.
Heading towards the distant horizon, where the peaks gather. The road ahead has no end.
I always find something new hidden behind the mountains.
I find vast freedom while climbing.
When night falls, the mountains are silent, like sentinels watching over legends that have existed for thousands of years.
The moment I look up, stars land in my eyes.
The galaxy is calling, urging me to come closer.

--Jonathan James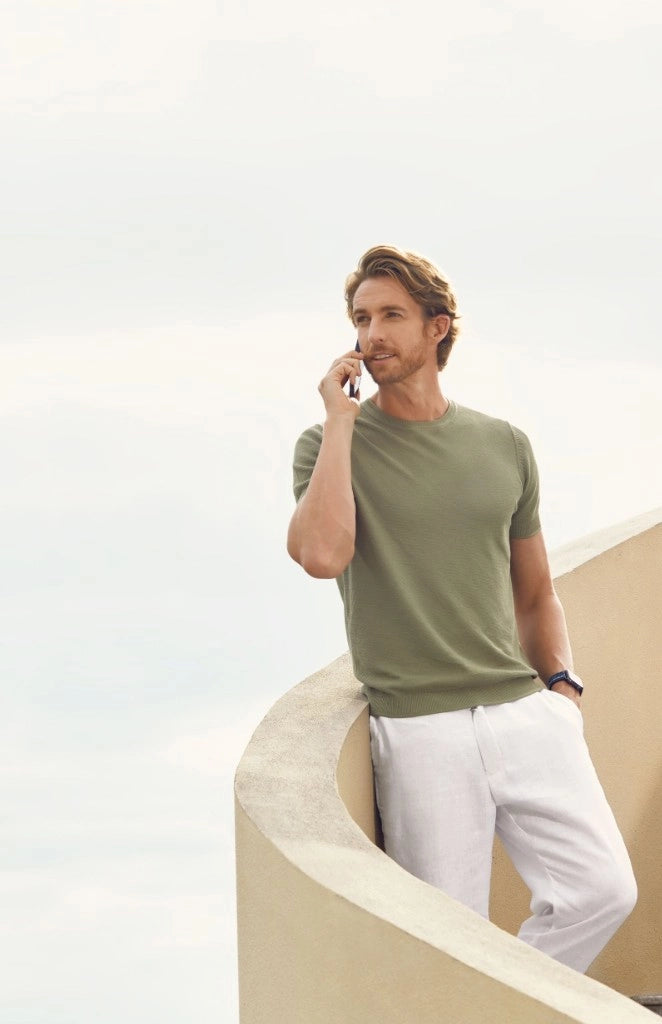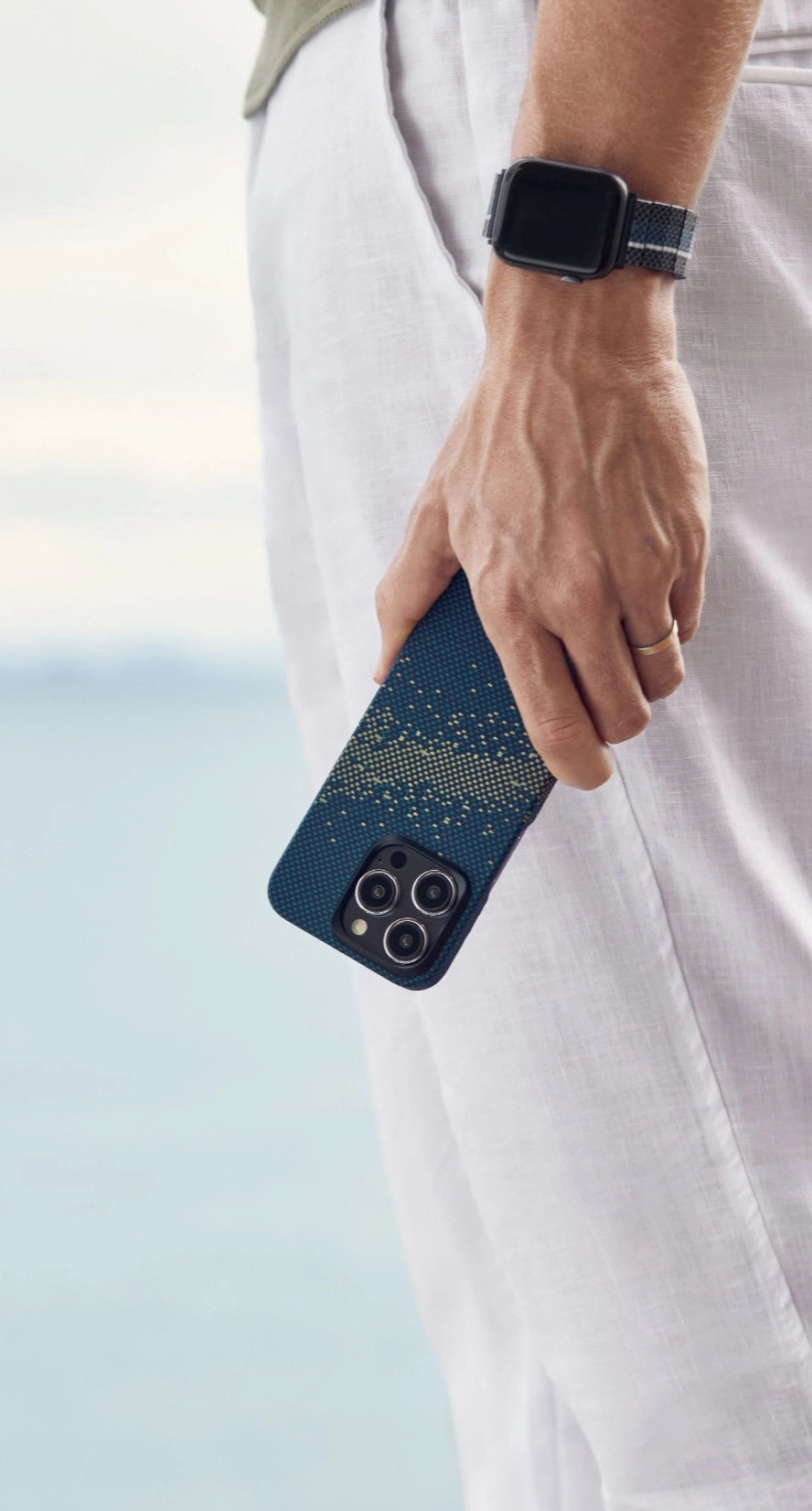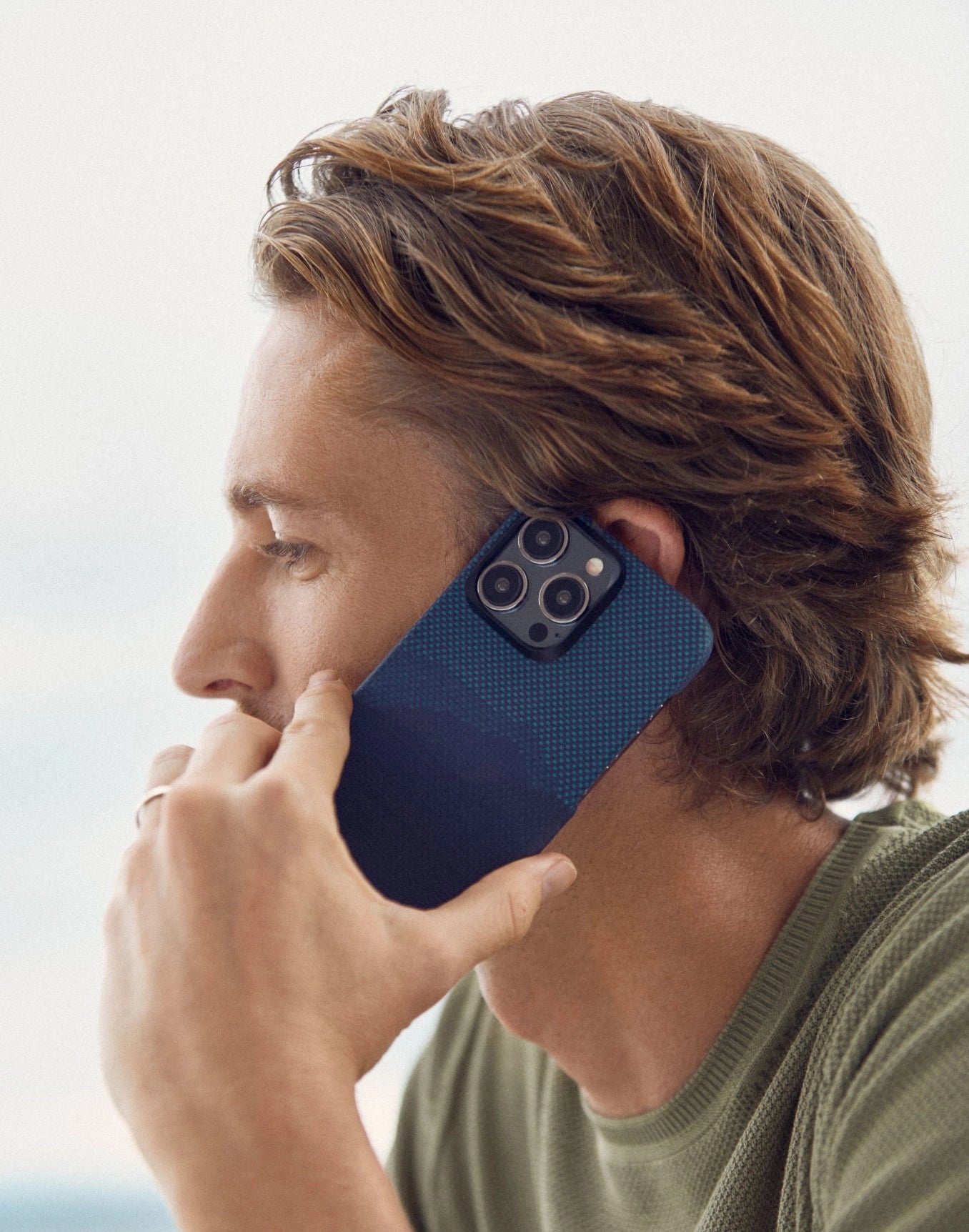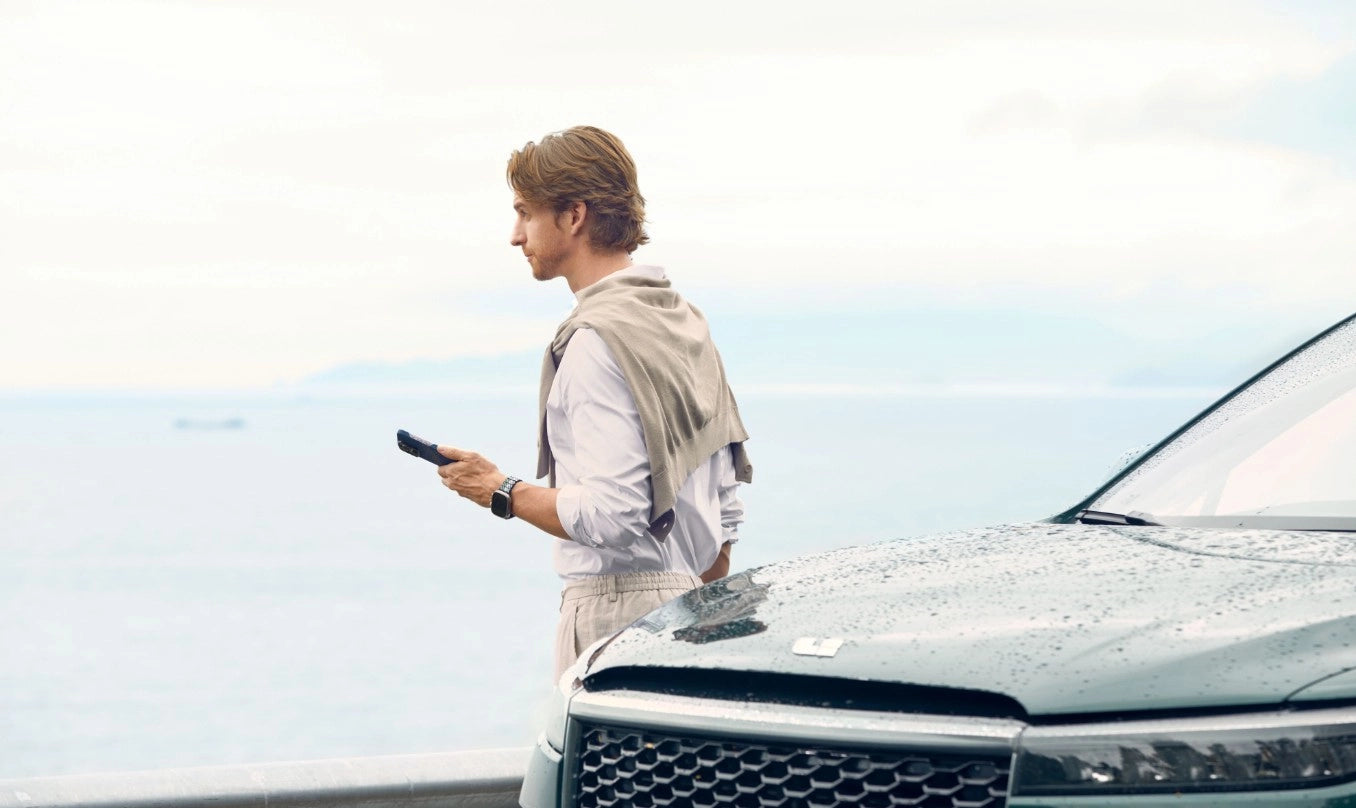 Fusion Weaving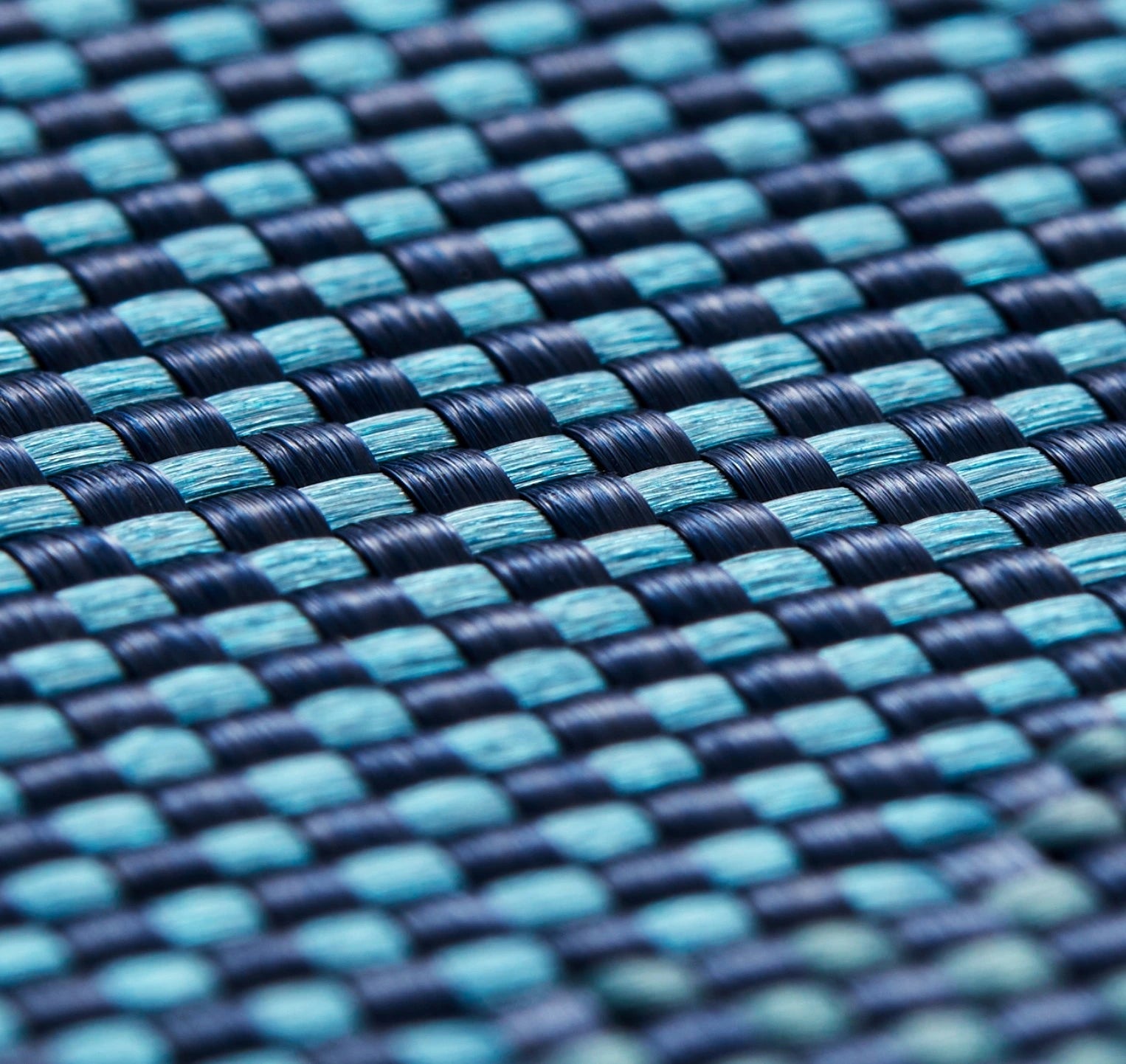 Through Fusion Weaving techniques, the iPhone 15 case features breathtaking scenes of the vast universe in a minimalist design that is aesthetically appealing to the eyes.
Beauty and
Funtionality Combined
Slim and Light
Using our proprietary MagSafe Slimboard technology, PITAKA iPhone 15 case measures just 0.95mm thin and weighs only 19g, providing a comfortable grip as if holding a naked iPhone.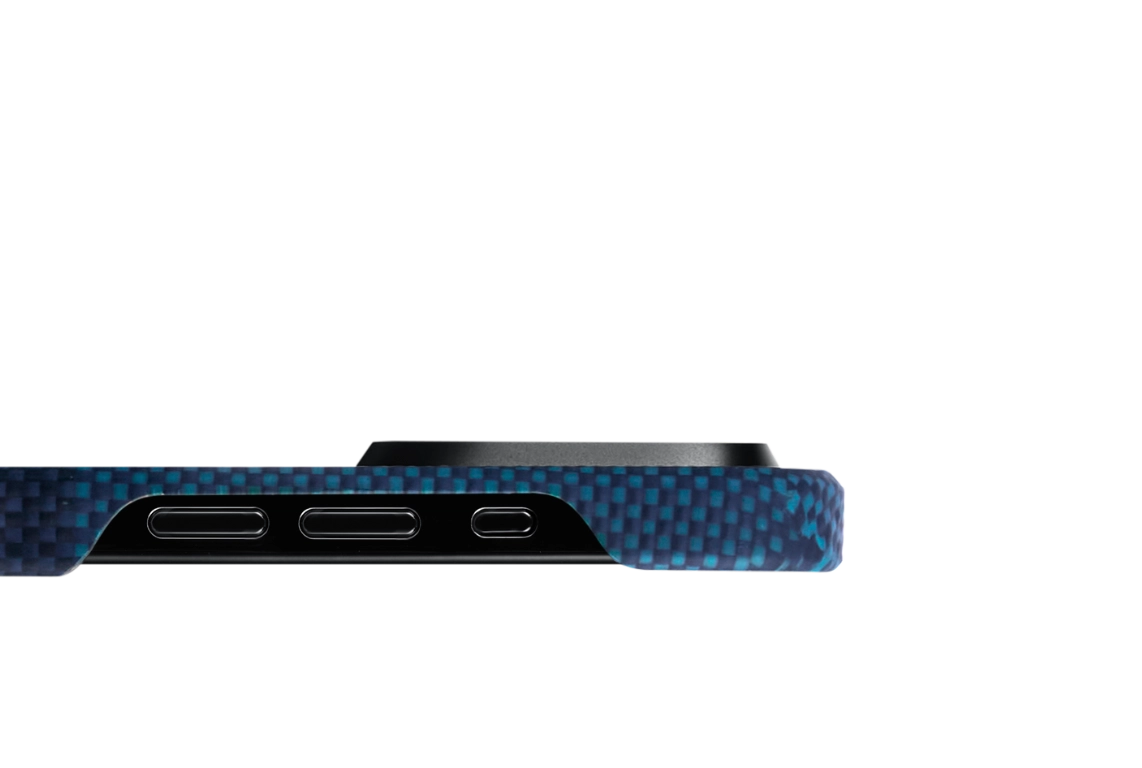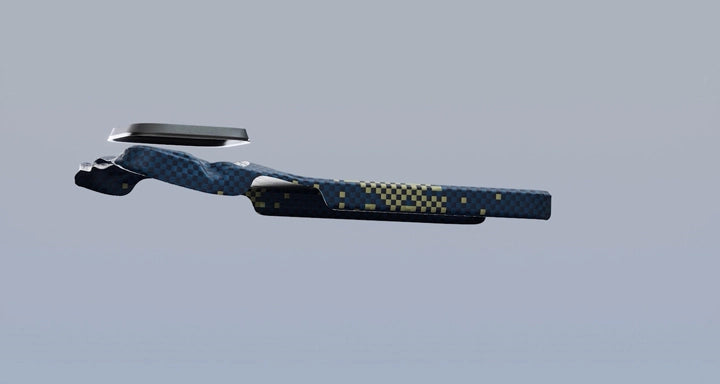 Recycled Aramid
Fiber Camera Lip
Transforming leftover aramid fibers into the protective lens ring of our iPhone 15 case - it's eco-friendly and stunning.
NFC Chips
Built-in NFC chips allow you to use your NFC-enabled phone to tap and check the case's authenticity and access games, wallpapers, and music from PitaStudio.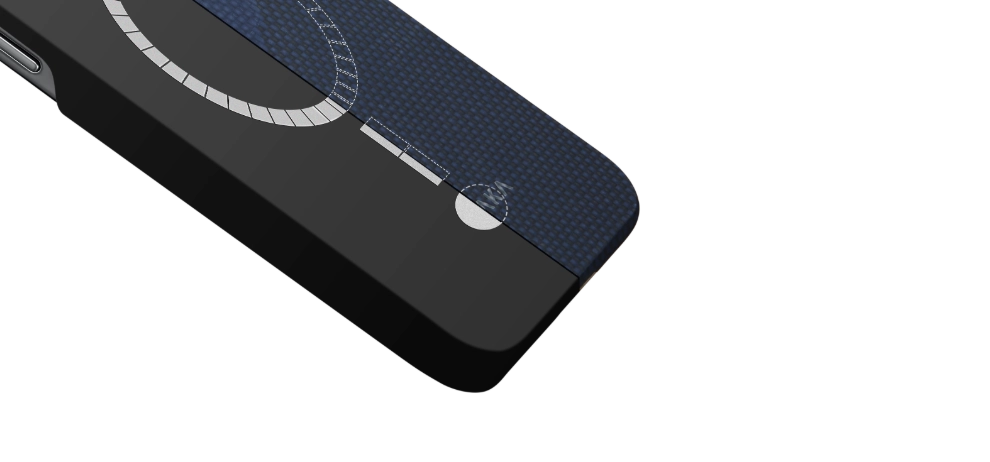 MagSafe Compatible
Embedded with the most powerful permanent N52SH magnets, the case helps attach your iPhone 15 securely to a MagSafe-compatible charger, like MagEZ Slider 2 or MagEZ Car Mount Pro, to enjoy stable wireless charging.
PitaFlow for Phones
Which One Should You Choose?
Materials
Aramid fiber; TPU; Nappa leather; Aluminum alloy
Tech
3D Injection Molding Labeling
Specs
Thickness
0.95-1.15mm / 0.037-0.045in
Weight
19-24g / 0.67-0.85oz
Warranty
2 months warranty See our warranty page for more information.
FAQs
Q1. Can PITAKA's iPhone 15 case work with Apple's MagSafe accessories?
A1. Yes, PITAKA MagEZ case 4 series are compatible with Apple Official MagSafe accessories.
Q2. Is the case anti-fingerprint?
A2. Our iPhone 15 case is made with aramid fiber and processed with 3 layers of painting to ensure it's skin-friendly and non-slip. Whether a fingerprint mark will be left depends on your hand conditions. It is not easy to leave a fingerprint if the hand is dry. For sweaty hands, fingerprint marks may be left, but it is very easy to clean with a cloth.
Q3. With this case, can I charge my iPhone 15 on third-party wireless chargers?
A3. PITAKA MagEZ Case 4 series are embedded with magnetic rings that do not cover the wireless charging area and highly fit with the magnetic ring built in the iPhone 15 series. Plus, it's super slim. So if your iPhone 15 can be charged on third-party wireless chargers, it should work even with the case on.
Q4. How to verify if your PITAKA phone case is authentic?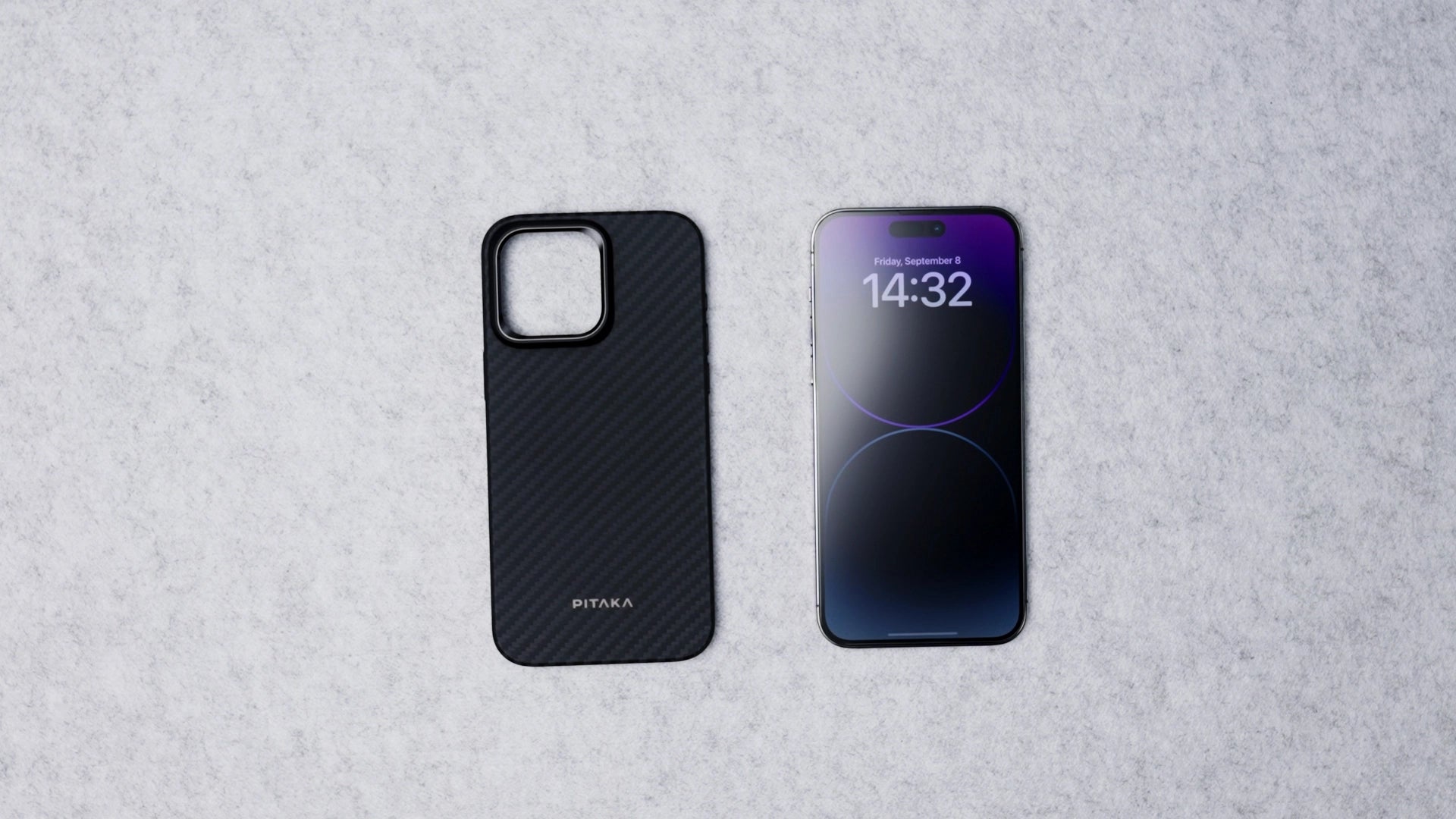 Q5. Why does the "StarPeak" phone case have a textured pattern on the back?
A5: We wanted to provide users with a more three-dimensional tactile experience with the "StarPeak" phone case. To achieve this, we incorporated a technique known as jacquard weaving into the Fusion Weaving process. This technique involves weaving patterns by interlocking warp and weft threads to create a textured and raised design. Jacquard weaving itself has the characteristic of being different on the front and back. The front features a woven pattern texture, while the back consists of interwoven threads. What appears to be a single-layer effect is actually the result of two layers of aramid fibers intertwining. Due to the presence of multiple layers of aramid fiber in certain areas, a textured pattern is formed when the phone case is molded (similar to how patterns in knitted sweaters may appear raised). This is a trace of our craftsmanship, reflecting the weaving process and adding to the handmade charm. The irregular pattern signifies a more complex weaving process, which requires additional manual craftsmanship. If you are concerned about the traces of handwork, think carefully before buying.
PitaCare
WE CARE FOR OUR PLANET.
Rather than a mission, PitaCare is a sustainability journey put in place to protect and care for what matters the most to us - the world and the people around us. We care for people, their feelings, and their everyday life. We make what people can use and enjoy to simplify their lives.
Learn more about PITAKA and the environment