Fusion Weaving MagEZ Slider
A compact multi-device wireless charger that comes with a MagSafe-compatible power bank of Fusion Weaving style. A compact multi-device wireless charger that comes with a... A compact multi-device wireless charger that comes with a MagSafe-compatible power bank of Fusion Weaving style. Read More
Charges iPhone 12/13/14 or Galaxy S22 (using MagEZ Case 2), Qi-enabled earbuds, and Apple Watch
Works as a wireless charging phone stand
Detachable MagSafe power bank with Fusion Weaving style
Battery indicators and vibration mode on the power bank
One-of-a-kind carousel design
7-Day Returns
Free Shipping over 30 USD
Secure Checkout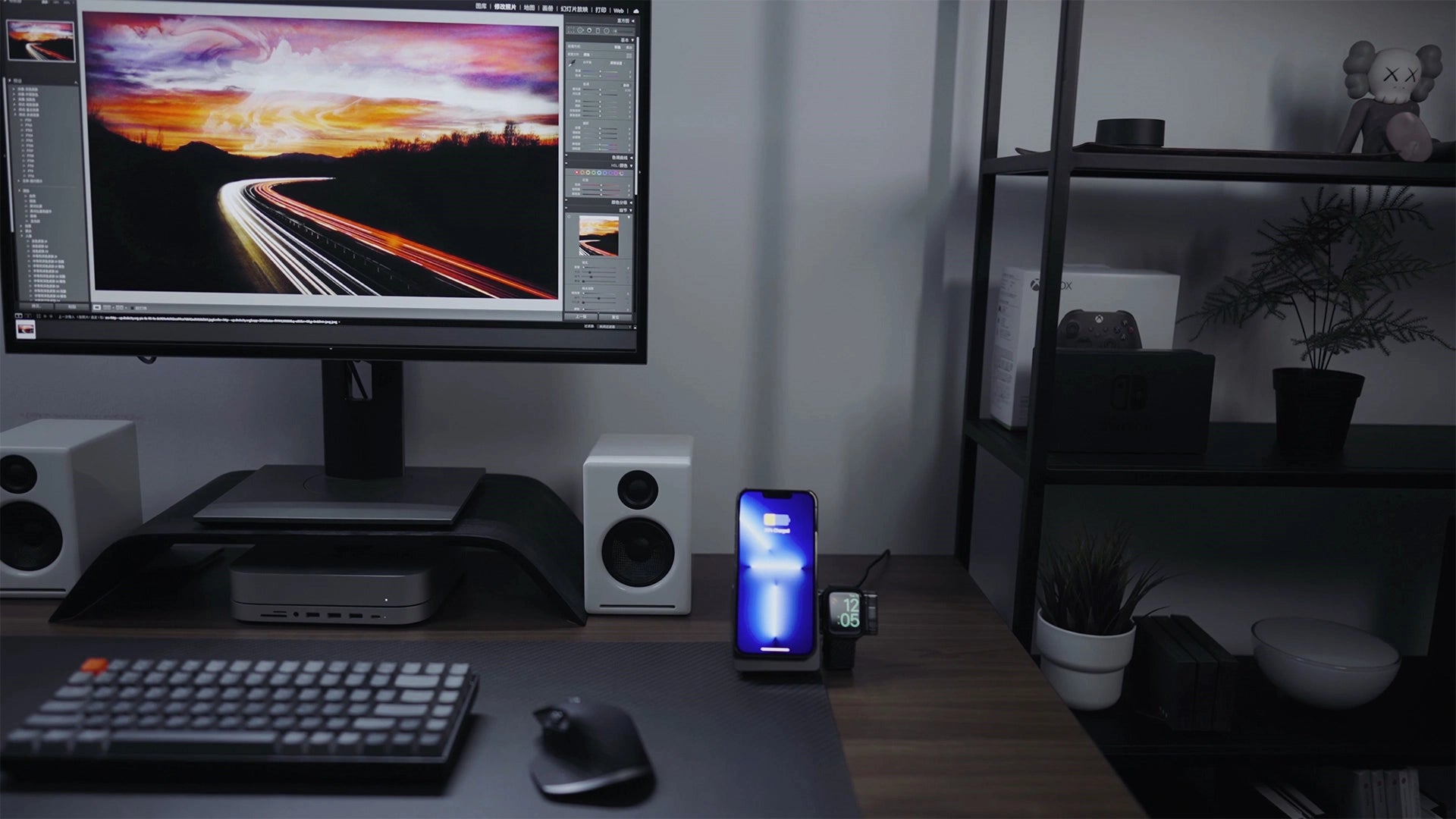 Charges Four Devices
Simultaneously
MagEZ Battery Pack
Slide the power pack in the specific spot to charge.
iPhone 14/13/12 Series &
Galaxy S22 Series
Attaching and charging your iPhone 13, iPhone 12, and Galaxy S22 in a MagEZ Case 2 is a snap.
AirPods
Adjust the magnetic stand to charge your AirPods or other Qi-enabled wireless earbuds with or without a wireless charging case.
Your Perfect Desktop Companion
When you don't use your phone, simply mount it on the multi-device charging dock, so you can charge your mobile while you work. They will be charged up while you focus on your big project. No more sitting by your phone waiting for it to get ready when you need it. In addition, you can use it as a phone stand to Facetime or check messages.
The Smallest Multi-
Device Charger
The MagEZ Slider takes only the space of a mug. Yet, it helps keep you on track to live and work more efficiently.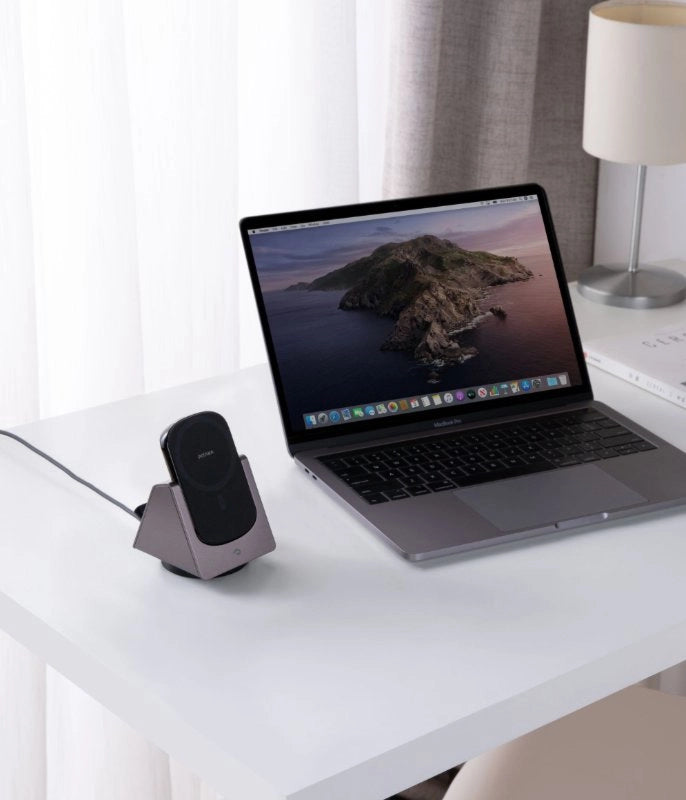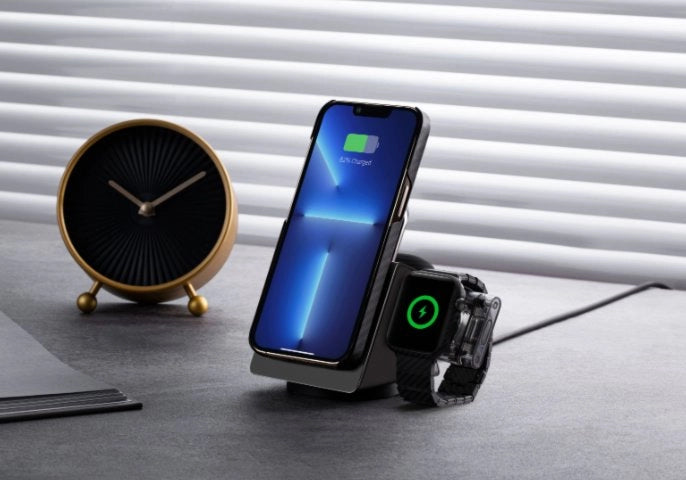 Charge, Slide,
and Go
Slide Out and Go
The battery is not yet charged to full? Chill. Slide the MagSafe power pack and your iPhone out of the dock and charge on the go.
Slide In to Charge
Your Power Bank
When you are home or back to the office, slide them into the dock, so the power pack will be juiced up again for your next adventure.
The Small yet Powerful
Power Pack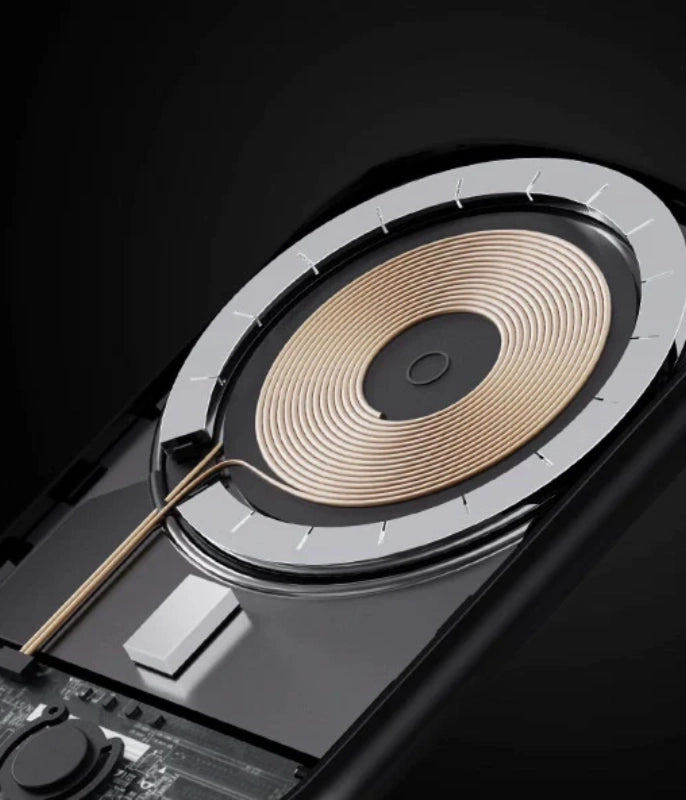 Dynamic Magnets
With dynamic magnets, the power pack makes a mechanical sound when the phone is attached to it, so you know they're perfectly aligned for safe and reliable wireless charging.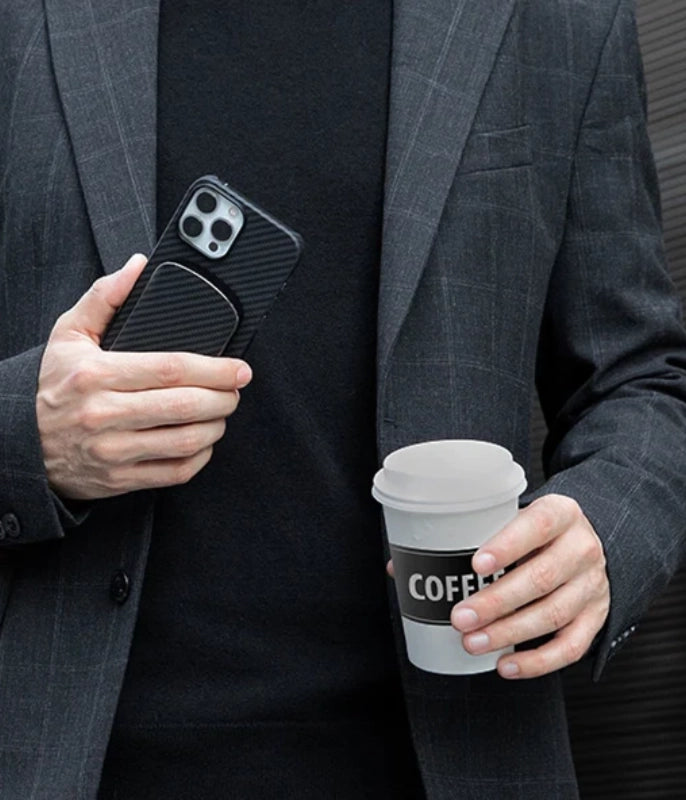 Ergonomic Design
The ergonomically designed MagSafe power pack fits comfortably in your hand. And it has battery indicators and vibration mode for a low battery.
New Styles from
Fusion Weaving
The MagSafe power bank now comes in three designs: Overture, Concerto, and Rhapsody. Each is unique in its own way with a distinguished pattern and vibrant colors. The aramid fiber on the surface has an excellent three-dimensional effect that offers a comfortable feel. The power bank is sure to turn heads when you have it attached to your phone to charge on the go.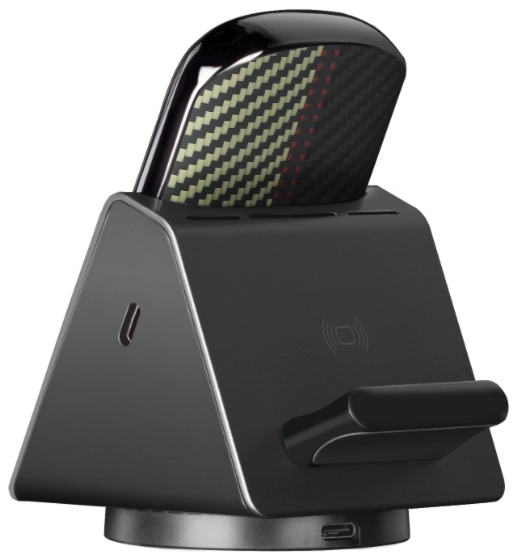 Overture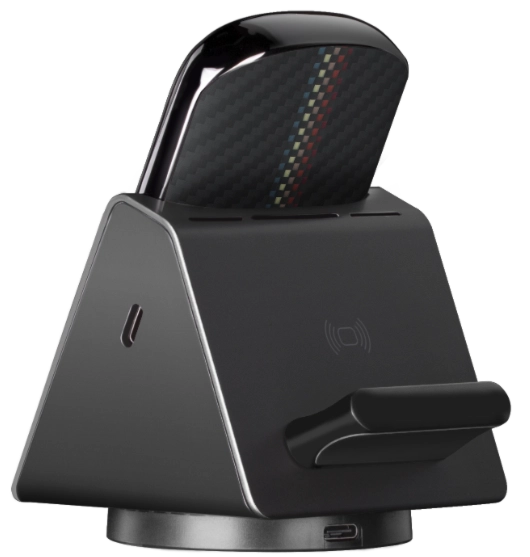 Concerto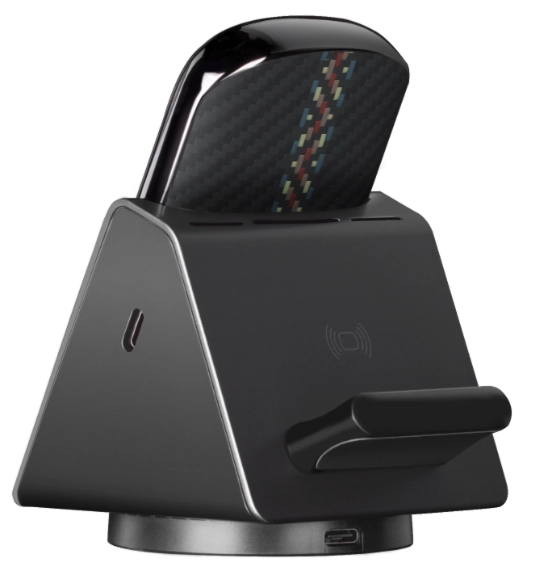 Rhapsody
Fusion Weaving is our new technique to weave aramid fiber strands using various styles on the same piece of fabric. Each strand is woven and arranged meticulously like notes on a stave. Both the material and the manufacturing are environmentally friendly. Fusion Weaving cases are robust, uniquely textured, and aesthetically pleasing, giving you an unparalleled experience.
Why Fusion Weaving?
New Design
Aesthetically pleasing; comfortable texture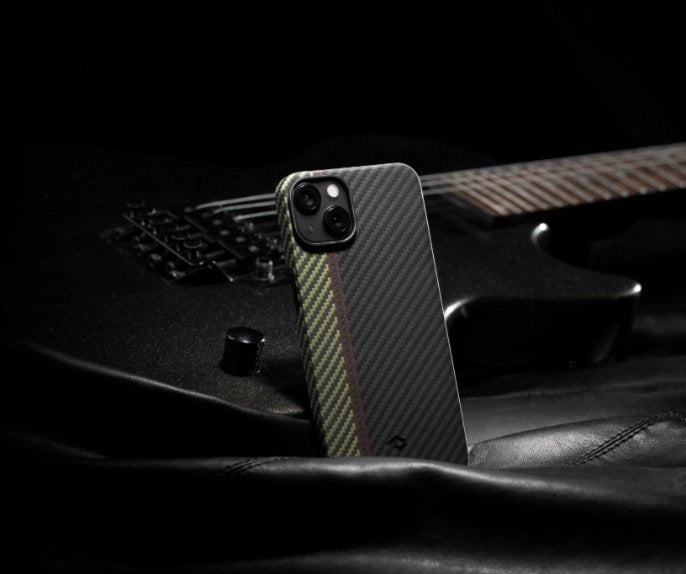 New Material
Rare aramid fiber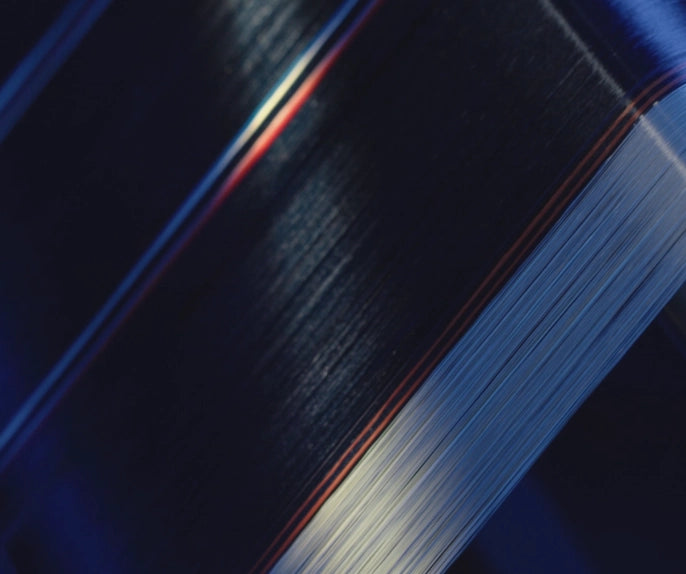 New Tech
Our proprietary Fusion Weaving technology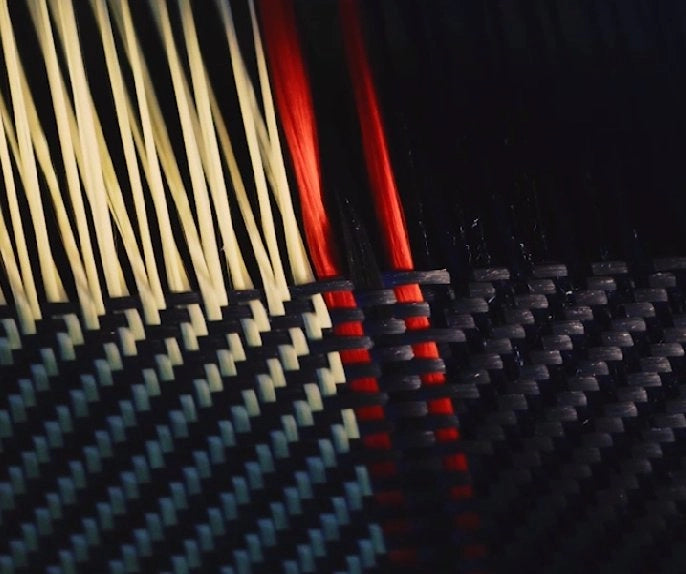 New Fashion
Unique color mixture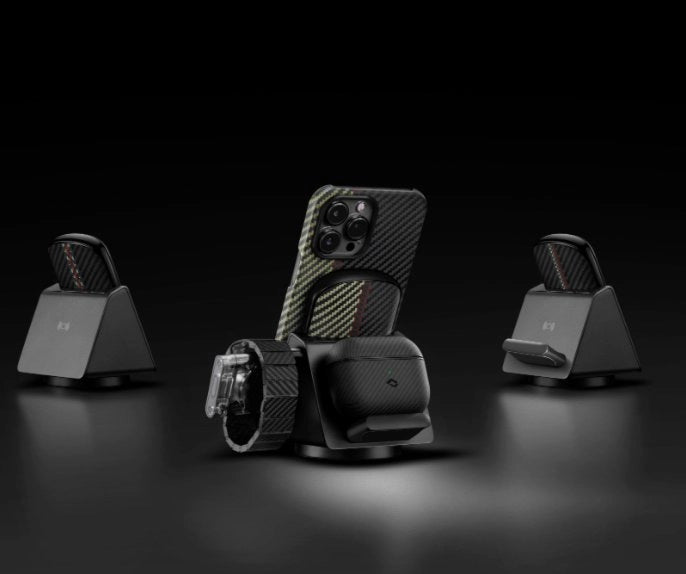 Have A Little Fun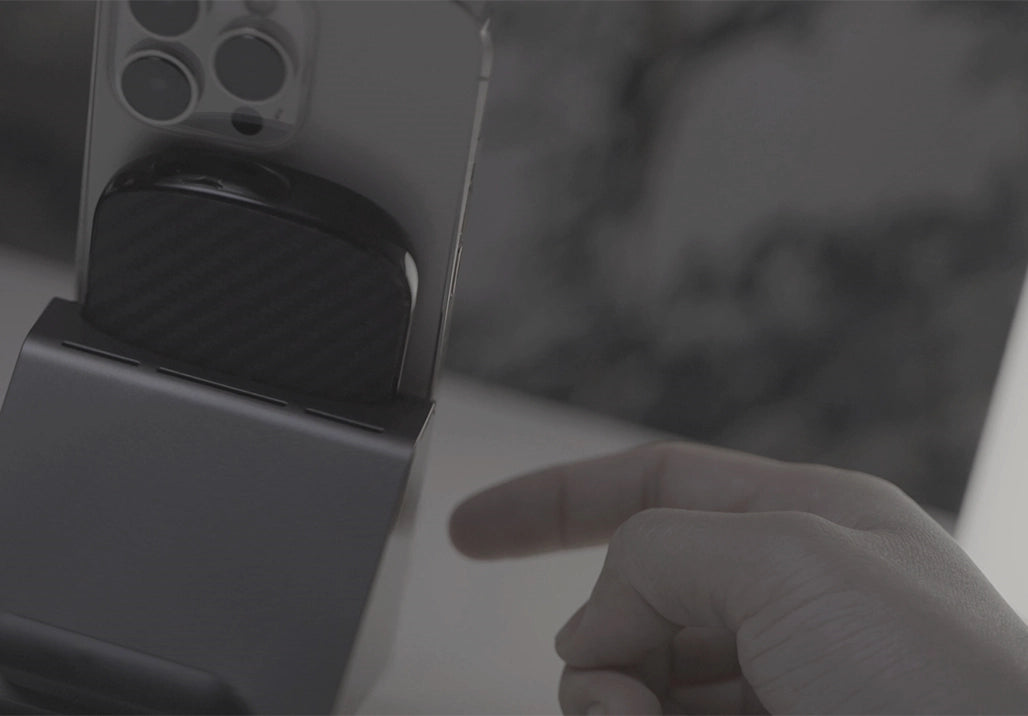 We make things that provide convenience and inspiration to bring joy and serve humans. The multi-device wireless charger has a one-of-a-kind carousel design, allowing 360-degree access to all your devices with a simple spin. And the sound of the clock ticking might help when you feel stressed or bored.
Compatibility
Phone charging:

Compatible with iPhone 12/13/14 series without a case or with a MagSafe case and Samsung Galaxy S22 Series with a MagEZ Case 2.

Earbuds charging:

Charges Qi wireless charging earbuds including AirPods, Samsung Galaxy Buds R170 and Galaxy Buds Pro R190.

Power Dongle (sold separately; scroll down to add to cart):

Charges all Apple Watch models.
Specs
Dimensions
MagEZ Slider: 76 x 76 x 111.8mm
Weight
MagEZ Slider Dock: 169.6g MagEZ Battery Pack: 106g
Technical
Battery Capacity: 4000mAh Power Type C Port Input: DC 9V/2.22A Power Type C Port Output: DC 5V/2A Power Bank C Port Input (during wireless charging): DC 5V/2A Power Bank C Port Input/Output: DC 5V/1.5A Type C Port for Dongle Output: DC 5V/1A Wireless Output: 5W AirPods Wireless Output: 5W Transmission Distance: ≤8mm Transmission Efficiency: ≤75%
*When using with a 20W or higher power adapter.
Warranty
1 year warranty See our warranty page for more information.
FAQs
Q1. Can I use the MagEZ Juice (2) power bank on the MagEZ Slider Dock?
A1. Yes, you can slide the MagEZ Juice power bank in to the MagEZ Slider Dock to start charging.
Q2. What's the sound when the power pack attaches to and detaches from the phone?
A2. Actually, that's our design "dynamic magnets", which means the magnets inside the device are not fixed. They will be attached only when the device detects magnetic forces. Through this design, the power pack safely charges phones, MagSafe or not. You will hear the mechanical sound the moment when the device attaches to your phone, which tells you that the device is well attached and aligned.
Q3. Why does the MagEZ Slider take so long to arrive?
A3. The MagEZ Slider comes with a power bank, which means packages will have to go through more and stricter inspections according to many regions' regulations, inevitably extending the shipping time. Your patience is much appreciated.
PitaCare
WE CARE FOR OUR PLANET.
Rather than a mission, PitaCare is a sustainability journey put in place to protect and care for what matters the most to us - the world and the people around us. We care for people, their feelings, and their everyday life. We make what people can use and enjoy to simplify their lives.
Learn more about PITAKA and the environment
What else might you discover?