MagEZ Case 3
For Samsung Galaxy Z Flip4
An ultra-slim Galaxy Z Flip4 case made of aerospace-grade aramid fiber. An ultra-slim Galaxy Z Flip4 case made of aerospace-grade... An ultra-slim Galaxy Z Flip4 case made of aerospace-grade aramid fiber. Read More
Slim and lightweight
Made using durable and scratch-resistant aramid fiber
Textured surface that improves grip and offers comfort
Wireless charging and reverse wireless charging friendly
Unique Fusion Weaving™ styles
7-Day Returns
Free Shipping over 30 USD
Secure Checkout
Fusion Weaving™
Makes
Your Style
Next Level
The all-new Fusion Weaving™ designs add vibrant colors while obtaining the classic
black and grey twill of aramid fiber, easily leveling up your everyday style.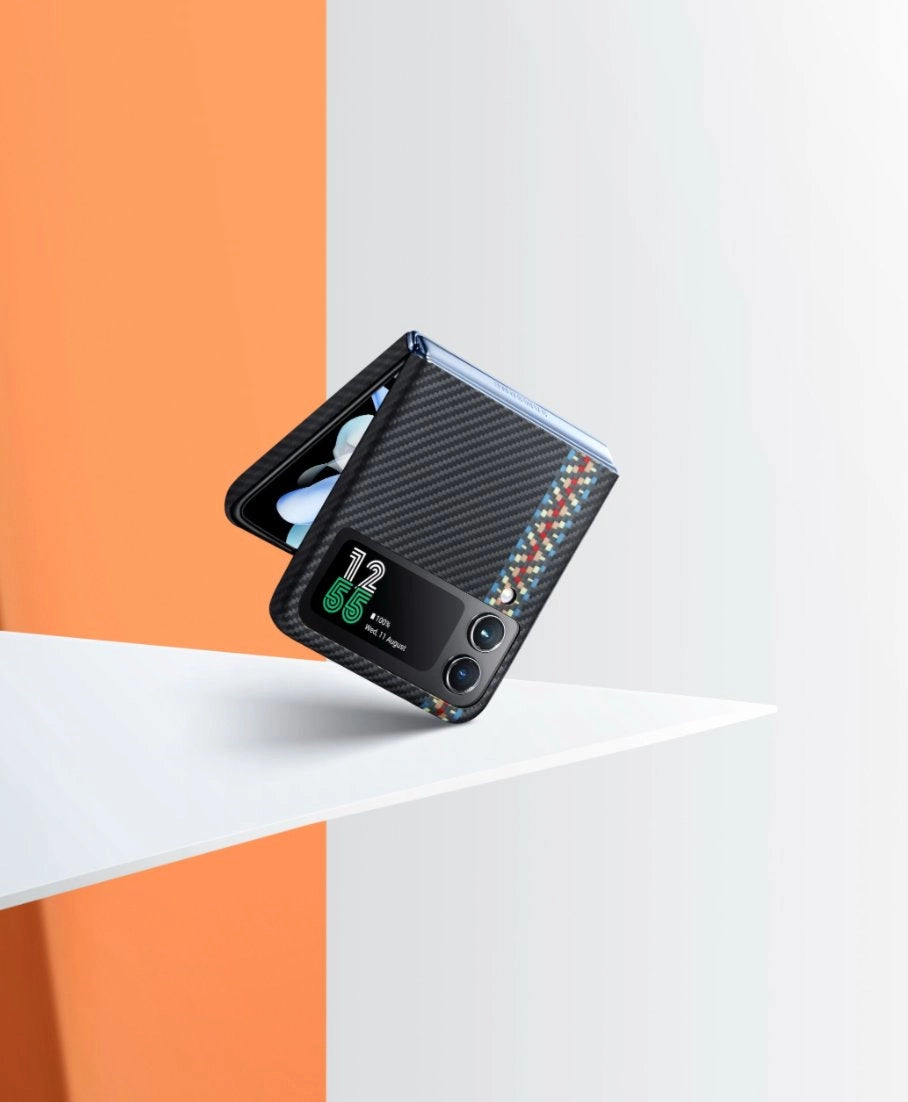 Aerospace-grade
Aramid Fiber
Made using lightweight yet durable aramid fiber, the Galaxy Flip4 case protects your device
from scratches and minor drops.
Overture
Enter a boundless journey of time and space.
Rhapsody
Tune up to integration of passion and enthusiastic expression of feeling.
Smooth Edge
Polishing
Meticulous polishing ensures that you can easily bend your Galaxy Z Flip4 and the edge won't cut your fingers when you hold the bendable phone.
MagSafe and Wireless
Charging Friendly
The Flip4 case has perfectly aligned magnets that attach to the MagSafe compatible MagEZ Car Mount to ensure stable and fast wireless charging while driving.
Compatibility
Magnetically attach to MagEZ Car Mount Lite/Pro.
Not compatible with Qi wireless chargers.
Not compatible with Apple MagSafe accessories.
Specs
Thickness
0.95mm (0.037in)
Materials and Tech
Warranty
2 months warranty See our warranty page for more information.
Package Contents
1 x MagEZ Case 3 for Samsung Galaxy Z Flip4 1 x Document Kit
FAQs
Q1. Is the MagEZ Case 3 compatible with Apple's MagSafe System?
A1. The MagEZ Case 3 has built-in MagSafe magnets. It can work with the MagEZ Car Mount Pro/Lite. But it may not properly attach to other MagSafe accessories due to size issues.
PitaCare
WE CARE FOR OUR PLANET.
Rather than a mission, PitaCare is a sustainability journey put in place to protect and care for what matters the most to us - the world and the people around us. We care for people, their feelings, and their everyday life. We make what people can use and enjoy to simplify their lives.
Learn more about PITAKA and the environment
What else might you discover?
Reviews
Case for Samsung Flip 4
I'm frustrated because the Flip 4 with case doesn't stay on the mount (slips off)...
I bought a mount in 2020, namely this one: pitaka magnetic car mount, wireless charging ( MagEZ Mount Qi ventilation grille ), fast inductive Qi mobile phone holder compatible with MagEZ Case for Samsung Galaxy Note20 Ultra. Everything worked with the Note20 Ultra. The new case does not hold on this holder.
Where is the problem? Or is my case for Flip 4 defective?
Dear Aivars,
I am sorry about that. The Flip4 case is not compatible with your old car mount charger.
Because the Flip4 case is embedded with the different magnets with different position, which is different from your old car mount charger.
The Flip4 case can be compatible with our MagEZ Car Mount Pro/Car Mount Lite. (see the below link)
https://www.ipitaka.com/products/magez-car-mount
We will contact you as well. Please take note of our e-mail.
Apologize for the inconvenience caused.
Your sincerely,
PITAKA Customer Service Team
Overall expected, good quality
The case is the usual good quality from Pitaka. The top half seems to lift up and needs pressing down over the speaker area every now and then but otherwiser good.
The case is neat and fits well.
The case is neat and fits well. However, it does not mount well on the car mount. It seems that the magnetism is weak.
Gutes Produkt
Diese Hülle ist wirklich sch?n mit dem schlanken Design und dem starken Magneten