Air Case
For Samsung Galaxy Z Fold5
An ultra-slim Galaxy Z Fold5 case made of aerospace-grade aramid fiber. An ultra-slim Galaxy Z Fold5 case made of aerospace-grade... An ultra-slim Galaxy Z Fold5 case made of aerospace-grade aramid fiber. Read More
Slim (0.6mm) and lightweight (18g)
Made using durable and scratch-resistant aramid fiber
Textured surface that improves grip and offers comfort
Wireless charging and reverse wireless charging friendly
Unique Fusion Weaving™ styles
7-Day Returns
Free Shipping over 30 USD
Secure Checkout
Ultra-slim & light
With a thinness of 0.95mm, 1/2 of a dime, the Air Case for Galaxy Z Fold5 gives you a near case-less look & feel while protecting it from daily wear and tear.
Aerospace-grade Aramid Fiber
Made using aramid fiber which is five times stronger than steel but five times lighter, the Galaxy Fold5 case protects your device from scratches and scuffs.
Fusion Weaving
Makes Your

Style Next Level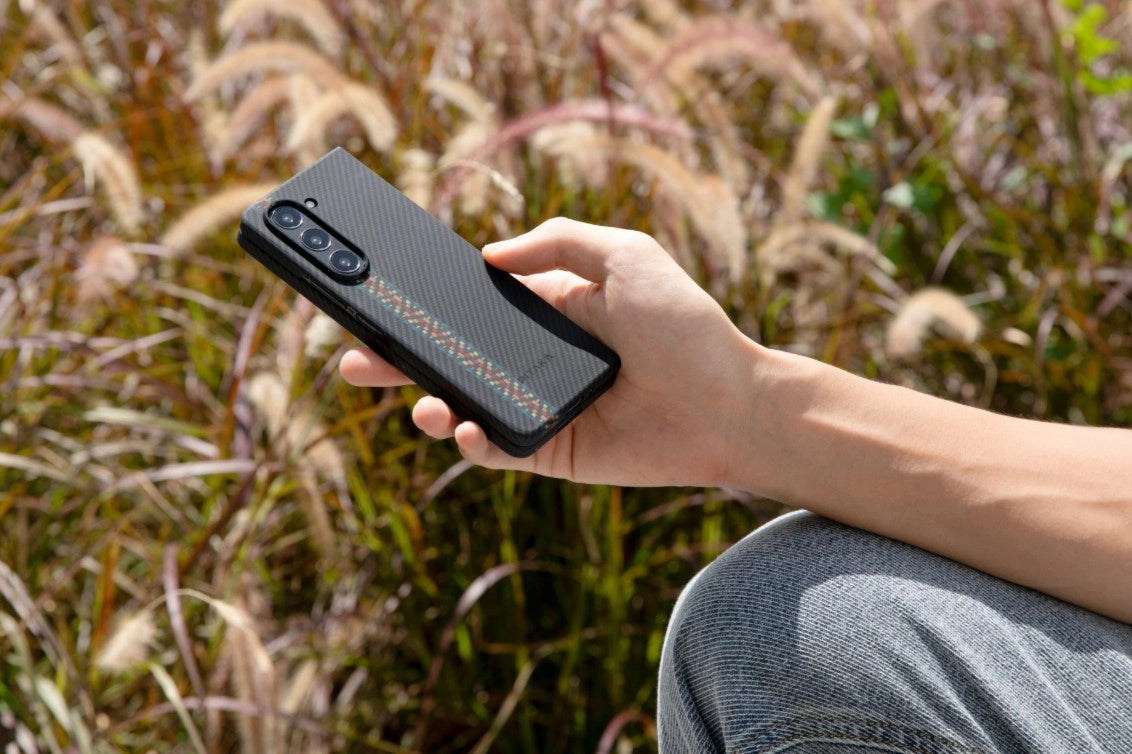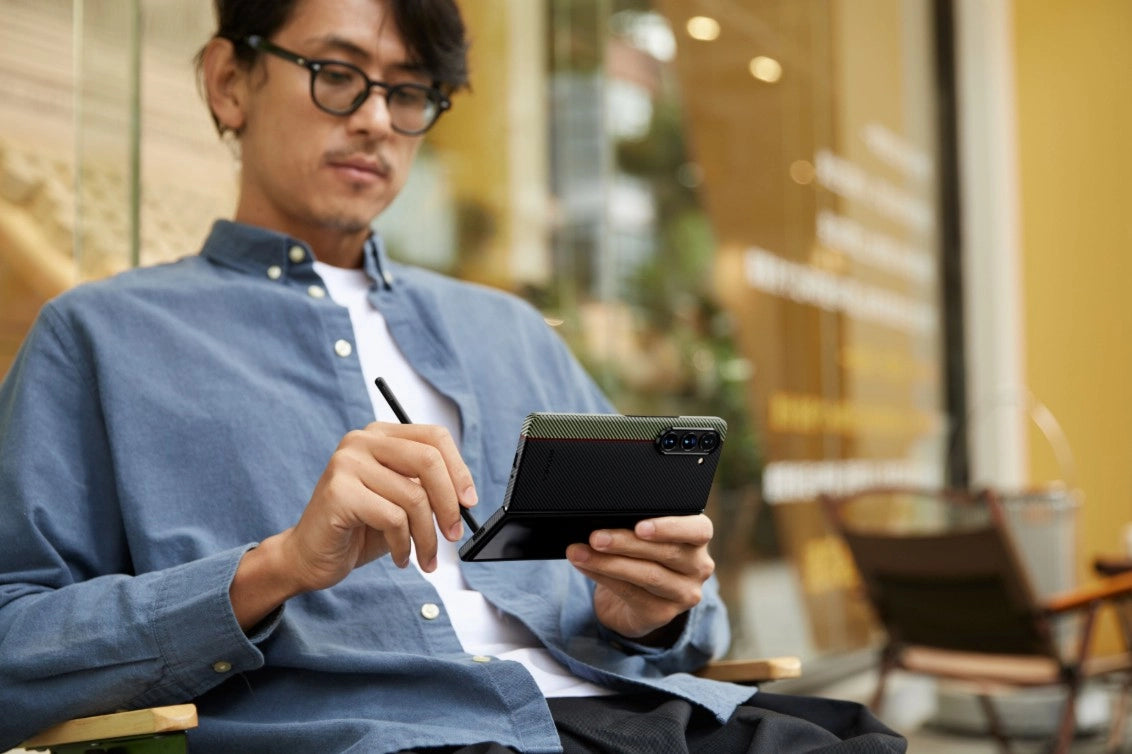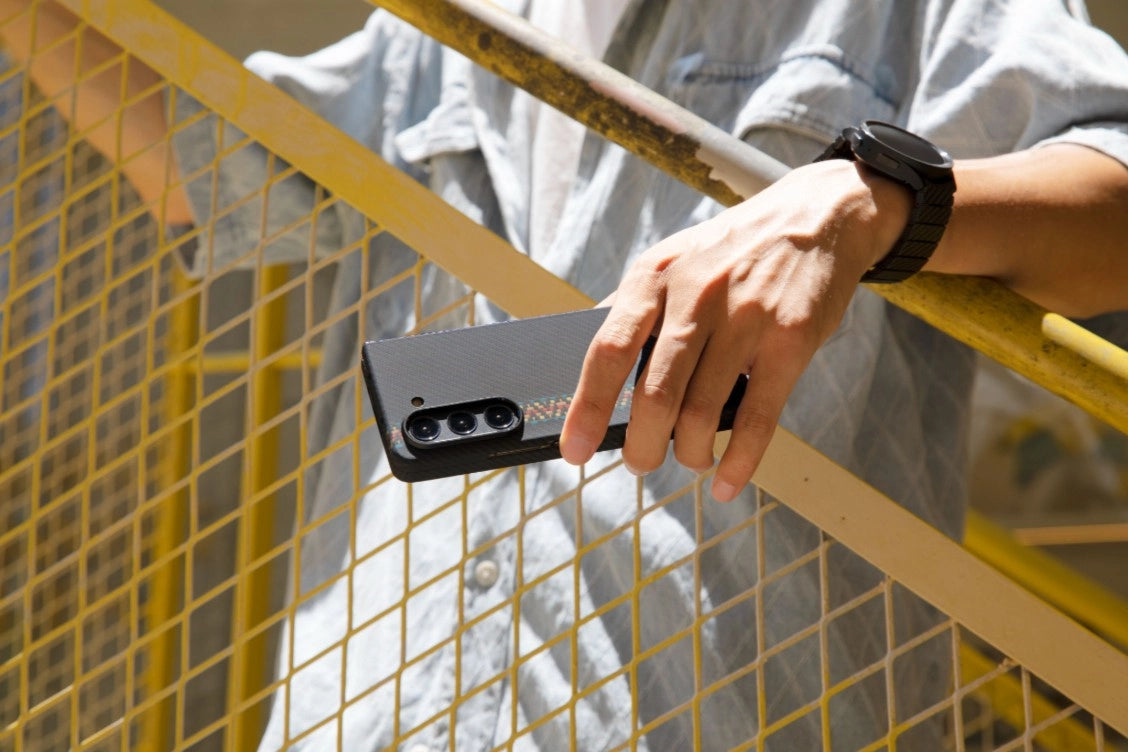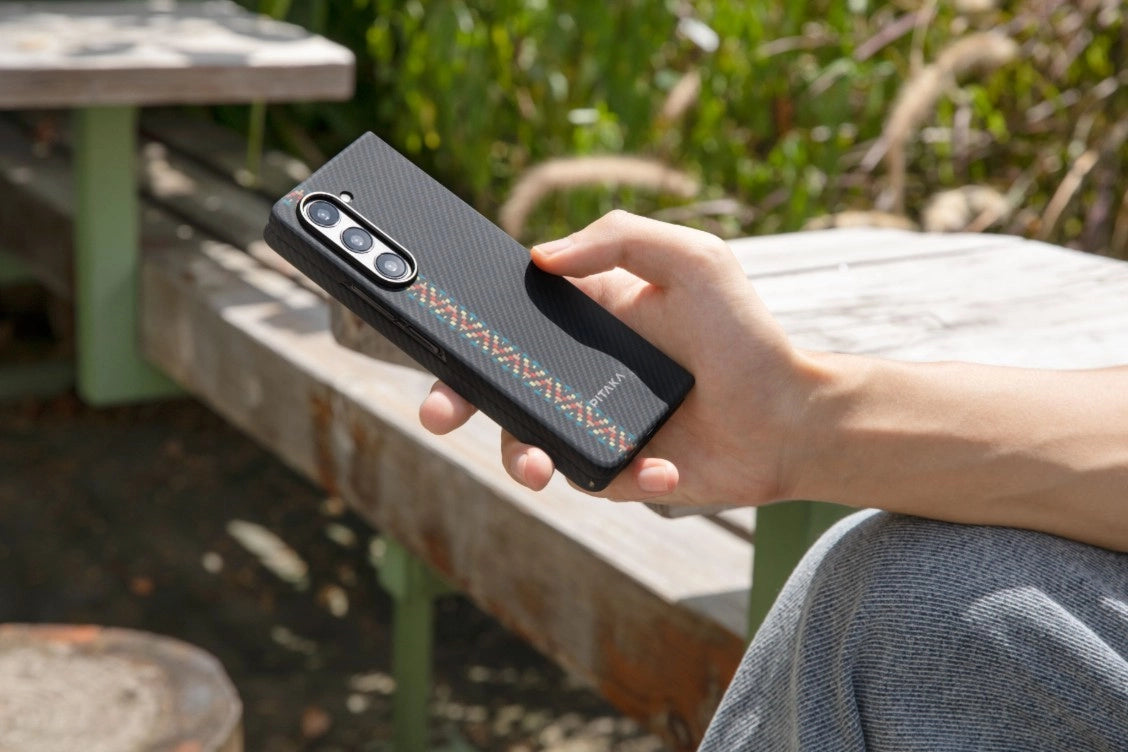 Excellent 3D Grip™
Our 3D Grip™ technology leaves a textured pattern on the surface of the Galaxy Fold5 phone case that not only improves grip but also feels comfortable.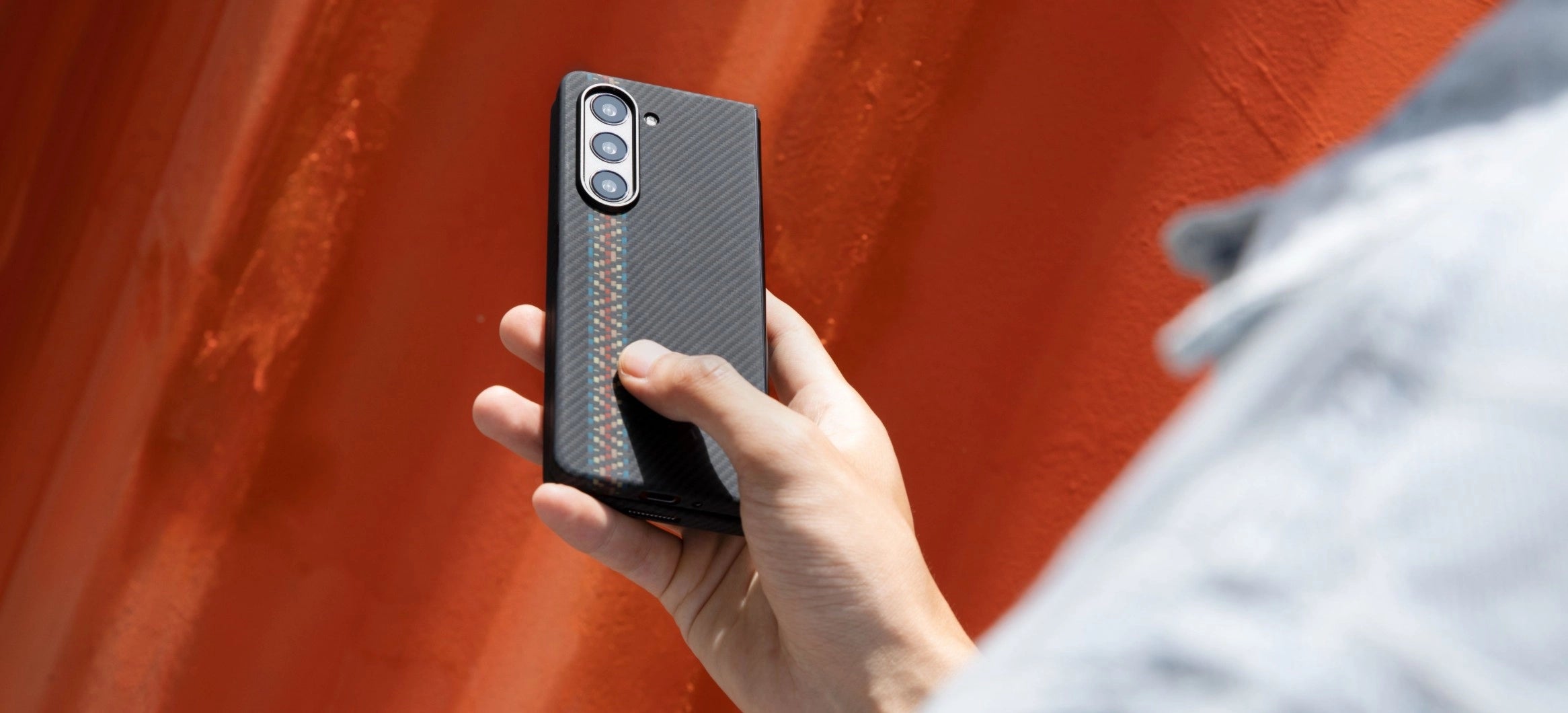 Wireless Charging
Friendly
You charge your phone on other Qi wireless chargers or charge other devices using reverse wireless charging on the phone since the case is so thin.
Rhapsody
Tune up to integration of passion and enthusiastic expression of feeling.
Overture
Enter a boundless journey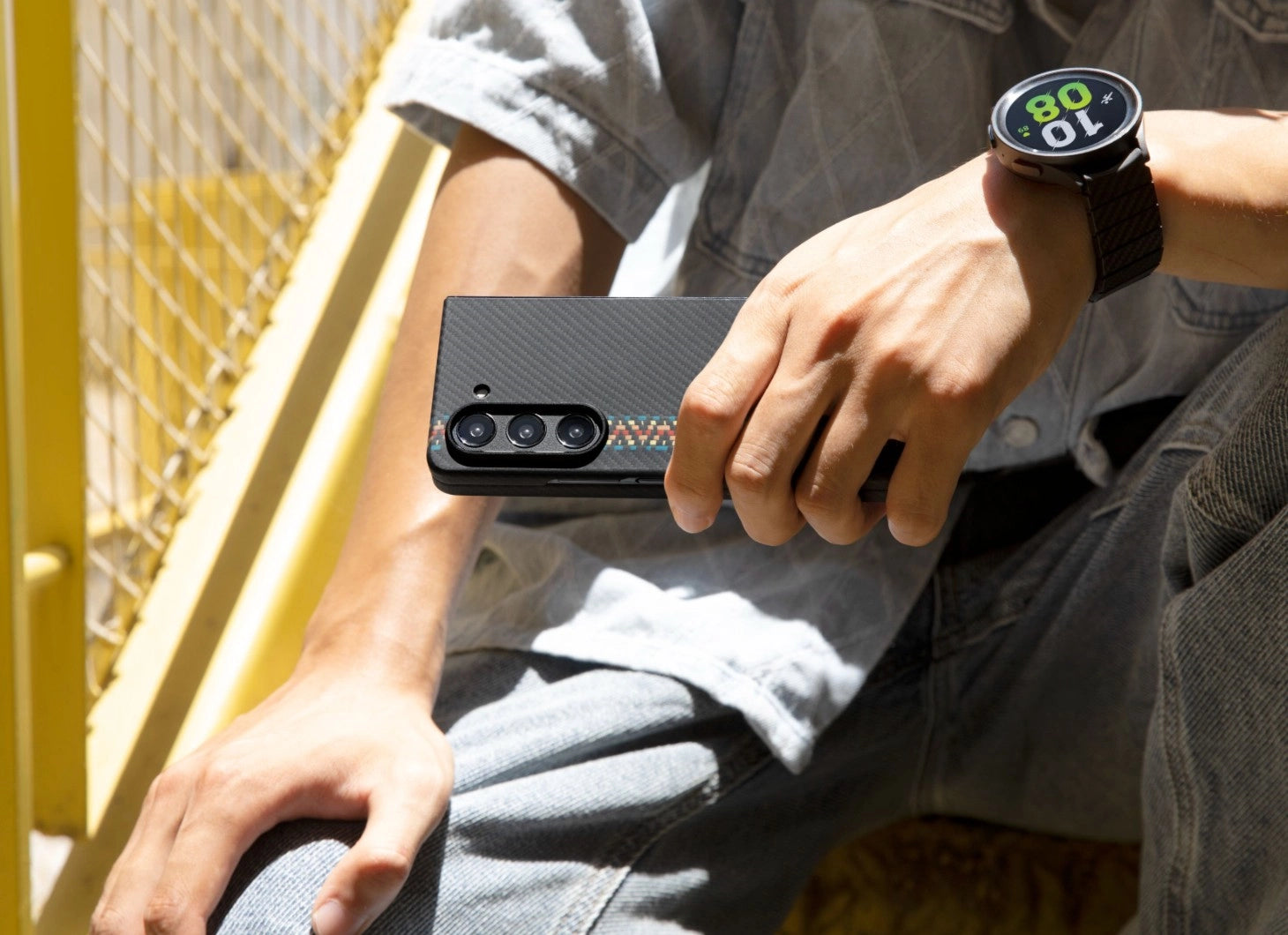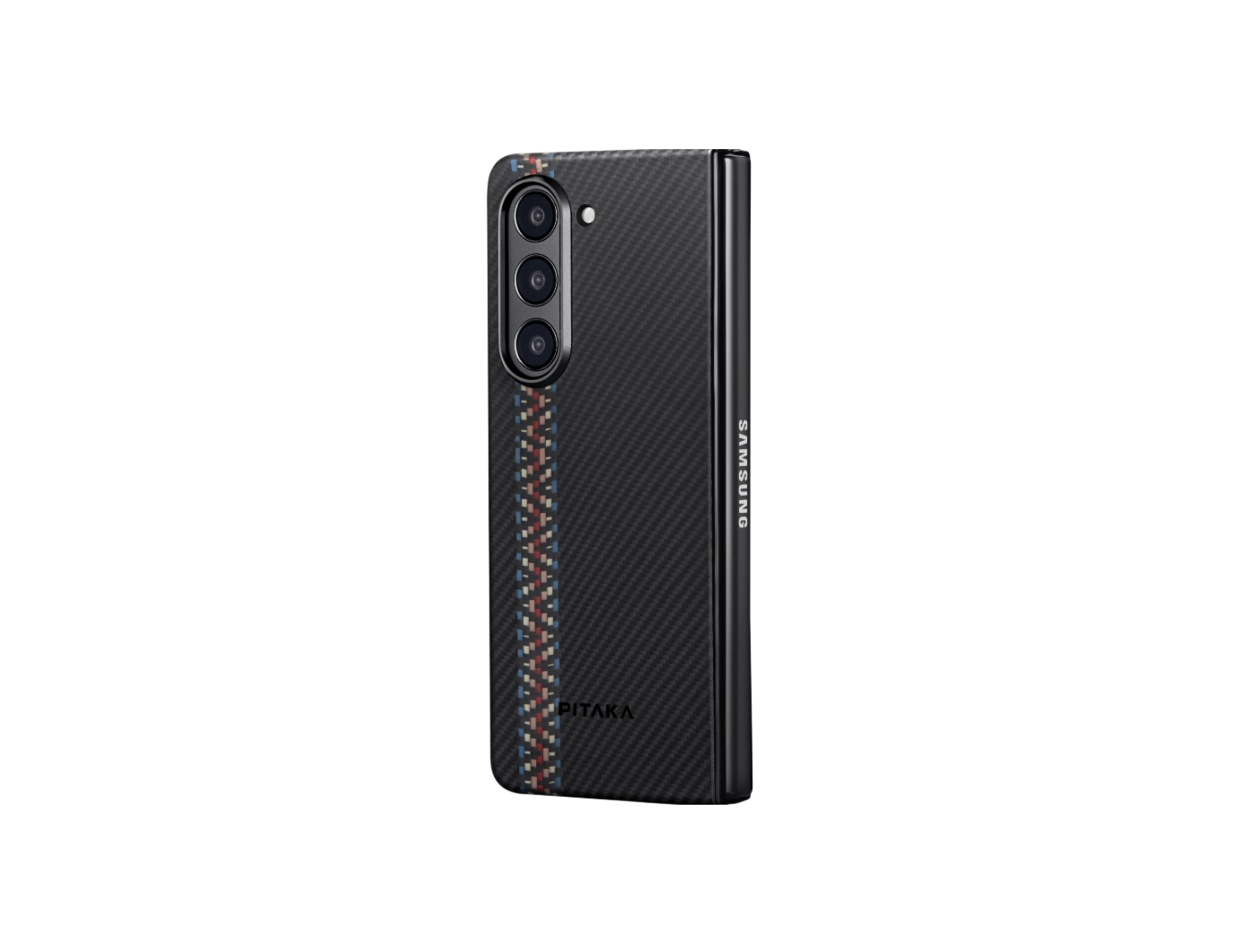 Carbon fiber watch band for Galaxy Watch
Buy Now
Details Make Perfection
Raised lip for camera protection
Precision cut for easy access to ports and buttons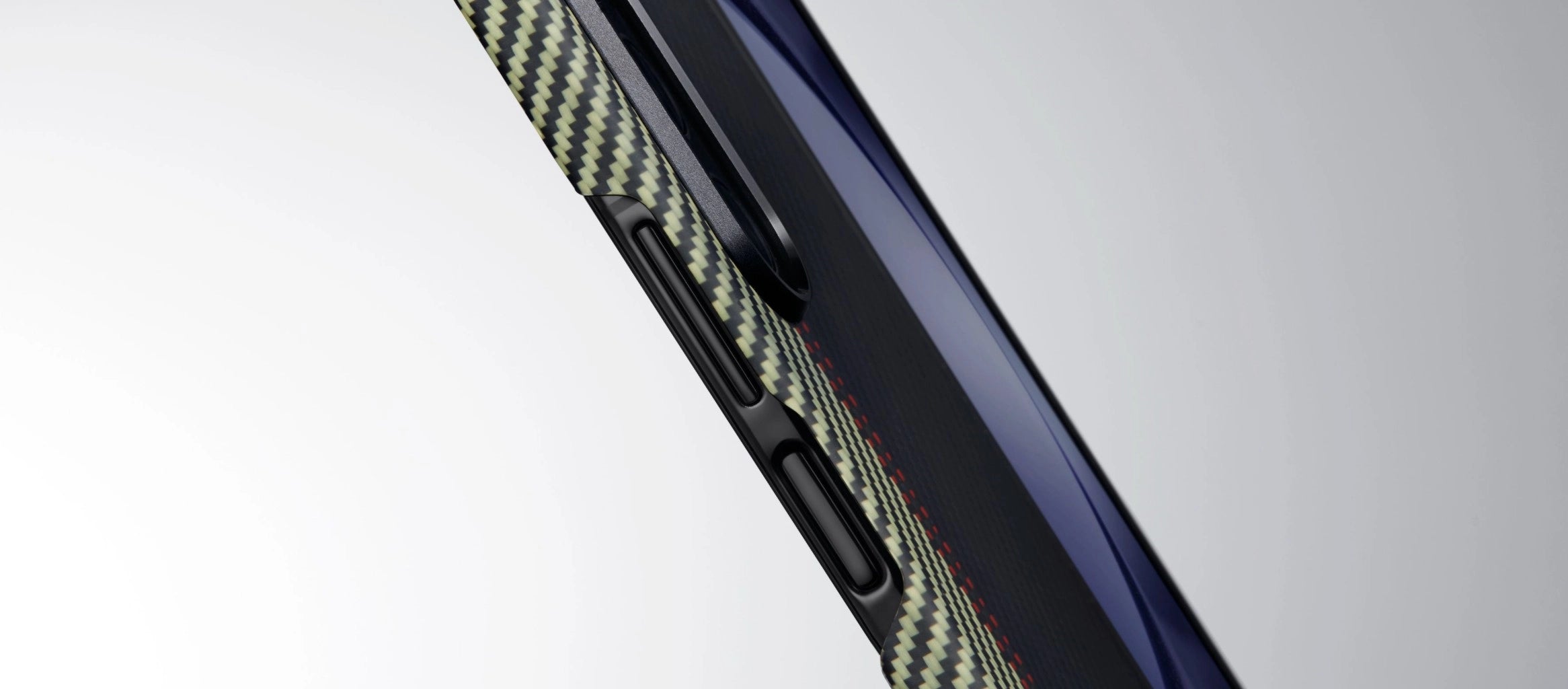 Compatibility
Charge with any Qi wireless charger but do note that it can't mount or snap to PITAKA magnetic MagEZ Series chargers.
Specs
Warranty
2 months warranty See our warranty page for more information.
Package Contents
1 x Air Case for Samsung Galaxy Z Fold5 1 x Document Kit
FAQs
Q1. Can I use the Air Case for Galaxy Z Fold5 with other PITAKA products?
A1. Although the PITAKA Galaxy Fold5 case does not have magnetic functionality, this luxury phone case is wireless charging friendly and can be used with all wireless chargers, including our Air Series.
Q2. Does the PITAKA Galaxy Z Fold5 case offer hinge protection?
A2. No. The PITAKA Galaxy Z Fold5 case doesn't protect the hinge of the Z Fold5 when it holds.
Q3. Why isn't there a MagSafe-compatible Case available for the Galaxy Z Fold5?
A3.The compact design of the charging module and camera module on the Galaxy Z Fold5 phone prevents the integration of a built-in MagSafe magnetic group in the phone case. This integration would cause interference with the camera when using the magnetic attach function, resulting in weakened magnetic force and an unstable grip. This conclusion has been tested and confirmed by the PITAKA Lab. Therefore, the Air Case for Galaxy Z Fold5 does not include a built-in magnetic group.
PitaCare
WE CARE FOR OUR PLANET.
Rather than a mission, PitaCare is a sustainability journey put in place to protect and care for what matters the most to us - the world and the people around us. We care for people, their feelings, and their everyday life. We make what people can use and enjoy to simplify their lives.
Learn more about PITAKA and the environment
What else might you discover?
Reviews
Pitaka Air Case for Z Fold 5
I wanted to share my thoughts on the Pitaka Air Case for the Z Fold 5. It's impressive how the case's sleek design aligns perfectly with the device's aesthetics. The carbon fiber texture not only looks great but also provides a secure grip.
The precision fit is remarkable – all ports and buttons are easily accessible without compromising protection. The slim profile maintains the Z Fold 5's form factor while safeguarding it.
I appreciate the attention to detail in the construction. The case offers robust protection for both screens without adding bulk. While the case is excellent, offering more color options would be a welcomed enhancement.
Kudos on creating a standout product. Looking forward to more from Pitaka.
Air Case for Samsung Galaxy Z Fold5
All are good as expect, except I need ezmagnet if it can be. There is one brand for fold5, it has the magnet included. BTW, PITAKA is my case since samsung galaxy s10 plus, s22 ultra til this fold5.
One more thing is the case doesn't have the clip lock at inside ended but use the soft sticky to attach. So, sometimes the case slip out a bit, I have to put it back.
Best thing is I found that there's a scratch at the conner(no effect for using) and I've asked to supports. They make a wrranty claiming for me. This is a very good thing that I believe in and choose PITAKA since my first PITAKA case.
"P"
Galaxy Z Fold5
A tok 2 héten belül megérkezett. Nagyon jó minőségű és méretpontos.Már rendeltem a Pitakától máskor is tokot nagyon elégedett vagyok vele mindenkinek csak ajánlani tudom. Kiváló minőség és kialakítás!
GREAT CASE
JUST GOT NEW CASE FOR MY Z FOLD5 DEVIC, REALLY LOVED IT, I WISH PITAKA SHOULD MAKE ONE WITH HOLD PEN, ESPECIALLY THOSE OF US USE PEN FETURES , OTHERWISE ONE OF THE BEST THIN CASE I EVER HAD !!!