Air Case
For Samsung Galaxy S22/S22+/S22 Ultra
The thinnest and lightest aramid fiber case for Galaxy S22. The thinnest and lightest aramid fiber case for Gal... The thinnest and lightest aramid fiber case for Galaxy S22. Read More
Crafted from rare durable 600D aramid fiber
Ultra-thin and lightweight
3D texture
Wireless and reverse charging friendly
Precision cut for full access to the phone's features
7-Day Returns
Free Shipping over 30 USD
Secure Checkout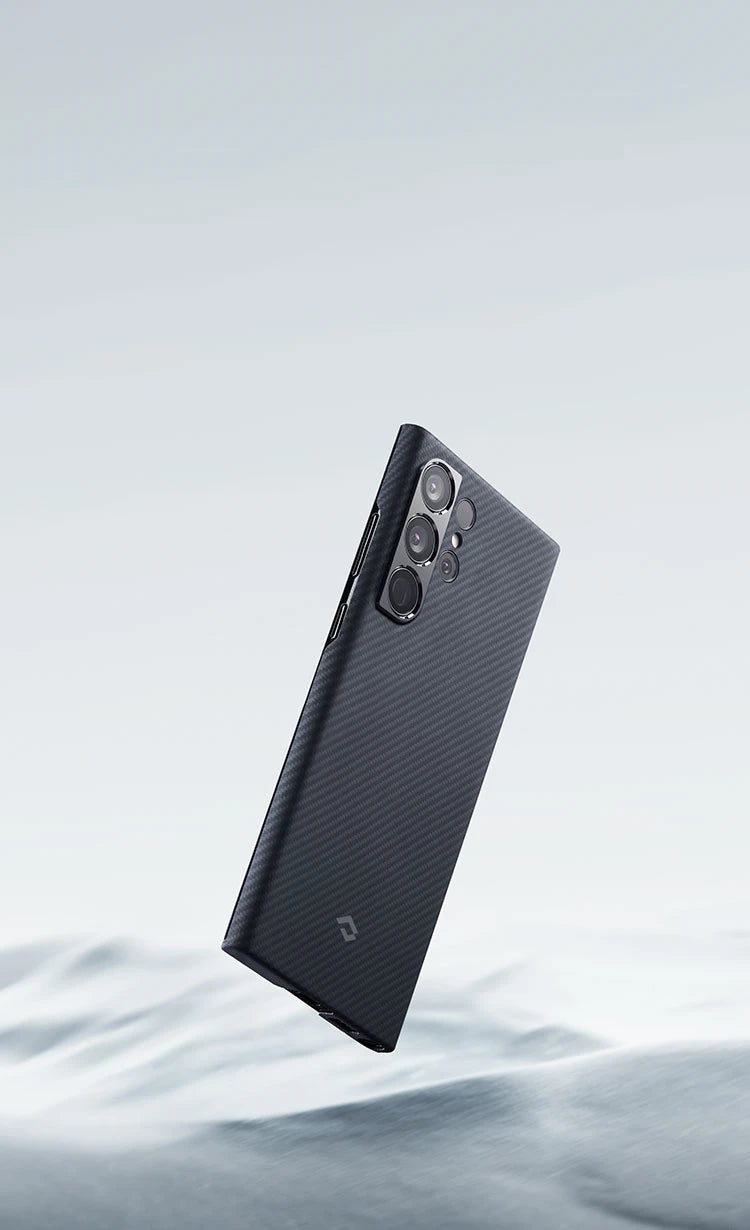 Super-Slim & Lightweight.
Show off the curves and lines of your S22 with the minimalist cover.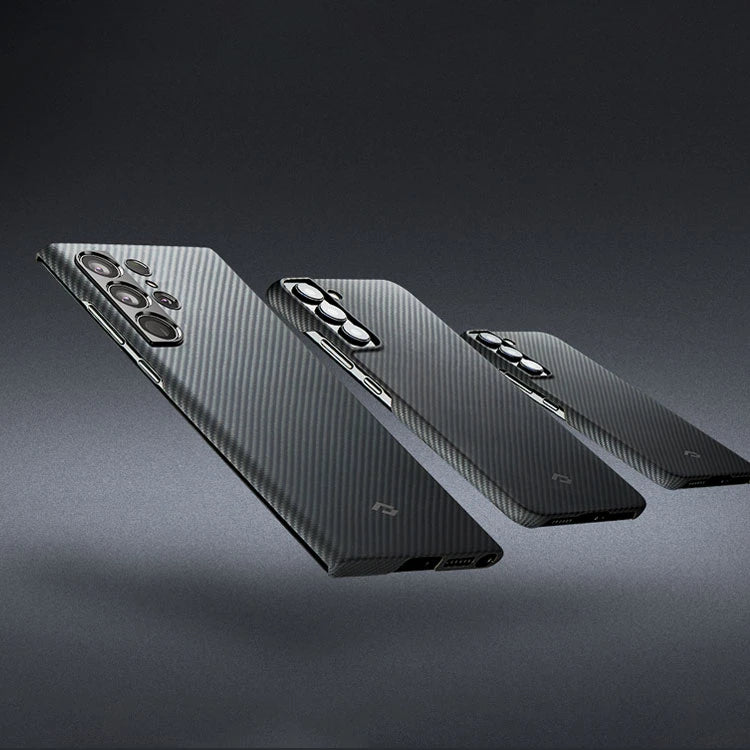 Wireless and Reverse Charging Friendly.
The slim case allows you to wireless charge your S22 phone and reverse-wireless charge another Qi-enabled device.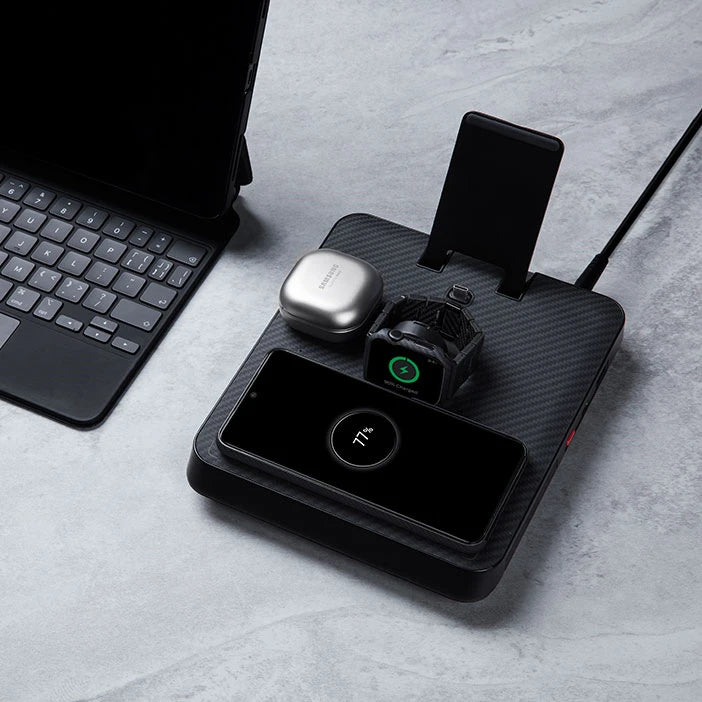 Durable, Delicate Material.
Experience luxury at your fingertips with this minimalistic case crafted from delicately woven 600D aramid fiber reserved only for our premium products.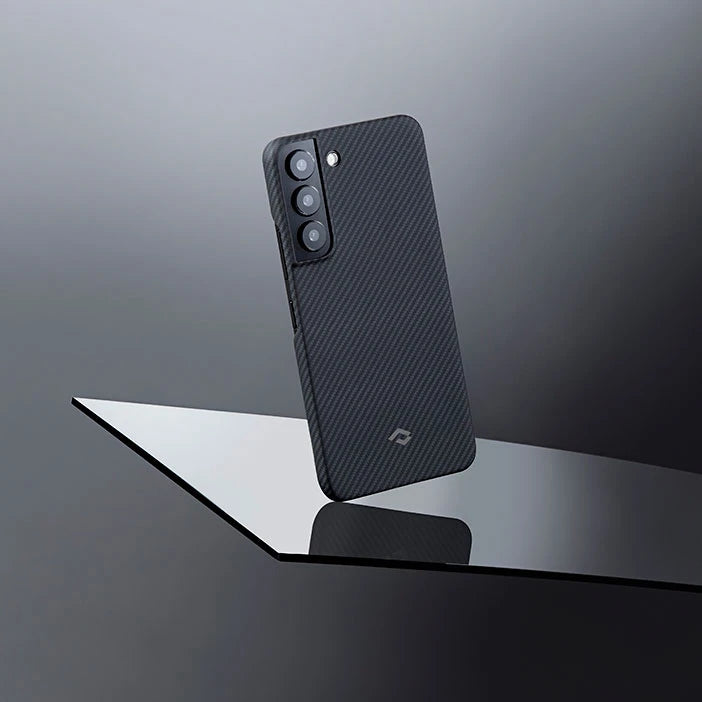 Better Grip with More Comfort.
Our unique vacuum forming process, 3D Grip Technology, creates a granular non-slip luxurious texture for exceptional grip and comfort.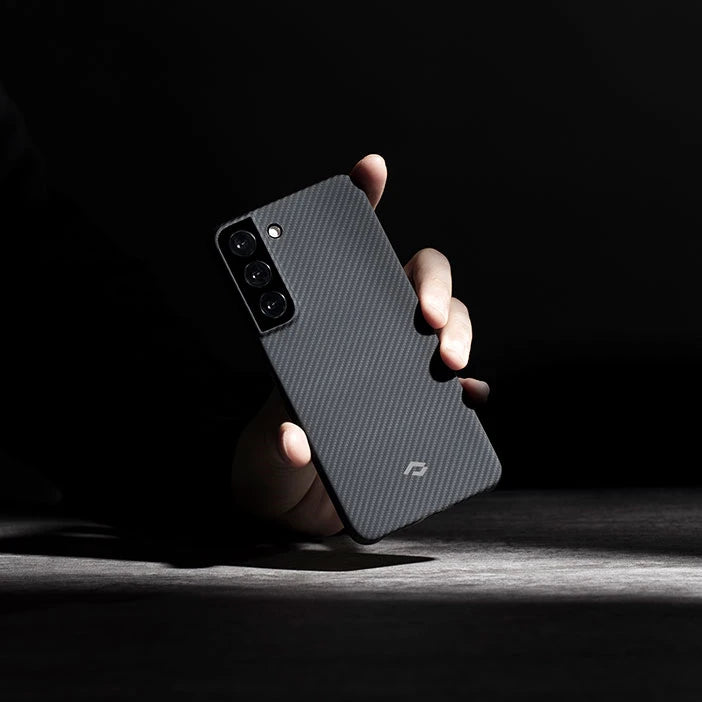 Precision Cut Design.
Cut with exceptional accuracy for flawless coverage and effortless access to your phone's features.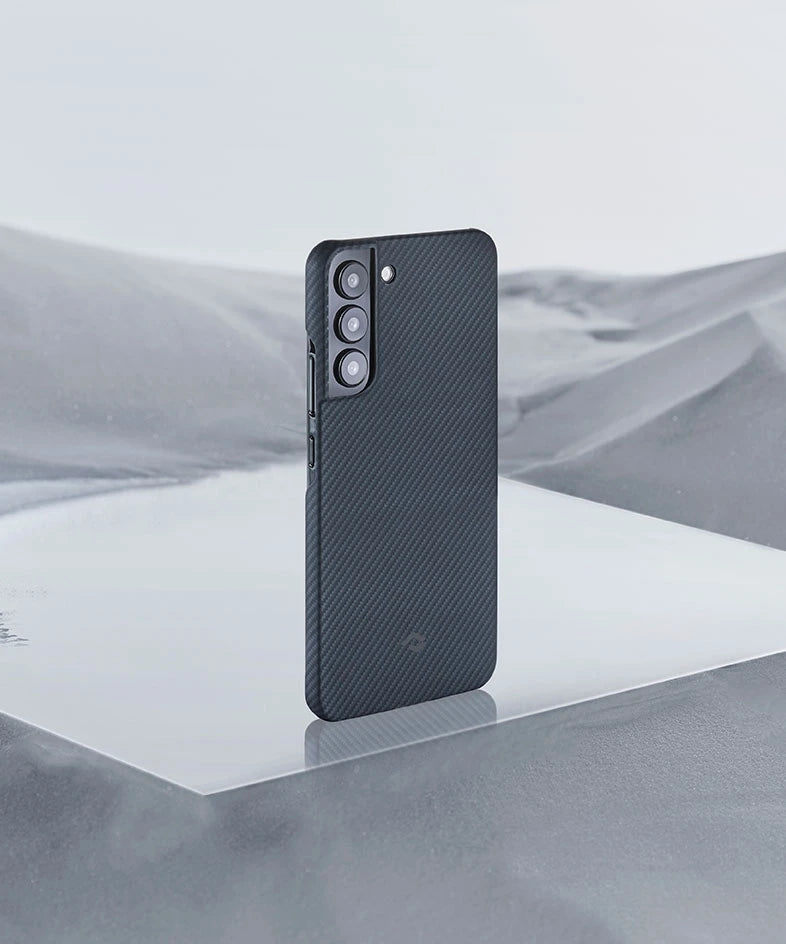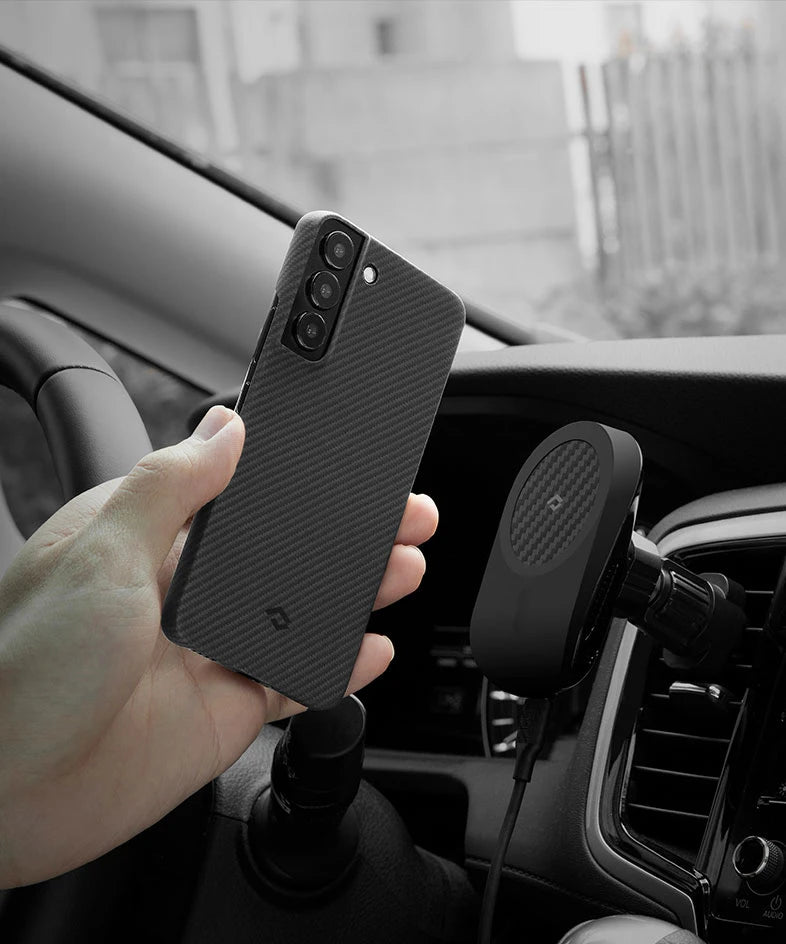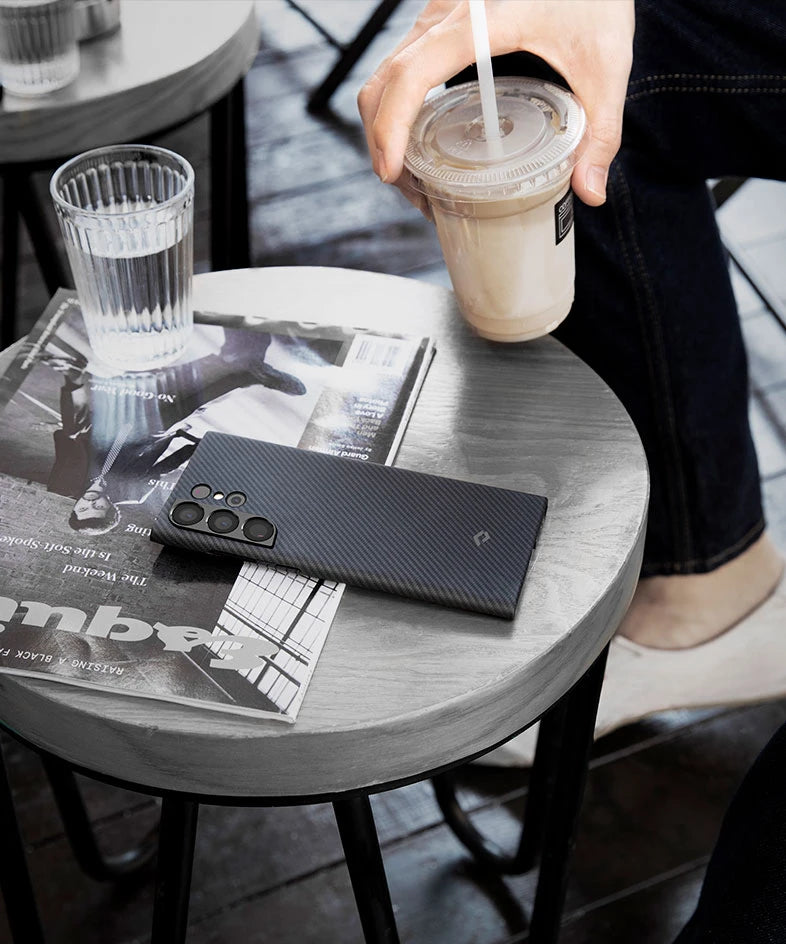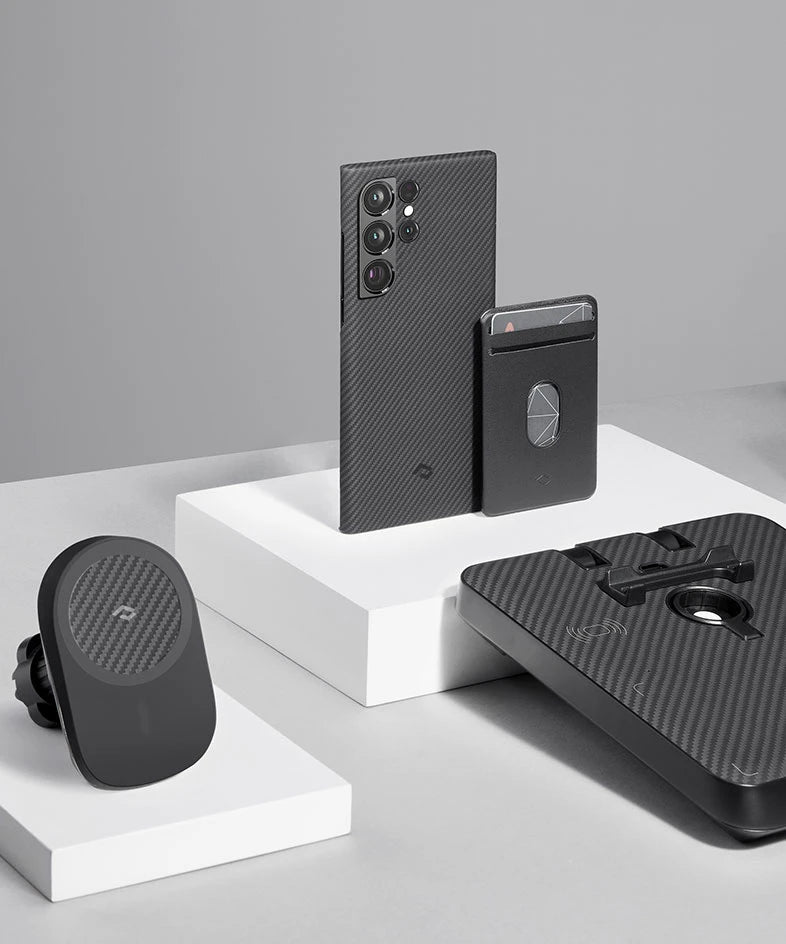 Compatibility
Charge with any Qi wireless charger but do note that it can't mount or snap to PITAKA magnetic MagEZ Series chargers.
Specs
Thickness
0.022 in. (0.55mm)
Weight
Galaxy S22: 0.28oz (7.87g) Galaxy S22+: 0.34oz (9.75g) Galaxy S22 Ultra: 0.35oz (10g)
Warranty
2 months warranty See our warranty page for more information.
Package Contents
1 x Air Case for Samsung Galaxy S22/S22+/S22 Ultra
FAQs
Q1. Can I use the Air Case with other PITAKA products?
A1. Although the Air Case does not have the magnetic functionality of the MagEZ Cases, this luxury phone case is wireless charging friendly and can be used with all of our Air Series Wireless chargers including the Air Omni Lite, Air Essential and Air Tray.
Q2. What is the difference between 600D Aramid Fiber and the 1500D that is used to craft other PITAKA products?
A2. The finer weave of the 600D means that the surface texture is more delicate and improves grip, reducing the chance of dropping your device. As the manufacturing process is more complex, PITAKA reserves 600D for its premium products, such as the Air Case and Apple Watch Air Case.
PitaCare
WE CARE FOR OUR PLANET.
Rather than a mission, PitaCare is a sustainability journey put in place to protect and care for what matters the most to us - the world and the people around us. We care for people, their feelings, and their everyday life. We make what people can use and enjoy to simplify their lives.
Learn more about PITAKA and the environment
Compare
PITAKA Cases
Protective, stylish, minimalist, or MagSafe compatible. Whatever you need, we have it.
A lightweight and ultra-thin case, crafted using premium fine-weave aramid fiber.
A slim aramid fiber case with MagSafe compatibility and distinguished style.
Feel your bare phone with this thin, light, sexy case.
MagEZ Accessory Compatible
Click here for detailed compatibility information.
Click here for detailed compatibility information.
Not Compatible.
Compatible
(Embedded Magnet Array)
Compatible
(Embedded Magnet Array)
Not Compatible
See full comparison
What else might you discover?
Reviews
Great case for my s22
Great case for my s22 which is now magnetic. Perfect
Good looking, quality made product
Good looking, quality made product
I'm a fan of aramid
I'm a fan of aramid fiber. When I searched online about the phone case for Samsung, it took me to your brand. I like how it feels and also the protection.
Wanted a very minimalist case
Wanted a very minimalist case with added metal to use on a magnetic phone holder. The case is crazy thin, great texture and a very solid feeling material plus the dry carbon fiber look is awesome. The phone snaps right in and fits the phone perfectly. The cut outs for the buttons and everything are in perfect placement. Perfect minimalist case that adds ZERO bulk to the phone.
I never thought the phone
I never thought the phone case can do both the thinness and the strong protection. You guys make it!!!